RICHI,Focus on livestock&poultry&aquatic feed processing technology
2021-01-14 Back to List
If you are looking for related products or have any other questions, please feel free to contact us.
Contact Us
Recently, RICHI held a seminar on hot topics in the feed industry. More than 100 RICHI customers from over 90 countries attended to discuss Standard Process Planning for Large Livestock& Poultry Feed Plant, Aquatic Feed Processing Technology and Equipment Application, Equipment Installation and Debugging.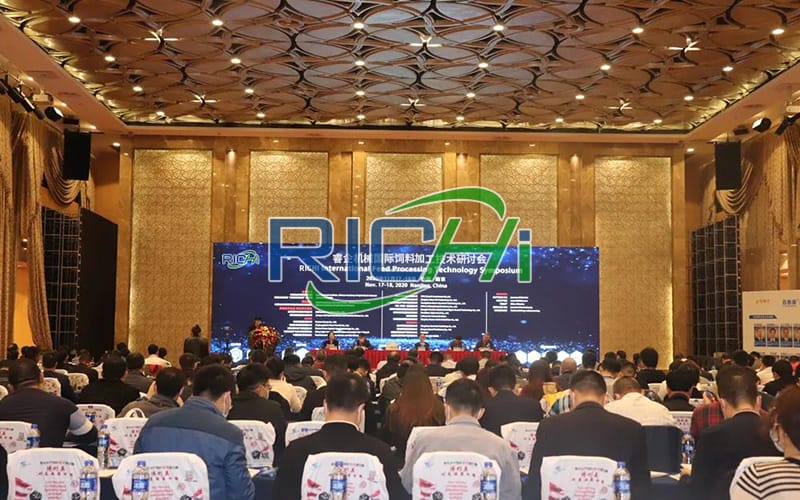 The seminar aimed to explore in depth the hot issues in the feed industry, discuss livestock & poultry and aquatic feed processing technology and equipment, and share relevant understanding and experience to better develop the feed market.
The Standard Process Planning for Large Livestock& Poultry Feed Plant was expounded and discussed in detail from the design concept, selection of technology process, general layout design, the specific contents and general standard principles of process planning, and other standardization implementation.
Aquatic Feed Processing Technology and Equipment Application mainly included four aspects of aquatic feed production technology, application of double-screw extruder in aquatic technology, feed dryer and vacuum coater.
Compared with livestock and poultry animals, the processing technology of aquatic feed has higher requirements. RICHI feed technology and process professionals had in-depth analysis and discussion with customers for common sinking fish feed, shrimp feed, floating fish feed and extruded fish feed (floating and sinking).
What kind of feed is the main purpose of double-screw floating fish feed extruder? How does it work? For extruded feed, what role does dryer need to play as a key device? The traditional pelleting method cannot solve the problem of adding high proportion of fat, but also cause particle quality reduction and water pollution, how to solve these problems by vacuum spraying technology. We explained and analyzed these issues one by one at the meeting.
How to achieve a safe, stable and fast operation of ce high quality animal feed manufacturing plant is closely related to the installation and debugging of feed manufacturing equipment in the early stage of the plant. RICHI professional team always takes the customer's demand as the leading factor and builds a high-efficiency animal feed production line for customers on the basis of safety first.
In 2020, the global total feed output is more than 1,100 million tons, and the total feed output of China is more than 200 million tons,which has been ranked first in the world for five consecutive years. In the future, China will continue to play an important role in the global feed industry. Richi Machinery will also adhere to the core concept of creating value for customers and jointly promote the development of global feed industry.