How to buy 5tph poultry chicken feed line with its accessory accessories?
2021-04-02 Back to List
If you are looking for related products or have any other questions, please feel free to contact us.
Contact Us
Richi Machinery supplied 5tph poultry chicken feed line with its accessory accessories adopts module design which can realize customized 5t/h chicken feed processing plant. Meanwhile, as an experienced chicken poultry feed mill line machine factory, we can also help you make the best business plan for setting up your own 5 tons per hour chicken animal feed pellet processing line.
The advanced animal feed manufacturing technology and professional engineering design ability ensure the best quality and safe feed, avoid pollution and cross contamination, and also reduce the production cost of animal feed factory project. If you are interested to know more details and latest price of our 5 tons capacity chicken poultry pellet making line or the related feed processing equipment, you are welcome to contact Richi Machinery!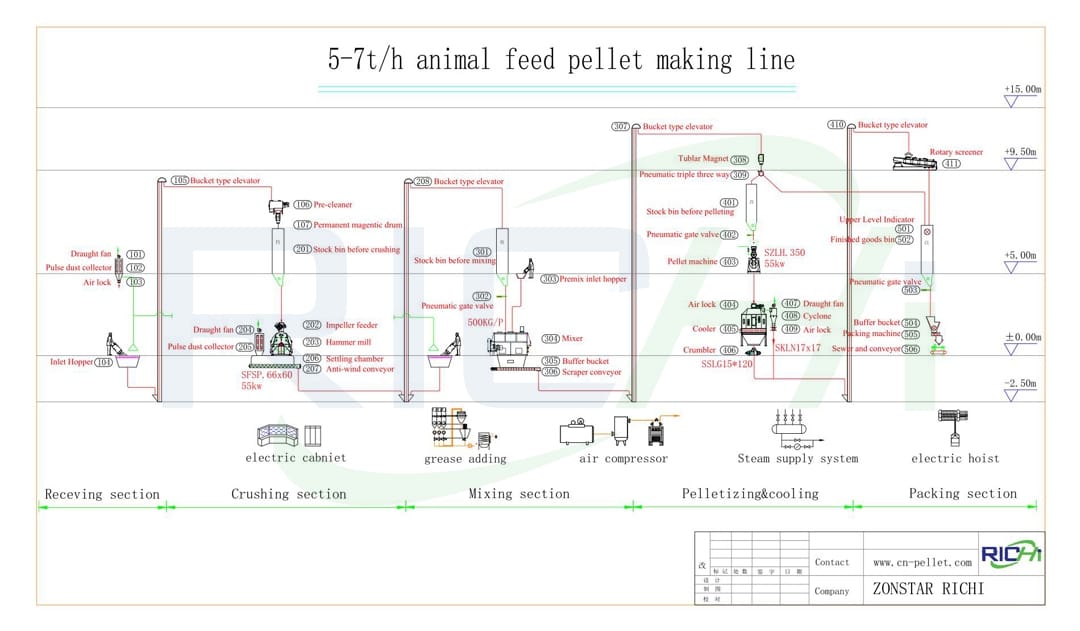 1.How to Build a 5TPH Chicken Poultry Feed Pellet Line Project
(1)Raw Material Receiving System
The 5t/h chicken poultry feed production plant has a raw material receiving state that deals with the processes such as removal of impurities, conveying of raw materials and categorizing them on the basis of shape and size etc. This process is very important in the pelletizing effect of the feed hence it is given utmost importance and is done with great expertise. Pulse dust collector that collects the dust, Screw conveyor that moves the raw materials and the distributor which distributes raw materials to the respective chambers are the three basic parts of a raw material receiving system.
(2)Feed Crushing System
The raw materials are then sent to the crushing system of 5t/h feed pellet manufacturing machine plant for chicken. This system reduces the size of the particles as per the consumption size of animals. The raw material is at first uneven in size and is mostly big that makes it unfindable to small animals such as goats and lambs. This is why the raw materials are first subjected to the crushing system that crushes the raw material into small bits which can then be turned into proper feed pellets. This helps animals achieve greater nutrition hence making them more capable and healthy.
(3)Feed Batching System
After crushing the feedstocks in crushing equipment, they will be sent to the batching system. This system as the name suggests batches or segregates raw fodder materials as per the requirement of the consumption size of the animal. This process often comes after grinding and just before mixing of the raw materials with the feed. This system consists of 3 basic parts such as Vertical Spout magnet that remove metallic ingredients from the pellets, bucket elevator that removes heavy particles and the mixer which is the most important of them all mix the pellets properly together.
(4)Pelletizing System
After Batching the soft feed is then sent for the final process which is called Pelletizing or pellets making process. In poultry feed pellet mill, the soft feed is turned into compact pellets that are easy to store and transport. These feed pellets are formed by forcing the soft pellets through metal holes and cutting them into small pieces as per the consumption of animals. This process is very important as it's responsible for the proper nutrition of animals that eat them. This regulates a number of calories they get through the pellets. This is also helpful when there's a need to increase or decrease the diet.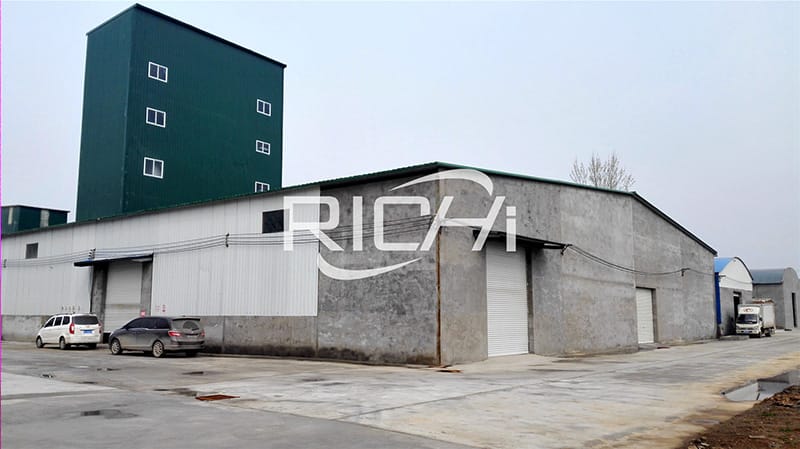 (5)Bagging System
The final process of complete poultry feed plant for chicken is called the bagging or packing system and is self-explanatory. This process ensures that the feed pellets produced by the feed mill machines are properly stored for long term use.
(6)PLC Control System
Richi Machinery specialized in designing and manufacturing China chicken poultry feed mill machinery, low cost high return feed plant unit and turnkey poultry feed production plant and related animal feed processing machinery. Our highly experienced team of engineers designs feed mill machines according to the CE requirement. Our equipments are designed to achieve best pelletizing effect and mazimum output. Our aim is to help customers setting up an animal feed manufacturing company at lower cost. We design animal feed pellet plant of different capacities for almost all kinds of poultry and livestock, such as chicken, pigs, goats, horse, rabbite and so on.
Recent years we have done many projects of chicken poultry feed pellet manufacturing line equipments with 5 ton/hour. If you prefer to know more establishing a 5t/h chicken feed factory or poultry feed milling plant, please don't hesitate to get in contact with us, we are always on your service!
2.Machinery to produce feed for chickens in 5tph chicken animal feed pelleting line
The followings are 5tph poultry chicken feed line equpments with its accessory accessories:
(1)Materials Receiving and Crushing System
Equipments related in the raw material receiving and crushing system of animal feed pellet production line is listed below.
| Machinery | Type | Amount | Power | Remark |
| --- | --- | --- | --- | --- |
| Multifunctional chicken corn feed grind milling machine | SFSP66*60 | 1 | 55kw | Hammer mill, it can realize different finess by change the screen. The bearing is from Gapanese NSK, the hammer is from carbide surfacing. |
| Draught fan | 4-72No4A | 1 | 5.5kw | It is checked by the dynamic balance, the running is stable with low noise. |
| Unloading machine | XL60 | 1 |   |   |
| Airiock | GFY215 | 1 | 0.75kw | Airiock |
| Subtotal |   |   | 43.25kw |   |
(2)Mixing System
Equipments related in the chicken fodder raw materials mixing system of feed pellet production is listed below.
| Machinery | Type | Amount | Power | Remark |
| --- | --- | --- | --- | --- |
| Screw elevator | TSLL16 | 1 | 1.5kw |   |
| Imtating vertical crushing machine | SFL20 | 1 | 15kw | It adopts second crushing technology, and widens the screen pieces at 360°,the inside screen has a large area, the rotor can make the chamber produce positive pressure. The materials smaller than the screen hole can be discharged quickly, the materials are crushed evenly. |
| Pre-Mixing Bin | 1m³ | 1 |   |   |
| Pneumatic gate valve | DN50 | 1 |   |   |
| Mixing machine | SLHY.1 | 1 | 7.5 | CV<7%, the mixing time is 5 minutes. |
| Subtotal |   |   | 31.5kw |   |
(3)Pelletizing System and Packing System
This followings are related equipments in poultry animal feed pelletizing and final pellets packaging system.
| Machinery | Type | Amount | Power | Remark |
| --- | --- | --- | --- | --- |
| Pocket elevator | TDTG36/18 | 1 | 3kw | High strength of plastic winnowing pan. The buttom pulley is reseau shape, which won't be stained with materials. The machine cylinder is made of 2mm of plate. |
| Pre-Pelleting bin | 1m³ |   |   |   |
| Poultry Chicken Feed Pellet Making Machine | SZLH350 | 1 | 55kw | American CPM machine type, gear drive, gear grinding technique, the moding box adopts stainless steel materials, SKF imported bearing, imported oil seal, the pelletizing efficiency is higher about 15% than the belt pellet mill, it is equipped with Siemens motor. |
| Bucket elevator | TDTG36/18 | 1 | 1.5kw | High strength of plastic winnowing pan. The buttom pulley is reseau shape, which won't be stained with materials. The machine cylinder is made of 2mm of plate. |
| Airiock | GF.7 | 1 | 0.75kw | Airiock |
| Counterflow cooling machine | SKLN17×17 | 1 | 1.5kw | Counter flow cooling, pellet cooling is even, and it won't burst. The cooling time and filling content can be adjusted. The discharging is fluent and there is no residues. |
| Draught fan | 4-72No4A | 1 | 11kw | It is checked by the dynamic balance, the running is stable with low noise. |
| Cyclone | SK800 | 1 |   | The material adopts 3mm of carbon steel,and the Flange adopts 5mm of carbon steel. |
| Unloading machine | XL60 | 1 |   |   |
| Material screen |   | 1 |   | No material deposition, no cross contamination, low noise, high efficiency. |
| Subtotal |   |   | 127.75kw |   |
3.Chicken Poultry Feed Pellet Quality Specifications
(1)Guaranteed Analysis
Propionic Acid (min.) 73.00% as calcium propionate
(2)Parameter
①Anhydrous Purity: 97 - 100%
②pH of a 10% solution: 7.0 – 9.0
③Residue: Not more than 2% (200 mesh screen)
④Moisture: 0 – 5%
⑤Odor: None to faint propionic acid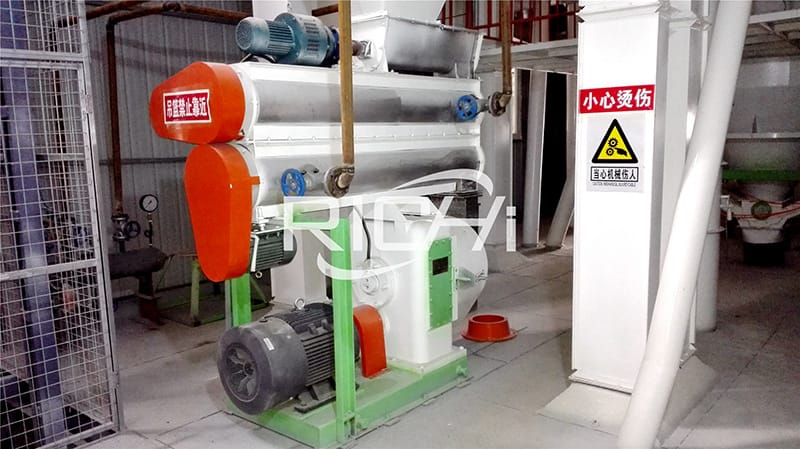 4.How to Increase the Profitability of Your Complete Animal Chicken Feed Pellet Line 5 Tons Per Hour?
Everyone aims at increasing profits towards the business they are involved in. Suppose you want ensure the profitability of your 5t/h chicken animal feed production business, how will you deal with it? The first thing you will think of are ways to increase chicken feed mill line machines' productivity. To get more significant benefits, you need to know the position that you are in and how you can improve it. You must have a starting point for more significant improvements. How you can increase the profits of the 5tph animal chicken poultry feed mill plant? here are some of the ways:
(1)Reducing Processing Input Cost
This may be considered as the best way for many people. When you reduce the cost of ingredients involved in animal feed production line, high profits will come up. It is better to look for other ways before lowering input costs.
(2)Increasing Feed Production Rate
In long term, you may want to save money and have to cater for damages the poultry feed equipment involved, and yet you could have solved it earlier. Increasing the productivity of the chicken feed machine would be practical and achievable way by producing more consideration tons of feed pellets in less time, which further can expanding the profitability.
(3)Ensure High Quality Chicken Feed Pellets
To ensure the productivity is at its best, you need to have a great balance between production rate and feed pellet quality. Good quality feed pellets represent a high return on the investment, while low quality feed pellets are certainly not going to be profitable in the long run.
(4)A Proper Energy Savings Plan
Investing in motors that save energy can save the costs that may be brought by broken steam lines. This also has effects on the environment that the animal feed plant mill is in and the people around it. The energy that is environment friendly and better for workability would be great.
(5)Good Housekeeping
To increase productivity, it is better to have a good housekeeping program, which will ensure the factory where employees are working is clean. It should also be in the lookout for rodents and pests that may come to destroy the machines being involved at work.
(6)Good Data Collection
It may seem like something that is not be considered in this case, but the truth is it is very vital. It is essential to pay attention to the quality of the ingredients being involved. Track both the inputs and outputs to have proper records, and it will show when the poultry feed factory production is increasing or decreasing.
In this way, the profits of 5 tons per hour feed line for chicken may be guaranteed. If you still questions about it how to achieve the profits when starting animal feed pellet making business, please contact us or other professionals for guidance. We are always here for your needs!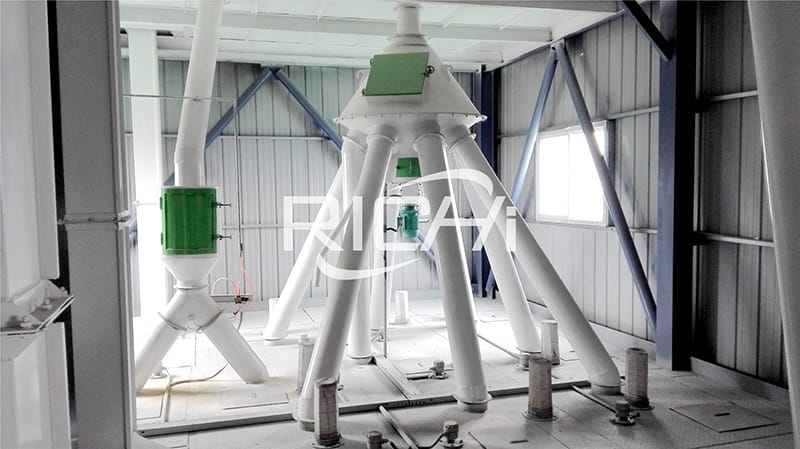 5.How to start your own 5t/h chicken feed pellet production line with best business plan? Contact Richi Machinery!
Richi Machinery is the best chinese companies in manufacturing machinery and equipment for chicken poultry feed factories which are exported to the European, Africa, Asia, America, etc. We are expert of animal feed pellet production equipment and plant. With rich experience of manufacturing and installing complete chicken poultry feed plant project, Richi Machinery should always be your best and reliable supplier of animal feed plant machinery. All our chicken poultry feed making equipment is offered with the most competitive price.