What is the difference between alfalfa hay and alfalfa pellets?
2020-08-15 Back to List
If you are looking for related products or have any other questions, please feel free to contact us.
Contact Us
Alfalfa pellets also enter the Chinese market together with alfalfa bales. Although the raw material is also alfalfa, there are still differences in function.
Alfalfa pellets are short fibers, while alfalfa hay is long fibers. Adding alfalfa pellets to the dairy cow's diet formula can increase the cow's dry matter intake, but the content of effective fiber in the dairy cow's diet needs to be considered. Some pastures have proposed that replacing alfalfa hay with alfalfa pellets will reduce the rate of milk fat. After analysis, we believe that after alfalfa pellets replace hay, the effective fiber content will decrease and the normal ruminating of dairy cows will be affected. Therefore, it is recommended that the use of alfalfa pellets is to add 1-2kg of alfalfa pellets on the basis of the original diet formula, which will give better results.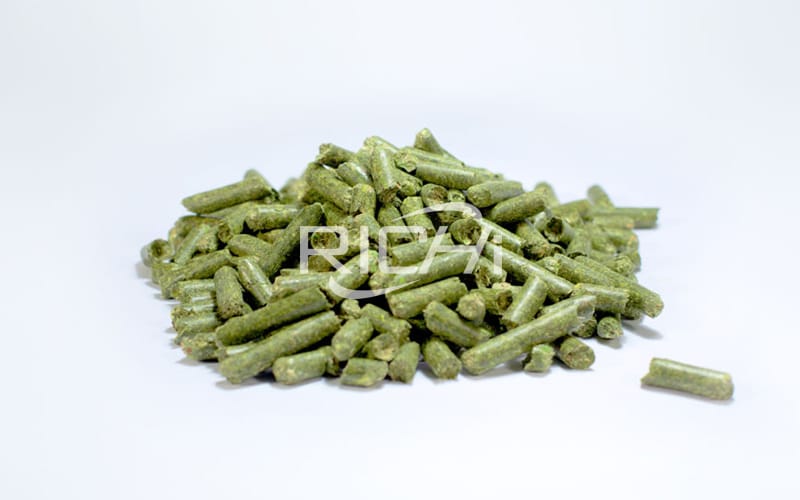 Alfalfa hay has been widely accepted by grass as a high-quality roughage for calves after weaning. However, in the process of use, it is often found that a large amount of alfalfa meal is deposited on the bottom of the trough without being eaten, causing waste. A large amount of grass powder entering the calf's snout and nose will also make the calf reluctant to eat alfalfa hay. If alfalfa pellets are used instead of alfalfa hay, these problems will be avoided. However, because the rumen of the calf has gradually developed at this time, if alfalfa pellets are used as the source of all roughage, it may cause swelling of the calf, which may be fatal in severe cases. Therefore, we suggest that even if alfalfa pellets are used in the calf period, we still need to consider adding appropriate high-quality long fibers as a combination. At this time, oat grass is a good choice.
In the calf trough, alfalfa meal will be deposited on the bottom, affecting the cattle's feeding.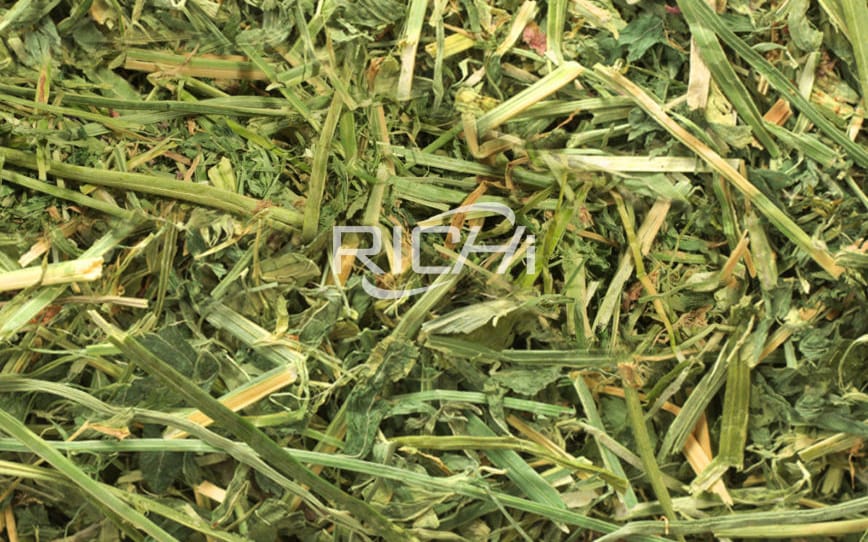 To sum up:
As far as alfalfa pellets are concerned, if you choose alfalfa with 100% raw material, it will be more cost-effective than alfalfa in terms of cost performance, but you should pay attention to:
1. Alfalfa pellets are short fibers.
2. Dairy cows are ruminants. Even if they are newly weaned calves, the rumen is gradually functioning, and proper long fibers cannot be ignored. 
After paying attention to the above two points, using alfalfa pellets on dairy cows will achieve better results.
In addition to the above, alfalfa pellets can provide high-quality fiber, rich mineral content, high protein, and are easy to transport, store, and crush. They can also be widely used in sows, rabbits, sheep, geese, ducks and other livestock and poultry. It can be fed or added to feed formulations as feed ingredients.
[Extended reading]
How to make grass pellets for feed?
Alfalfa pellet making machine for sale
How animal sheep cattle chicken feed alfalfa pellet production plant process alfalfa pellet?