Maintenance and repair of animal poultry chicken cow rabbit broiler feed machine
2020-05-28 Back to List
If you are looking for related products or have any other questions, please feel free to contact us.
Contact Us
The maintenance of feed equipment is a long-term thing. Based on the quality of Richi equipment, we can tell you with certainty that if the animal feed machine is scientifically maintained, the service life of the equipment is very long. Among the current Richi projects, the longest equipment life has exceeded 30 years, and it is still in stable operation.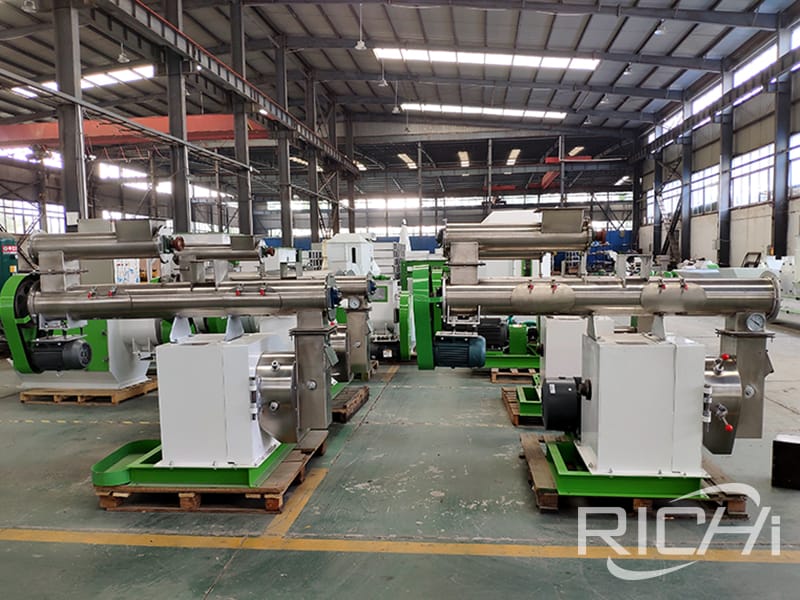 1. Carry out maintenance and repair according to the requirements of the instruction manual of each equipment. If there is no special requirement, the bearing injection oil uses ZG-3 calcium-based lubricant, the reducer lubricant uses HJ-60 mechanical oil, and if the room temperature is lower than -10 ℃ in winter, HJ-20 mechanical oil is used.
2. The equipment should be repaired once every six months and once a year. Replace oil, clean bearings, and replace damaged parts during minor repairs.
3. Adjust the tightness of the belt in time. When the machine is running, the belt must not have severe slippage.
4. The consumables such as hammers and sieves of the pulverizer, die and roller of the pelletizing system should be repaired, adjusted and replaced in time. The time for replacement, maintenance, and adjustment depends on the productivity or product quality of the feed processing product. Generally, when the productivity drops significantly and the pellet forming rate and surface quality do not meet the requirements, it should be adjusted or replaced in time.
5. After the hammers of the crusher are worn, they must be reversed or turned around. The original arrangement of the hammers should be maintained when turning around. When the four corners are worn and new hammers need to be replaced, each new group of hammers should be weighed. The weight difference of each group of hammers should not exceed 5g. During installation, the hammers must be assembled according to the arrangement of the hammers to avoid strong crusher shock.
6. After using the electronic scale for half a year, its accuracy must be checked and calibrated.
7. After each shift, the residue in the die hole should be flushed out with soy cake powder in the pellet machine cavity.
8. The computer control room is always kept clean and quiet.
Welcome to contact Richi Machinery for more details of animal livestock horse goat sheep rabbit shrimp feed machine.