How does a biomass wood pellet mill machine work?
2020-04-23
Generally, take biomass pellet mill for example, there are three stages involved in the raw material densification. In the first stage, the pellets rearrange themselves to form a closely packed mass but without changing their properties too much and the energy is dissipated due to inter-pellet and pellet-to-wall friction. In the middle stages, the pellets are forced against each other and undergo plastic and elastic deformation, which increases significantly the inner-pellet contact. In the last stage, the density of the fuel pellet increasing significantly due to the high pressure casted by the pellet mill. The processing of the particles are presented in the following diagram.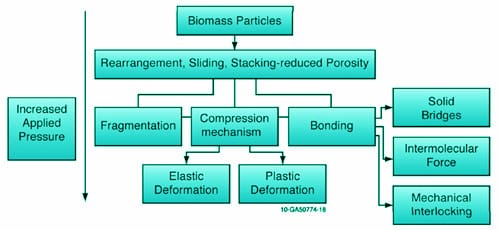 After going through, the three stages, the deformed and broken pellets will not be able to change positions because of the decreased number of cavities and the conformity of the inter-pellet. Well, it is also important to know that the densification process and the variables that govern its performance, such as the temperature, pressure, and equipment. In the following paragraphs, the different equipment are presented for your reference.
Hot sale easy operation wood pellet mill making machine recommended:
1.Wood sawdust pellet mill(2.5-4t/h)
https://www.cn-pellet.com/product/sawdust-pellet-mill.html
2.Wood fuel pellet making machine(1-1.2t/h)
https://www.cn-pellet.com/product/fuel-pellet-making-machine.html
3.Wood pellet mill(0.5-0.7t/h)
https://www.cn-pellet.com/product/wood-pellet-mill.html
4.biomass wood pellet mill(0.3-0.4t/h)
Get An Instant Quotation
For all inquiries fill in the form below to send us a brief message,and we will get back to you as soon as possible.