Effects of feed ingredients and crushing process on pelleting stage
2020-03-19 Back to List
If you are looking for related products or have any other questions, please feel free to contact us.
Contact Us
Raw material factors directly affect the granulation effect. Materials with a higher starch content are easily gelatinized by steam. After conditioning, these raw materials have a certain viscosity and are conducive to granulation. For raw materials with high crude fiber content, adding a certain amount of grease can reduce the friction between the material and the ring die during pelleting section, which helps the material to pass through the ring die, and the appearance of the pellets is smooth after forming. Generally, the added amount is about 1%. If the added amount is too high, it will easily cause loose particles. If you need to add more oil, you can consider spraying after granulation, which is especially suitable for producing high-energy feed.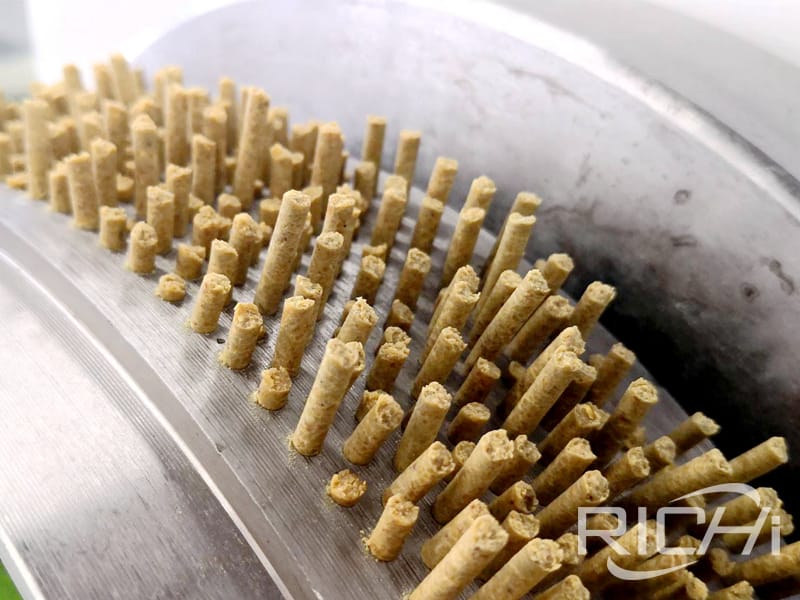 The pellet size of the crushed raw material determines the surface area of ​​the feed composition. The smaller the pellet size, the larger the surface area, the faster the material absorbs moisture in the steam, which is conducive to the conditioning of the material and is also easy to pelletize. From the perspective of granulation, crushiing is fine and the granulation strength is high, but with more steam added, it is easy to block the machine, and the raw material is pulverized too fine, resulting in excessive power consumption. Granularity is too coarse, which increases the wear of ring molds and press sticks, making granulation difficult, especially the formation of small-diameter ring molds, and the poor gelatinization of materials, resulting in high material consumption, low yield, and high powder content.
Therefore, usually for the production of livestock and poultry feed, 2.5 ~ 3.0mm sieve plate should be used for crushing corn, which can avoid the disadvantages of excessively fine particle size and ensure the pellet size required for sufficient quality adjustment of the feed, which is beneficial to reducing the powder content of the pellets. In addition, it is necessary to pay attention to the mixing uniformity before granulation, because the composition of the feed formula is complex, and the proportion of various raw materials is different. For different formulas and different varieties, different mixing times are used to make the coefficient of variation of the mixing uniformity reach about 5%.
Richi Machinery animal food pellet processing machine series:
Pellet machine SZLH.508 www.cn-pellet.com/product/animal-feed-pellet-mill.html
Pellet Making Machine SZLH420 www.cn-pellet.com/product/feed-pellet-making-machine.html
Feed Pellet Machine SZLH320 www.cn-pellet.com/product/livestock-feed-pellet-machine.html
Pellet machine SZLH250www.cn-pellet.com/product/animal-feed-pellet-machine.html