Animal feed pellet mill mahcine price for suckling pig feed processing production line
2020-01-16 Back to List
If you are looking for related products or have any other questions, please feel free to contact us.
Contact Us
Pelleting is a very important part in the production process of suckling pig feed. Pellet feed has the advantages of uniform nutrition distribution, convenient storage and transportation, and no automatic classification, and is widely used in the breeding industry. The granulation performance of the granulation mechanism directly affects the quality of the feed.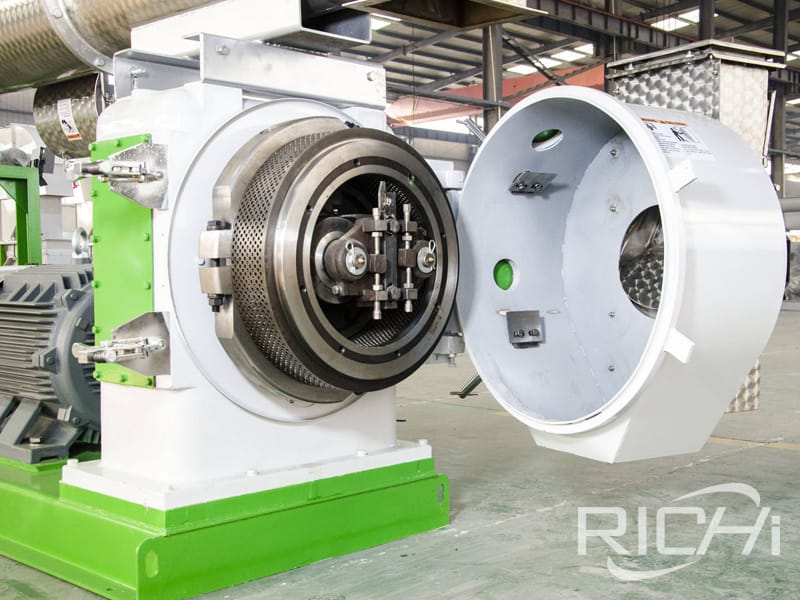 Pellet mahcine is a traditional thermal processing equipment. It is divided into ring mold and flat mold. At present, ring mold pellet mill is widely used. But when choosing, be sure to consider the chemical composition and physical properties of the formula ingredients. The chemical composition of raw materials mainly includes protein, starch, fat, cellulose and so on. The physical properties of raw materials include particle size, moisture, and bulk density. For a long time, people have ignored this problem. In fact, many structural parameters of the animal feed mill, such as the ratio of die hole length to diameter, should be included in the scope of process design consideration.
In the past, in order to improve the pelleting efficiency and reduce energy consumption, feed mills often used large die holes to granulate and then crushed the large particles through a crusher. After the granular material is broken, it should be classified into a classification screen. Large particles are returned to the crusher and broken again. Fine powder enters the pellet mahcine for secondary granulation. Such a process is both an increase in equipment and cumbersome. At present, the more advanced method is to directly produce high-quality pellets by changing the aspect ratio of the ring die of the pellet mill machine. In fact, because the main raw materials have been expanded, the granulation difficulty is reduced, which can not only improve productivity but also greatly reduce the wear of the ring die, thereby reducing the production cost.
In fact, the new processing technology has not increased the total amount of equipment, and other processing procedures have not changed. From the above, it can be seen that the new suckling pig processing technology is just a few changes in the puffing and pelleting process. But this change has caused revolutionary changes in the processing of suckling pig feed.
Pig feed pellet mill can also be used in chicken feed production lines, sheep feed production lines, cattle feed production lines, fish feed production lines, etc. Welcome to see Richi machinery's animal poultry chicken cattle aqua feed pellet machine series products,Online or email us for the price of the piglet pellet mill:
Pellet machine SZLH.508 www.cn-pellet.com/product/animal-feed-pellet-mill.html
Pellet Making Machine SZLH420 www.cn-pellet.com/product/feed-pellet-making-machine.html
Feed Pellet Machine SZLH320 www.cn-pellet.com/product/livestock-feed-pellet-machine.html
Pellet machine SZLH250www.cn-pellet.com/product/animal-feed-pellet-machine.html