Manufacturers and prices of coolers used in suckling pig feed production lines
2020-01-16 Back to List
If you are looking for related products or have any other questions, please feel free to contact us.
Contact Us
The cooler can be used in two stages of the piglet feed production line. Everyone knows that a cooler is required after the pelletizing section, but it is not known that in the processing process of the piglet feed, the raw material (corn) is also need a cooler machine.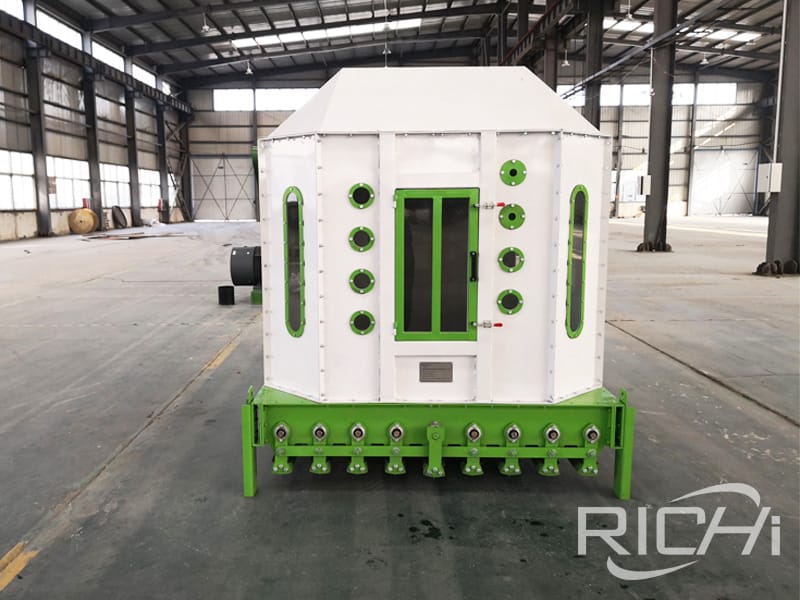 Suckling pig feed material has relatively high temperature and moisture after puffing. In order to ensure product quality and facilitate the next process, it must be quickly cooled. At present, the output method of the extruder of the extruded corn is mainly the template output, and the geometric size is relatively large. A flap counterflow cooler or a barrel cooler should be selected. The flap counterflow cooler has a small footprint but a high height, and a barrel cooler has a relatively low footprint but a relatively large footprint. The cooler can be reasonably configured according to its production capacity and the site area in combination with the site space height.
Under normal circumstances, the cooler does not come with a fan and a shut-off device at the factory, but you can consult the cooler manufacturer for a suitable fan and shut-off device. Generally speaking, an air volume adjustment door must be set at the fan outlet to cool materials with different characteristics. In addition, during installation, Shakeron and the air duct are best insulated with asbestos to prevent the wind network from being blocked by condensation in winter.
The pulverized material is pulverized again. Because the geometric size of the material after expansion is relatively large, in order to facilitate the next batching and mixing process, the material must be re-pulverized. This time the crushing is very simple, the energy consumption is very low, you can choose a crusher with less power than the raw material crusher.
Recommended cooler machine for Richi pig feed production line:https://www.cn-pellet.com/product/counter-flow-feedpellet-cooler.html(Can be customized according to the actual needs of customers)