Puffing process and selection of extruder machine for suckling pig feed
2020-01-15 Back to List
If you are looking for related products or have any other questions, please feel free to contact us.
Contact Us
The puffing process is one of the key processes in the entire production of suckling pig feed. The main purpose of puffing is to sterilize and to gelatinize starch. The key is to increase the degree of starch gelatinization. Spiral extruder machine is a highly adaptable processing equipment. In the past, it was thought that the application range of the extruder was limited and not universal. An feed extruder was not effective for processing any material, and sometimes even impossible.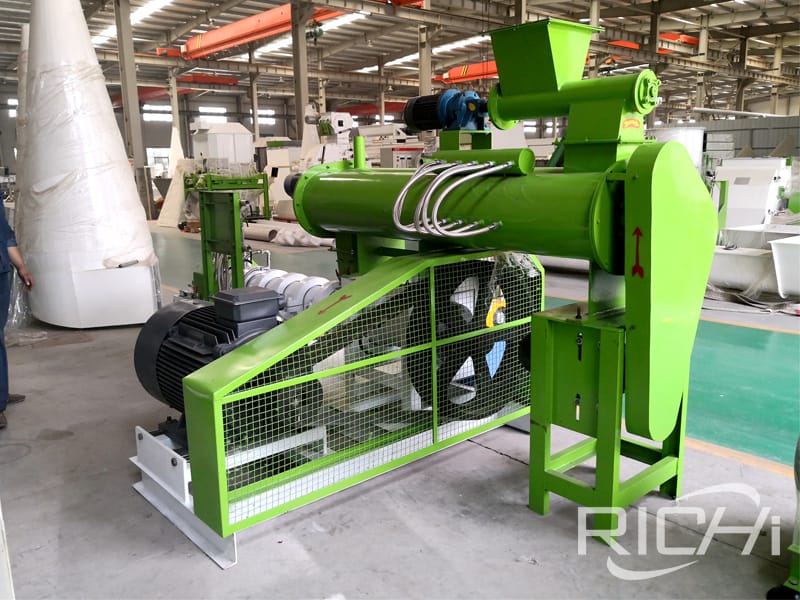 China's puffing technology has made great progress since the 1990s. There are already a large number of commercial models supporting main motors of 132kw and 160kw in use. There are several well-known large-scale puffing machine manufacturers in China, including some advanced machines. type.
The new generation of suckling pig feed extruder designed and manufactured by Richi Machinery has adopted and absorbed a large number of users' practical experience and improvement suggestions, especially for key components such as bearing housings, spindles, spirals (rods), steam plugs, puffing chambers, wear rings Effective improvements have been made to increase surface hardness and abrasion resistance and prolong the service life. The service life of the spiral (rod), steam plug and wear ring of the main wear parts is more than three times that of similar products from other manufacturers; After further research, a large number of experiments were carried out on different materials. Although the expansion mechanism of corn is different from that of soybeans (the expansion of corn is more difficult than that of soybeans), by replacing a small number of parts, one machine can be truly multi-functional. Raw materials such as puffed corn, soybeans, soybean meal, rice bran, and cotton meal can also be directly puffed with compound feed.
The reliability of Richi feed extruder is at the domestic leading level, and its main performance indicators (productivity, corn starch gelatinization degree, urease activity index value and extruded feed quality) have reached the international advanced level. It is particularly pointed out that the machine's excellent performance in puffed corn is comparable to similar models of the same period, and is well received by customers.
The suckling pig feed extruder is an important equipment in the extrusion processing production line, which can be started and operated independently. However, its process effect is directly affected by the process effect of the pre- and post-treatment equipment. Even if the current process is not handled properly, the extruder often cannot operate normally. Therefore, for a reasonable process design, not only the main machine must be correctly selected, but also the matching of various auxiliary equipment on the production line and the determination of process parameters must also be ignored.
The screw (rod) type animal feed extruder is not a complicated device from a mechanical point of view, but the extrusion expansion process is more sensitive to fluctuations in operating parameters, especially the working temperature, feeding speed and material composition ( Including water content). The fluctuation of operating parameters is often caused by human factors, so the relative stability of the operator's work position and the improvement of the work quality are important conditions to ensure the stable operation of production.
Recommended swelling machine equipment for suckling pig feed:https://www.cn-pellet.com/product/fish-feed-extruder/