What equipment are needed in 1 ton per hour poultry chicken feed pellet making plant
2019-12-12 Back to List
If you are looking for related products or have any other questions, please feel free to contact us.
Contact Us
In order to build a 1t/h poultry chicken feed pellet plant, specific planning is required, including land use planning and equipment configuration planning.However, compared with 5t/h, 10t/h and 20t/h chicken feed production lines, the configuration of 1 ton /h poultry chicken feed line is more simple and cheaper, which is very suitable for small feed mills and poultry farmers.The specific construction stage needs to be designed according to the location and area of the customer's factory. Today, we just talk about the configuration of the production line of 1 ton of chicken feed.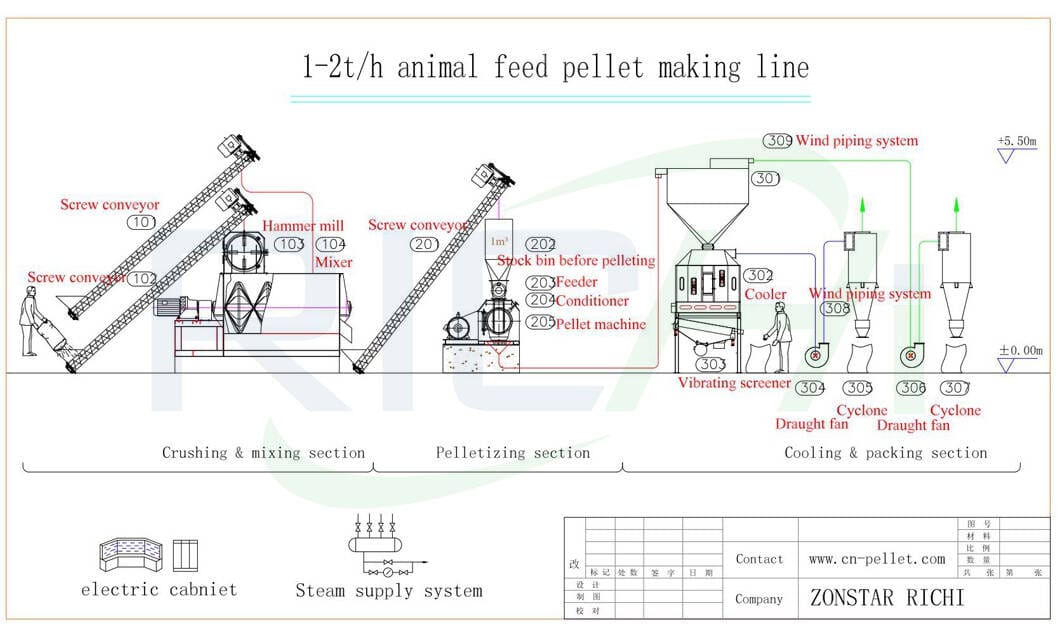 Different from the large-scale production line, there is no need to buy the equipment with high cost and high degree of automation in the dosing and packaging section of 1 ton per hour chicken feed production. Generally, only conveyor, crusher, mixer, pellet mill and other basic feed production line equipment are needed.
RICHI machinery can provide the following services:
1.Providing feed plants 1t/hsingle standard technology, personalization technology and complete plant design plan which has general planning includes the planning of civil engineering ,factory appearance, road, logistics, greening planning,main workshop with 3 D design picture, storehouse, auxiliary room, office, livingquarters, canteen, dormitory,boiler room and toilet.
2.Providing integrated solutions and managements of production, operation, quality and cost,complete training of technique and operation.
3.In order to reduce the cost, improve the quality and create value,providing the following value-added service technical solutions.
a) High productivity, high fineness and low energy consumption RICHI series grinder and ventilation network system's advanced technology and capacity expansion reform plan.
b) High productivity, emphasize the quality, low energy consumption RICHI series granulators and the advanced technology of steam piping system and capacity expansion reform plan.