Cost to start a compact small 1-2t/h poultry feed pellets line for chicken
2021-03-15 Back to List
If you are looking for related products or have any other questions, please feel free to contact us.
Contact Us
RICHI has developed a small capacity poultry feed plant for chicken. The equipments which are included in this small chicken feed plant are chicken feed grinder crusher, chicken feed mixer and storage silo, chicken feed pellet milling machine and automatic electric cabinet. It is possible to customize it depending on the fulfillment of the customers' demands by different types of poultry chickens,like broilers,layer,free ranger chickens, ducks,geee,etc.
1.Processing Range of Poultry Feed Making Raw Materials
Soybean, wheat bran, corn, meal, corn straw, peanut shell, rice husk, straw, as well as some other raw materials associated with the feeding formula.
2.Applicable Area
RICHI has designed this particular set of chicken feed pellet making machine mainly for the poultry farms, chicken farms, small chicken poultry feed mill factories.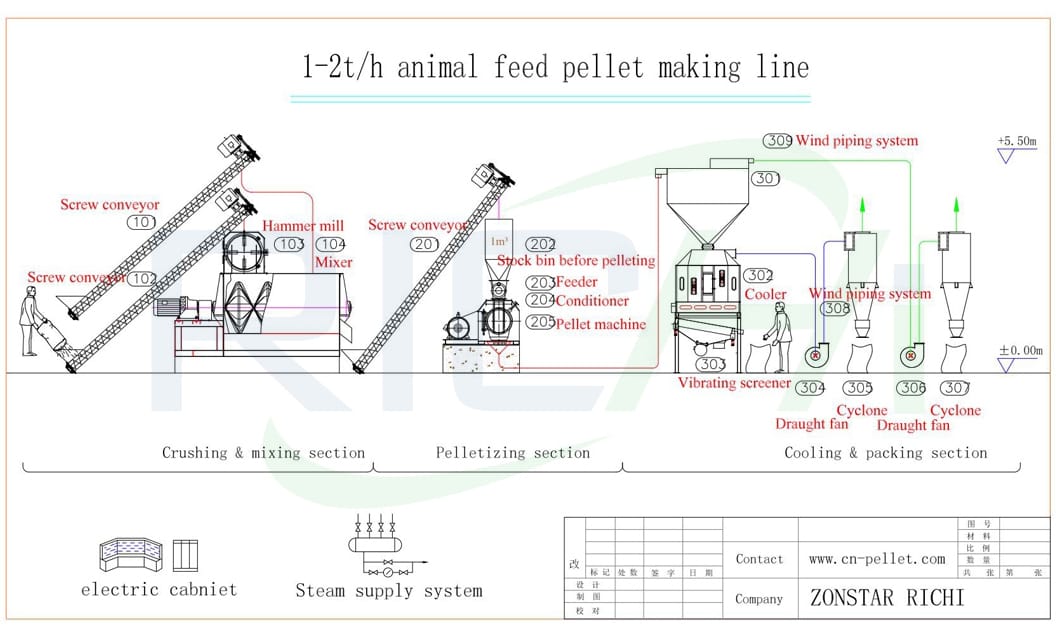 3.Characteristics of 1-2 ton capacity small chicken feed production line
This 1-2 ton chicken feed production line uses manual weighing ingredients, and the designed total production capacity is 2-3T/H for powder products and 1-1.5T/H for pellet products. The raw materials need to be pre-weighed, and then fed into the production line from two different feeding ports. The raw materials that need to be crushed are fed from the pellet feeding port to the hammer mill mash sizes for poultry feed in batches. The crusher uses the primary cleaning screen to feed the feed. The powder to be crushed is pre-weighed and enters the 1-2t/h chicken poultry feed production plant from the powder feeding port, and then is mixed by the mixer for chicken feed. The mixed material can directly enter the finished product warehouse as a powder product, or enter the granulation section for granulation cooling processing , And finally use manual weighing and packing. The total equipment power of the unit is about 87KW; the size of the unit is about 12×6×8m; it needs to be equipped with a 0.2T boiler. The whole unit adopts splicing frame, compact design, reasonable structure, meeting environmental protection requirements, and directional design can be carried out according to customer requirements.
4.Components of small 1-2tph poultry chicken pellet feed production line
(1) Raw material receiving and cleaning section: granular and powdered raw materials enter the small poultry feed line through two feeding ports respectively, among which the granular raw materials are cleaned by the feeder primary cleaning screen to remove impurities, and then the iron is removed and enters the pulverizer; The raw materials need to be cleaned up in advance.
(2) Crushing section: using RICHI small hammer mill machine to grind corn for chicken feed, which can be used for coarse crushing or fine crushing, and the feeding and preliminary cleaning equipment are integrated. While cleaning the raw materials, it can also feed the machine for grinding chicken feed. Frequency conversion control, feeding The material is uniform, equipped with a pulse dust collector, mechanical settling and discharging, the process is simple and the cost is low, and it is suitable for the pulverization of small output and multiple varieties of raw materials.
Crushing equipment: poultry chicken feed making machine grinding mill SFSP 568-I, 22KW, designed capacity 2-3T/H.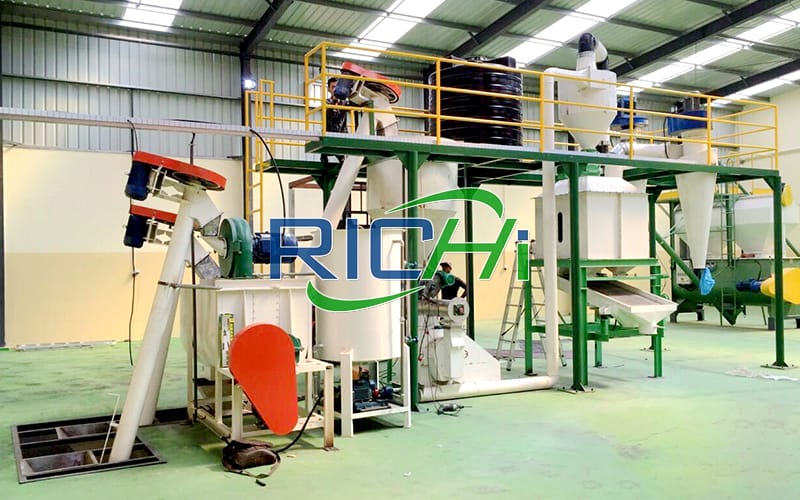 (3) Mixing section: There is a mixing chamber above the chicken feed mixer, which can make the mixing machine work, the feeding can continue, to achieve the effect of continuous uninterrupted production, the mixed materials can be separately entered into the granulation warehouse and powder The finished product warehouse meets the demand for the simultaneous production of powder and granular finished products.
Mixing equipment: adopts double-shaft paddle mixer SHSJ0.5, 5.5KW, 250kg/batch, and the designed capacity is 2-3T/H. Mixing uniformity CV≤5%.
(4) Granulation section: a chicken feed pellet granulator with a single-layer conditioner, suitable for the production of ordinary livestock and poultry feed materials and ruminant feed materials; after pelleting, it is lifted directly into the cooling vibrating screen, and finally bagged Bale.
Pelletizing equipment: small capacity chicken feed pelletizing machine SZLH25, 22KW, designed capacity 1-1.5T/H (¢3.5 conventional chicken feed formula). Cooling equipment: Counter-flow cooling screen SNSZ120, with a design capacity of 1-2T/H.
(5) Auxiliary section: Liquid adding system, which can add grease to the mixer to improve the palatability of feed. The pneumatic system provides compressed air for the pneumatic components in the system.
5.Small poultry feed mill machinery for making chicken feeds in 1-2t/h poultry feed processing line
Technical Parameters of main equipments for 1-2t/h chicken poultry animal feed pelleting line

No.

Product

Model

Power(KW)

1.Raw Materials Receiving And Crushing And Mixing system

101

Screw Conveyor

TSLL16

2.2

102

SFPZ56*30

18.5

103

LHY1.0

7.5

2.Pelleting System

203

SZLH250

24.95

3.Cooling System

301

Belt conveyors

QBPS400

2.2

304

Counter Flow Cooler

SKLN11

0.75

307

Air Blower

4-72-4A

5.5

308

Screener

SFJZ60*1d

5.5

4.Packing System

401

Belt conveyors

QBPS400

2.2

403

Packing Machine

2.2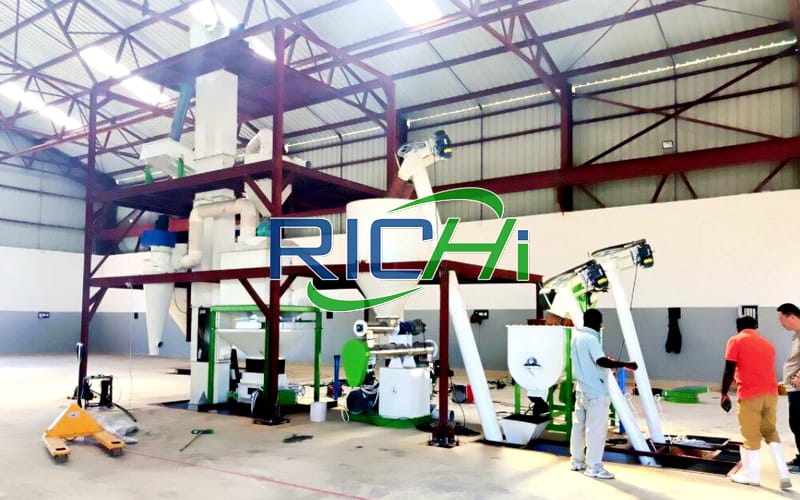 6.Chicken Mash Feed Vs Chicken Pelletized Feed
(1)The chicken feed pellets which have been manufactured by our 1-2t/h small sized chicken feed pellet making plant are beneficial for the digestion of the animals as well as the absorption of nutrients.
(2)This pelletizing procedure, with an appropriate design, is capable of causing the pancreatic enzyme boycott factor's degeneration effect by destroying all types of parasitic ovum plus other pathogenic microorganisms and thus minimizing the detrimental effects on the digestive system as well as its ailments. These chicken feed pellets, in contrast to the mixed feed powder (mash feed), are more beneficial economically.
(3)Full-bodied fragrance is produced by the animal feed materials during the pelletizing procedure under high pressure and high temperature. These are the ideal choices for livestock as well as poultry animals like cattle, pig, chicken, sheep and rabbit with an increase in nutrition absorption by as much as 300%.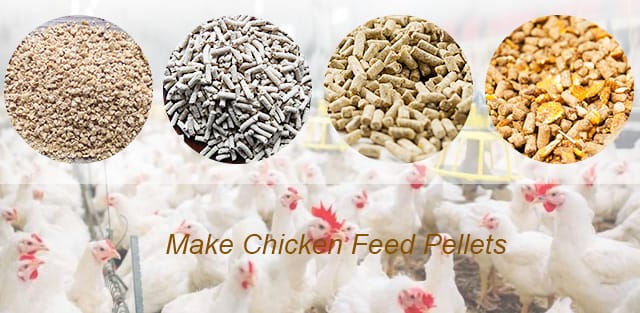 7.Cost for setting up a small scale 1-2 ton per hour poultry chicken feed making plant
Visit 1-2t/h small poultry chicken making feeds machine line price(https://www.cn-pellet.com/faq/1045.html )for details
You might feel the need of a turnkey project solution in case you happen to be a chicken feed manufacturer of large animal feed and require a large scale or a medium scale commercial chicken poultry animal feed production line.
Richi Machinery——Professional China chicken poultry feed mill equipment company
Let us know regarding your capacity requirements and the information you need regarding raw materials as well as what type of animal you would like to feed and you are going to receive a customized poultry chicken feed making equipment list, business plan along with poultry chicken feed production project cost from our engineers. Do not give any second thoughts to get in touch with Richi Machinery!