How to establish 500-1000kg/h small scale floating and sinking fish feed production plant?
2021-02-05 Back to List
If you are looking for related products or have any other questions, please feel free to contact us.
Contact Us
How to establish a 500-1000kg/h small fish feed mill?How to establish 500-1000kg/h small scale floating and sinking fish feed production plant?Setting up 500-1000kg/h small sized fish feed processing plant to make sinking and floating fish pellet feeds ,you need to buy high quality fish feed pellet extruder machinery.Hoy sale widly used sinking and floating fish feed pellet machinery provided by China fish feed making machine manufacturer or supplier, guide on process of floating and sinking fish feed production and how to start 500-1000kg/h small capacity fish feed production business with limited cost in Malaysia,Philippines, Bangladesh,Tanzania, Egypt, Morocco, Ghana, Turkey, South Korea, Norway etc.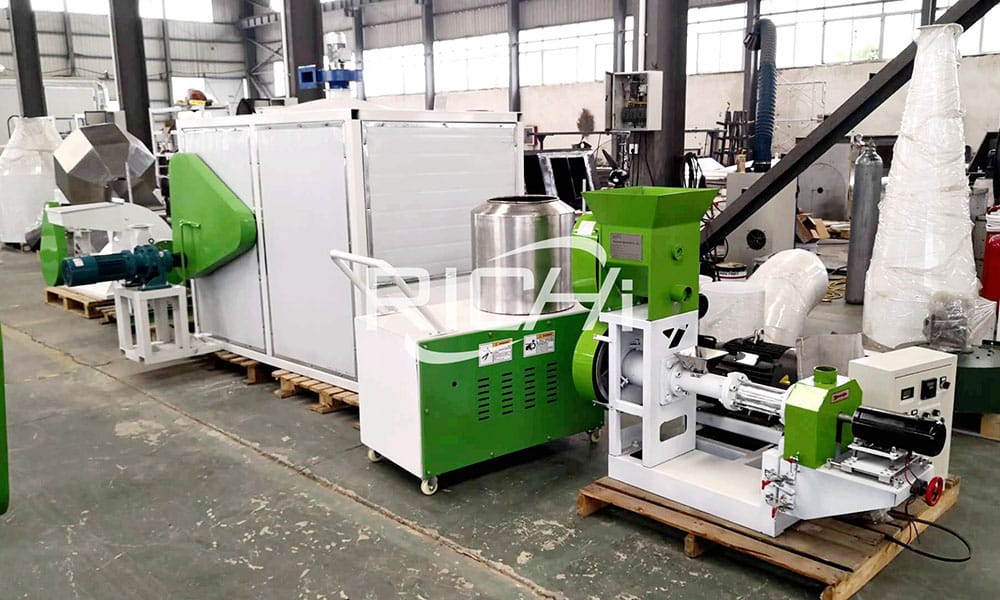 1.Fish feed manufacturing business
With the rapid development of aquaculture industry, the variety of aquaculture is increasing and the demands for floating pellet feed and sinking pellet feed is also increasing greatly. Accordingly, setting up an fish feed processing line has been regarded as a good way of getting rich at this moment.
Fish, shrimp and other aquatic animals have small intestines and stomach, and poor digestion and absorption ability, so the processing technology of aquatic feed is much higher than that of livestock and poultry feed. To produce high quality fish feed, we must rely on scientific and reasonable processing technology and combine it with advanced, reliable and stable fish feed pellet machinery. Therefore, the selection of fish processing equipment is particularly critical.
2.Buy fish feed processing equipment for your small 500-1000kg/h floating and sinking fish feed factory line
Fish deed extruding technology is mainly used in the production of special aquatic feed, pet feed and other animal feed. In addition to the advantages of the general animal pellet feed, the extruded feed can also improve the digestion and absorption rate of feeding animals, and effectively prevent animals from digestive tract diseases. Expanded feed can be applied to materials that contains starch and high fat content due to the starch gelatinization. In addition, the ripening of high temperature and high pressure also increase disinfection and sterilization.
It is because of so many advantages of feed extrusion that more and more 500-1000kg capacity small commercial fish feed making plants begin to adopt feed extruding equipment to produce sinking and floating fish feeds.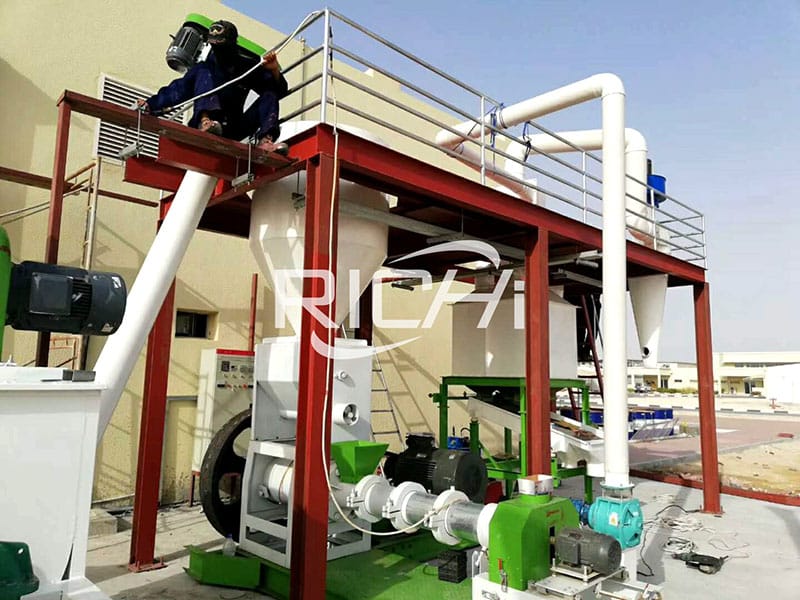 3.Working principle of fish food extruder for fish feed manufacturing plant with 500-1000kg per hour capacity
At present, most of the 500-1000kg/h complete small size fish feed mills adopt fish feed extruder as the core equipment to produce floating and sinking feeds. The working principle of feed extruder is the powder materials that contains a certain amount of starch (more than 20%) are conditioned and treated by conditioner, and then the water content of the material can reach 25% ~ 27%, the temperature rises to 80℃ ~ 100℃.
The fish feed extruder machine is composed of feeding system, driving system, extrusion system, discharging mold and electrical control system.
The material with good tempering quality enters into the screw extrusion area. As the volume of the extrusion area becomes smaller along the axis, the pressure on the material increases gradually, and the compression ratio can reach 4 ~ 10. The material is extruded and pushed by screw, accompanied by strong shearing and friction action, the pressure and temperature rise sharply. Under the action of high temperature and high pressure, the starch in the material can be basically completely gelatinized, and the protein can be partially deformed.
When the material is extruded out from the die under great pressure, due to the sudden leave and sudden enters into the atmosphere, temperature and pressure are decreased greatly, under the joint action of pressure and temperature difference, the volume of feed rapidly is expanded and the moisture is evaporated quickly, dehydration is set. Then, through the customized discharge model to form various shapes and structure, and the extruded feed is made successfully.
4.How to Choose Your Floating and Sinking Fish Feed Pellet Machine for your 500-1000kg/h aquaculture fish feed production
Quality is the life of an feed production enterprise. In order to produce different kinds of floating and sinking fish feed with high quality, choosing the suitable fish feed equipment to set up a sinking floating fish feed processing line should based on your actual needs. If you have no ideas about how to do it, please just contact us to get professional technical supports!
(1)Main Equipment for 500-1000kg/h small fish feed making plant
Screw Conveyor, Bucket Elevator, Fish Feed Grinder, Pulse Dust Collector, Fish Feed Mixing Machine, Vertical Mixer, Pneumatic Conveying System, Fish Feed Dryer, Spraying machine, Fish Feed Extruder, Cooler, Automatic Weighing and Packing Machine, Electrical Control System,etc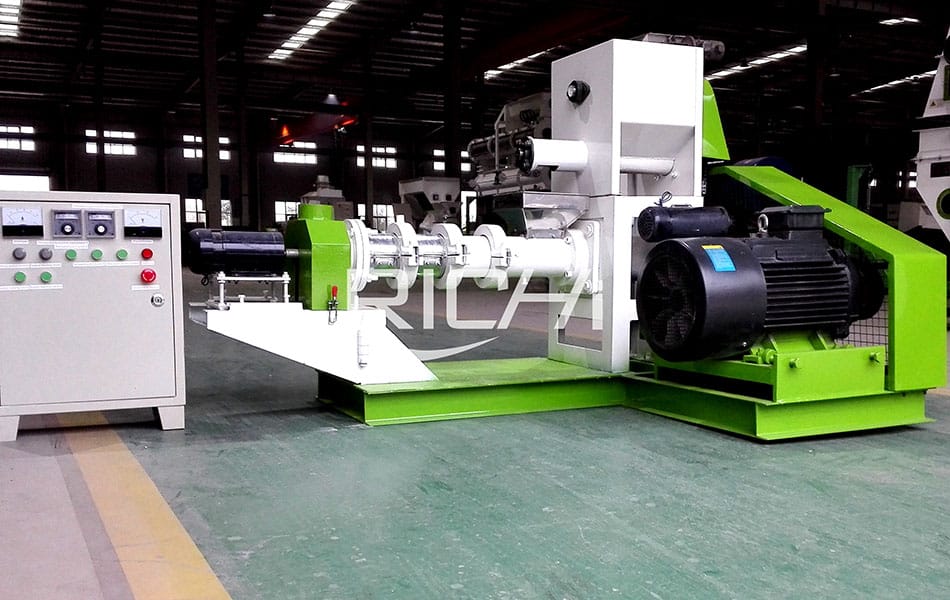 (2)How to production fish feed with 500-1000kg/h small fish feed producing line?
Raw material crushing → mixing → extruding → drying → flavor → spraying → cooling → packaging
How to select the suitable fish feed making equipment also depends on the investment scale, process layout and other factors. But, in any case, you must be under the premise of ensuring the quality of the product, correctly and effectively select and use the fish feed production equipment.
Richi Machinery, a professional fish feed pellet machinery manufacturer from China, always provides customers with the premium quality equipment, formulation, installation and market news. If you are interested in setting up a small fish feed pellet plant to produce both sinking and floating feed, just get in touch with us to get the best price list and parameters of small fish feed manufacturing factory!
(3)Small 500-1000kg/h fish feed mill construction budget
Small scale hot selling easy to use 500-1000kg/h fish feed production mill construction investment is usually between 8000USD-40000USD.
5.Characteristics of Fish Sinking and Floating Feed
To select the production equipment of aquatic feed, we must first understand the characteristics of fish feed and aquatic feed:
(1)Smaller Size of Pellets
Due to the short digestive tract and related physiological characteristics of aquatic animals, in order to speed up digestion and absorption, the size of aquatic feeds should be smaller than that of livestock and poultry feeds. For example, the size of eel and prawn feeds should reach 80 to 120 meshes.
(2)High Protein and Low Carbohydrate
The protein content of livestock and poultry feed is generally less than 20%, but the protein content of aquatic animal feed is mostly 30% ~ 40%, the protein content of eel feed is as high as 65% ~ 70%.
(3)Tight and Close Structure of Pellet Feed
The feed for fish and other aquatic animals should have high adhesion and water resistance.
(4)Prevent Cross Contamination in the Fish Feed Production
Some raw materials need to be treated aseptic, the equipment selected is easy to clean and less residue, especially in the production of shrimp and eel feed, other kinds of feed shall not be produced at the same time to prevent cross contamination.
6.The difference between floating and sinking production for fish feed
Generally speaking, because of the characteristics of floating fish, the processing of floating fish feed pellets must use an extruder. The sinking fish feed can not only use an extruder, but also a ring die pelletizer. Especially for many customers who have just entered the fish feed processing industry, if you want to process sinking fish feed, you can choose a two-layer or three-layer conditioner ring die fish feed pelletizer, which not only saves costs, but also feeds The quality is not bad either.
Are you still looking for the best fish pellet maker?How to manufacture fish feed with small fish feed pellet production plant?How to start commercial fish feed production business?Contact Richi Machinery.