How Much Do You Know About 1-3 Ton Per Hour Small Poultry Feed Pellet Making Plant For Chicken Feed?
2021-01-19 Back to List
If you are looking for related products or have any other questions, please feel free to contact us.
Contact Us
With the improvement of people's living standards, more and more users choose to go back to their hometowns in rural areas for breeding. Whether they are raising chicken broilers, porcupines, cattle, sheep and other poultry&livestock, they can improve their economic income as long as they work hard. Now everyone knows that there are many users who raise chickens. If the user's feed is purchased from outside, then the cost of feeding will be relatively high. How to reduce the cost of feed and meet the nutritional needs of various poultry has become a lot. The most worrying problem for farmers.
Nowadays, people like to be efficient no matter what they do, and use machinery to replace manual labor to complete chicken feed production operations, such as feed factory use customized automatic poultry chicken feed pellet production lines, mechanization in agricultural production, and ring die hot sale chicken feed pelleting machine equipment is specially designed for big chicken farms.
The pellets produced by this 1-3 ton chicken feed line equipment basically do not need to add water, which is dry in and dry out. The compressed chicken feed pellets can be stored for about half a year, which is helpful for farmers to store the feed pellets needed by the animals before the winter. The high temperature generated by the feed pellet machine can sterilize the feed without affecting the quality of the feed.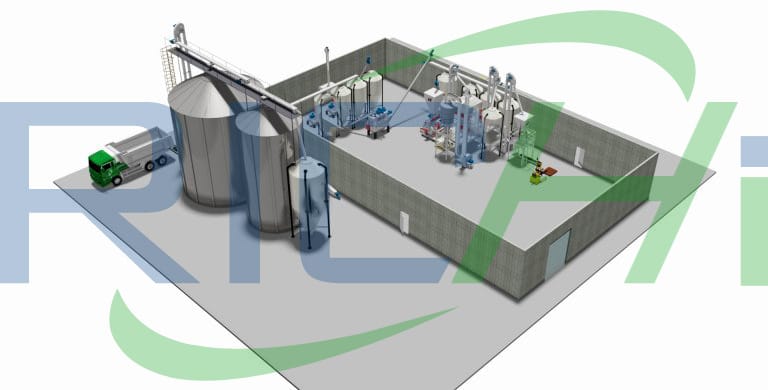 1.Introduction of RICHI widely used 1-3 ton per hour small capacity ring die chicken feed pellet manufacturing plant
Feed Pellet Size: 2-12mm
Feed Pellets Procesing Capacity: 1-3t/h
Feed Pellet Forming Rate: >90%
Suitable for: livestock, poultry and fish farmes, hennery, small feed production workshop, etc.
Raw materials: feed pellet plants raw materials can include corn, wheat, grass, alfalfa, oil seed meal & cakes, pasture, bone meal, microelements, etc.
Small 1-3tph chicken feed pellet making plant is a complete set of poultry feed equipment for chicken feed pellets making,a complete small sized chicken feed mill plant that needs to assemble by yourself. This 1-3T/H chicken feed line is a small scale pellet feed plant that produces 1-3 ton per hour chicken feed pellets, also widely used to produce feed pellets for cattle, cow, sheep, goat, horse, duck, goose, bird, fish (sinking fish feed pellets), and so on. This small poultry feed pellet manufacturing plant for chicken feed consists of chicken feed grinder, split system, pneumatic system, mixing feeder, quenching system, granulation equipment, sorting system, conveying mechanism and other parts.It is mainly composed of small chicken feed hammer mill, small chicken feed mixing machine, screw conveyor, storage silo, and small chicken feed pellet mill machine, feed pellet cooler, feed pellets packaging machine, etc. All machines in this 1-3tph capacity small animal poultry chicken feed pelletizing plant are optional as to your specific needs and requirement.
2.Advantages of RICHI 1-3 ton per hour hot sale small chicken poultry feed mill plant
(1)It has compact structure, low requirement on workshop conditions, low investment and occupies small area.
(2)This 1-3tph automatic small plant for poultry pellet feed production plant is easy to install. It does not need civil engineering or welding at project site. All chicken feed line machines can be used directly after finish the connection, so you don't need extra cost on installation.
(3)Continuous production, easy operation, fewer operators required: this small automatic chicken feed processing line plant only needs 1-2 operators, with less labor works. So the operation cost is lower and can enlarge your pure profit by lower the production cost.
(4)Wide application, it can produce various feed pellets for poultry, livestock, fish, etc, it's suitable for small and medium animal feed production.
3.Cost to start a small poultry chicken broiler animal feed pellet making plant 1-3 ton capacity
1-3 TPH small poultry feed manufacturing plant cost is usually between 15000-60000USD.
4.Small chicken animal feed production line project by Richi Machinery
1-2t/h chicken feed pellet production machine line for poultry feed in Australian
1-2t/h simple home use poultry chicken feed pellet making line in Papua New Guinea
1-2t/h small scale chicken feed pellet processing plant in Peru
1-2t/h automatic small plant poultry pellet feed production plant in Sudan
1-2t/h poultry chicken broiler animal feed pellet making plant in Tanzania