What's the price of 1-5 ton per hour floating fish puffed food pellet mill line in Bangladesh?
2021-01-15 Back to List
If you are looking for related products or have any other questions, please feel free to contact us.
Contact Us
1. Prospects of the aquaculture industry in Bangladesh
Bangladesh is located in the South Asian subcontinent, south of the Bay of Bengal, and on the delta formed by the Ganges and Brahmaputra Rivers. It not only has a long coastline, but also has dense inland rivers, rich in aquatic products, and has fishing and aquaculture. Natural advantages. According to data from the Bangladesh Fisheries Department, Bangladesh has a total of 260 species of freshwater fish, 475 species of marine fish, 24 species of freshwater shrimp, 36 species of marine shrimp and 12 species of exotic fish. 60% of the country's animal protein intake depends on aquatic products.
The aquaculture industry is one of the priority industries in Bangladesh. The government's development goal for the aquaculture industry is to increase the resources and output of aquatic products, reduce poverty through entrepreneurship, improve the socio-economic status of fishermen, and meet the huge domestic demand for animal protein intake and export earnings. . Although the Mengshui industry faces problems such as lack of high-quality raw materials, backward production technology, poor production environment and poor product reputation, it still has a good development prospect if it is solved through effective measures. Marine fishery is also increasingly being valued by the Bangladeshi government. Policies will be clearer and the development environment will be more transparent, which will be more conducive to the development of aquatic feed processing plants.
It can be seen that the Bangladeshi government attaches great importance to the development of the aquaculture industry and will continue to provide policy support. Bangladesh's aquaculture industry still has great development prospects in the future.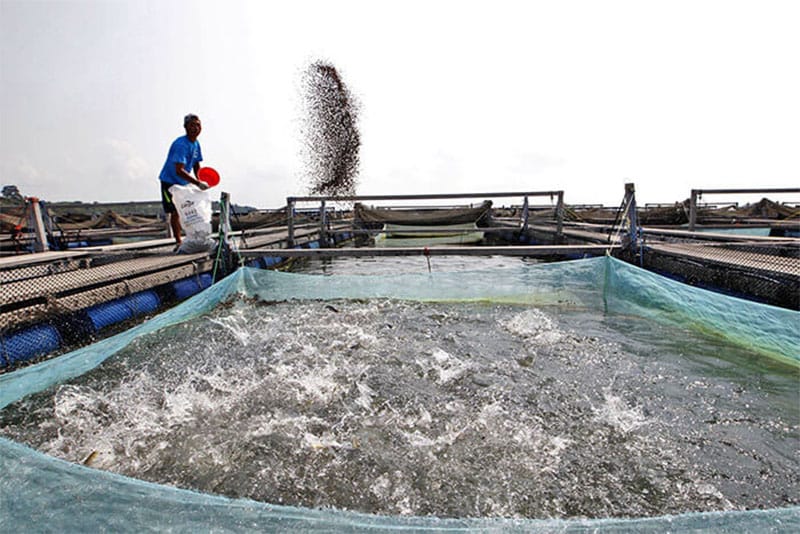 2. The aquafeed industry in Bangladesh
Aqua feed started late in Bangladesh. There is only one feed company (Saudi Bangla) in Bangladesh that has a professional production line to produce aquatic feed. Other companies use poultry feed production lines instead of production. They generally use the method of ingredients first, then crushed, and then mixed. Because the crushing fineness is not up to the required and there is no effective binder, the feed digestibility and stability in the water are poor, and the market response is not good. 
Bangladesh's current aquatic feed production is 500,000 tons per year. Farmers have just realized the role of feed in aquaculture, so their market demand is growing rapidly. Some feed companies have noticed this trend and are preparing to build a new production line specialized in aquatic feed.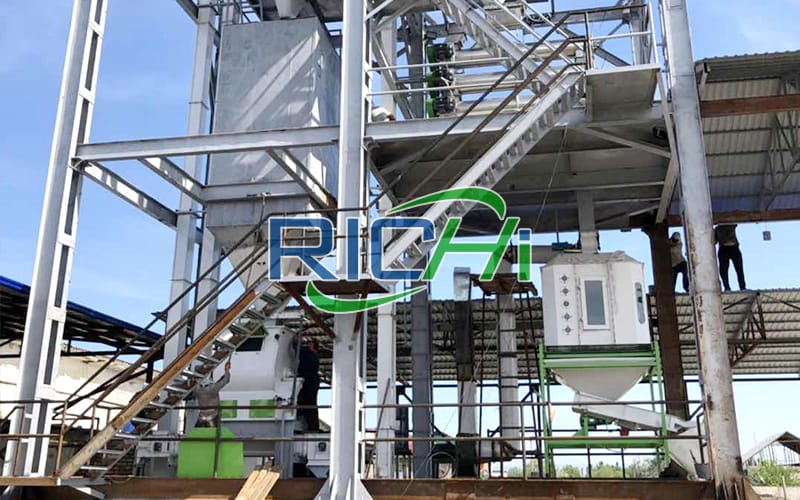 3.How to build 1-5 ton per hour floating fish feed pellet processing line in Bangladesh?
(1)1-5 Ton capacity floating aquatic feed pellet manufacturing process in Bangladesh
The stages of 1-5tph complete fish feed production include: Material crushing—>material mixing—>pelleting process—>pellets drying—>oil spraying process—>pellets cooling—>pellet packing
(2)Machine needed in a hot selling easy to operate low cost 1-5 ton per hour floating fish feed mill plant for Bangladesh market
Crushing Equipment, Horizontal Screw Conveyer,Pulse Dust Collector, Elevator,Storage Bin,Pneumatic Gate, Mixing Equipment,Screw Elevator,Bucket Elevator,Fish Feed Pelleting Machine,Air Conveyer,Dryer,Air Conveyer,Feed Sprayer,Counterflow Cooler,Automatic Weighing & Packaging Machine,etc.
(3)How much are 1-5 ton per hour fish feed production equipment in Bangladesh?
1-5 Ton per hour complete floating fish feed production facotory use fish feed machine price in bangladesh is ususually between 40000USD-380000USD.

4.Raw Material needed for 1-5 ton capacity floating fish feed pellet production in Bangladesh
Fish feed pellets are processed by directly pressing pellets of crushed materials such as corn, soybean meal, straw, grass, and rice husk. The pellet feed for fish has comprehensive nutrition, strong stability, is not easy to collapse in the water, is not easy to pollute the water body, and is easy to digest and absorb, and is favored by the majority of aquaculture farmers.
5. Some doubts about 1-5 Ton per hour whole floating fish feed pellet making
The feed industry in Bangladesh has only emerged in recent years, and the general trend of global feed machinery is also undergoing an update: The application of extruder is more popular.Many fish feed production company mainly considers price, energy consumption, service life and quality when purchasing machines. Although the extruder is advanced, it is expensive. We as corporate consultants are responsible for helping companies buy the most suitable machines. Some fish feed production entrepreneurs want to buy the lowest price, but that old model is often a synonym for high energy consumption and short lifespan. The products made by several large companies in the United States are very new and energy-efficient, but the prices are often beyond our range.
Choosing a suitable extruder for an enterprise is a complicated process. We must also consider the market price of feed and the price of raw materials. The moisture of most extruded feed is kept at 10-12%. If the moisture is lower than 10%, the floating fish feed production mill may lose money. The integrity of the supplier also needs to be considered. Some manufacturers say that his extruder can work for 10,000 hours, but in fact, it took 5,000 hours to cause various failures. Various maintenance costs also increase our costs and delay production. This is definitely not acceptable to customers from Bangladesh.
So fish pellet feed making machine or fish puffed feed processing machine ,depending on the needs of customers, both types of fish feed making equipment and processes can be provided by Richi Machinery——China fish animal feed production line factory supplier.Do you want to develop a business plan for 1-5t/h floating fish feed pellet processing plant?Please feel free to contact Richi Machinery.