How To Make Animal Feed Pellets For Poultry Chicken In 20 Ton Per Hour Poultry Feed Making Plant?
2020-12-29 Back to List
If you are looking for related products or have any other questions, please feel free to contact us.
Contact Us
How To Make Animal Feed Pellets For Poultry Chicken In 20 Ton Per Hour Poultry Feed Making Plant?Today we will talk about 20t/h capacity poultry chicken animal feed processing methods.
Animal performance and feed efficiency benefit from good quality feed pellets. The better the pellet, the better the performance. Reduced waste, less segregation in the feed, improved palatability, and shorter eating periods-all of these feed pellet merits are brought by poultry chicken feed pellet mill.
Richi Machinery is China poultry chicken feed pellet mill manufacturer, which is offering a wide range of poultry feed equipment including poultry chicken feed grinding equipment, poultry chicken feed mixer machine and ring die poultry chicken feed pelletizer machine,etc. We also supply complete 20t/h capacity poultry chicken feed pellet production line and have many successful poultry chicekn feed mill plant projects around the world. Feel free to contact RICHI if you would like to know more about our poultry chicken feed processing equipment.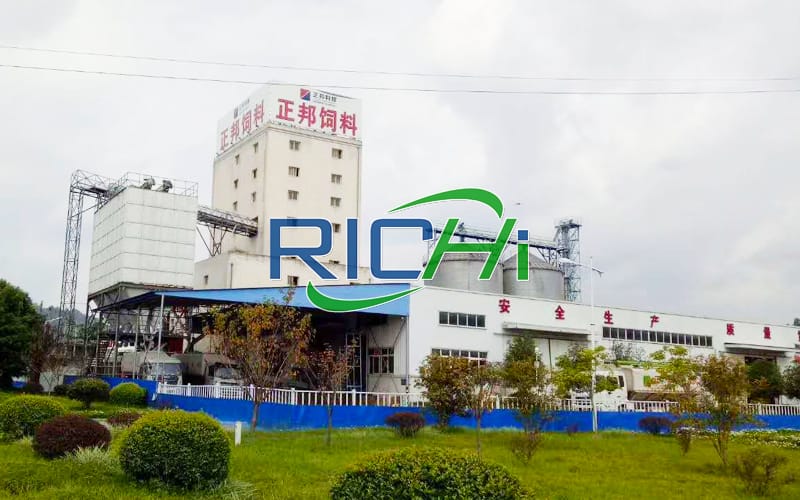 1.Poultry chicken feed raw materials
(1)Cereals: maize, barley, oat, wheat, triticale, rye, and sorghum.
(2)Seed from oleaginous crops: soy, flax, and sunflower.
(3)Seed from legumes: broad beans, field bean, and protein pea.
(4)Forage: flours of permitted forage essences.
(5)Dried beet pulp.
Furthermore, the following substances can be used as appetizers in feed pellets:
(1)Carob-bean, up to a maximum of 3%.
(2)Molasses, up to a maximum of 3%.
Note: for animals in lactation, dry animals, and heifers from the sixth month of pregnancy, the maximum daily amount of feed pellets is 2 kg/head/day.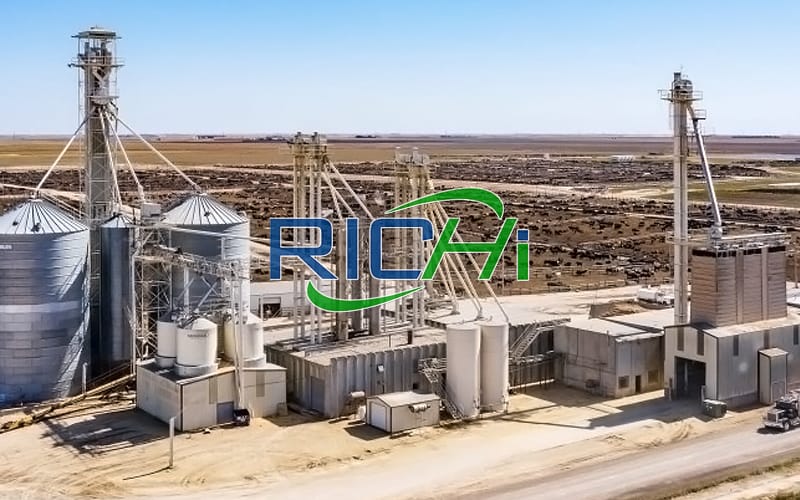 2.Equipment Needed To Make Poultry Chicken Feed Pellets
Equipments required to make poultry chicken feed pellet in the 20t/h automatic complete poultry feed pellet manufacturing plant are as following:
(1)Tank (or other containers) for raw and auxiliary materials storage.
(2)Poultry feed hammer mill grinder for grinding the raw materials to poultry feed powder.
(3)Feed pellet blender (feed pellet mixing machine) used to mix powdered materials to improve the uniformity of the ingredients.
(4)Animal poultry feed pelleting machine with ce is the main equipment for making poultry feed pellets. For 20tph fully automatic poultry feed plant, we supply ring die poultry feed pellet making machine design for 20tph computer control feed plant for processing poultry feed. If you plan to buy a ce approved poultry feed compress pellet making machine, you can tell us your capacity requirement, then our salesman will give you a good recommendation.
(5)Poultry pellet cooler is used to cool the hot and moisture feed pellets, if your production capacity per day is not so much, you will not need this pellet cooler, just dry the pellets in the sun is OK.
(6)Feed pellets screening and grading machine is used to remove the fines and grade the pellets, which is the preparation for packaging.
(7)Feed pellet weighing and packaging machine are used to weigh and pack the pellets in the uniformity. If making cattle feed pellets for your own farm, you can choose to store the pellets in a dry container instead of buying a packing machine, while for an automatic feed pellet plant, the weight and packing machine is necessary.
(8)Other auxiliary machines (conveyor, lifter, etc.). Usually used in a 20 ton per hour full automatic poultry feed pellet making plant.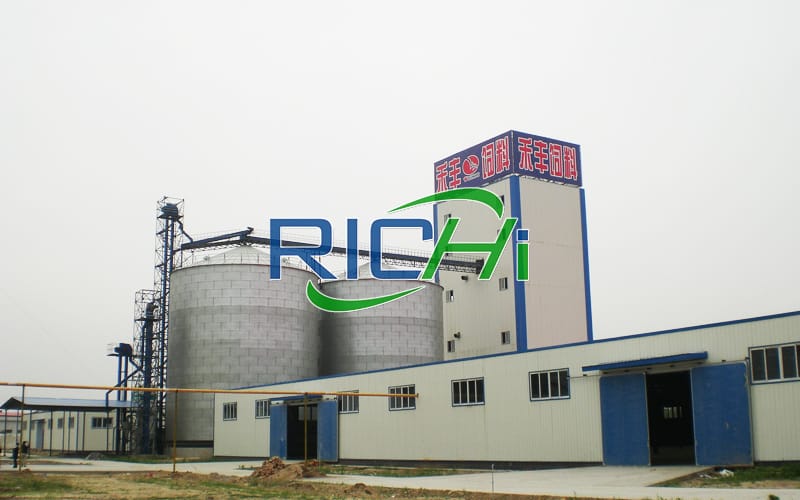 3.Knowledge Of Buying Poultry Feed Pellet Production Machine For 20TPH Large Capacity Poultry Feed Mill Factories
Now there are many people feed animals like pig, sheep, chicken, rabbit, these animals feed are big demand and big thing, some people buy them feed pellets from a feed manufacturing line, but some choose to make their own feed pellets for their animals.
Then how much do you know when you decide to buy an animal feed pellet mill for poultry chicken feed production? many people who have little experience in making feed pellets, different people have different questions about pellet mill for making feed pellets, some customers once consulted us such questions which are maybe you will have:
(1)Are the feed pellets produced small? do you have some clients making pellets using the animal feed processing machine? I mentioned it is primarily for animals? The pellets produces can be 2–12mm, choosing according to your requirement.
(2)Are there some parts that wear out frequently which I would need to order together with the feed pelleting machine? The main parts are the roller and die, they are can be about 6-8 months on the condition of continuously working.​​​​​​
The mechanical equipment of RICHI sells well in domestic and foreign markets and enjoys a high welcome among consumers. With years of hard work, Richi machinery has established a complete and effective service system and built an experienced service team. We will carry out an after-sales tracking service for the poultry animal feed pellet maker sold.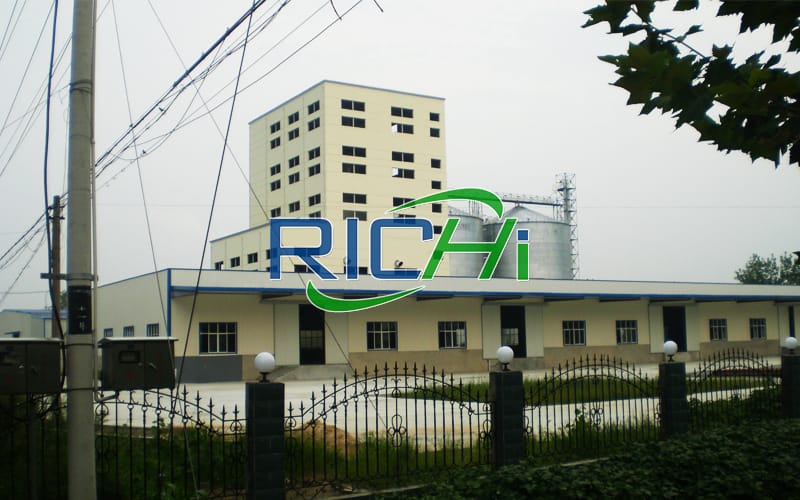 4.How To Ensure The Hardness Of Poultry Feed Pellets During The Poultry Chicken Feed Pellet Making Machine Process
We all know that when the feed processing machinery is in production, it is often affected by many factors. Which will jointly determine the quality of the products produced. In the production of poultry chicken feed pellet milling machines, since hardness is an important indicator of the quality of poultry feed pellets, we generally require that the hardness of the pellets meet a standard. So, what factors will restrict the hardness of feed pellets?
(1)Ring Die Poultry Pellet Processing Machine Production Process
Therefore, we must start with the production process. In the production of straw granulators, there is a relatively important process, which is steam conditioning. The effect of steam conditioning often determines the internal structure and appearance quality of the pellets. Steam quality and quenching time are two important factors that affect the quenching effect. Because high-quality dry and saturated steam can emit more heat to increase the temperature of the material and make the starch gelatinize. Then the longer the quenching time, the higher the degree of starch gelatinization, which will make the granular structure more compact and firm after molding. Therefore, the better the stability, the higher the hardness.
(2)Raw Materials For Pellets
In addition, it should consider the perspective of raw materials. For example, a single raw material may not have the same hardness as the pellets formed after processing the mixture. Because after mixing the raw materials, it can ensure a more uniform distribution of different pellet sizes, which is more helpful to make the hardness of the chicken poultry feed pellet press equipment consistent.
Except that, the consideration of moisture is also an aspect. If the moisture content of about 1% to 2% added during the production process of the poultry aniaml feed pelletizing machine, the stability of the pellet feed will significantly improve, so the hardness of the feed pellets made will also improve. However, when adding water, be sure to control the appropriate amount according to the actual situation.
5.20 Ton per hour turnkey poultry animal feed manufacturing plant cost
Cost of setting up a 20tph full automatic wholesale poultry feed processing line is usually between 300000USD-1500000USD.