How to produce 100kg/h-20t/h floating fish and sinking fish feed by pellet machine in nigeria?
2020-12-28 Back to List
If you are looking for related products or have any other questions, please feel free to contact us.
Contact Us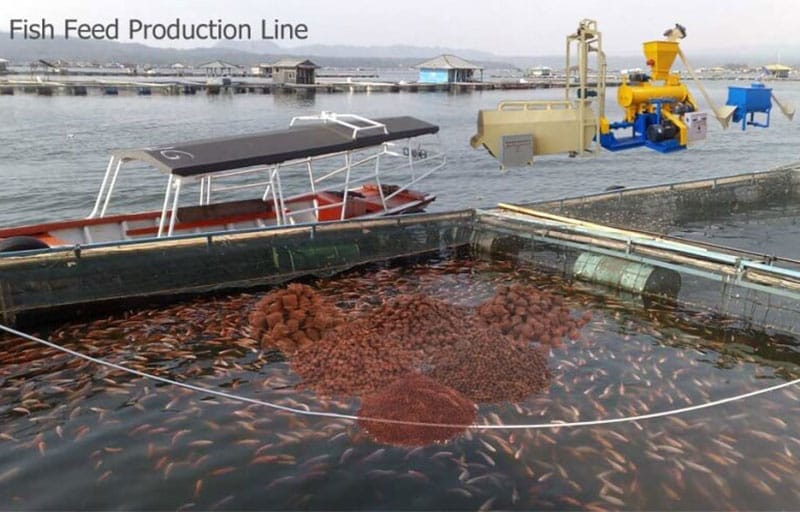 1.Nigeria's aquaculture industry has grown
According latest news:In recent years, with the development of Nigeria's aquaculture industry, more and more Nigerians have participated in relevant trainings such as fish farming, and the number of people engaged in aquaculture has increased.
According to the Nigerian Institute of Oceanography, Nigeria has a population of more than 200 million and is a country with a large population. The residents have a huge demand for aquatic products. The development of the aquaculture industry will enhance the level of the agricultural value chain and benefit the country.
2.Fish Farmers Can Produce Fish Feed Pellets Themselves In Nigeria
Nigeria is one of the leading producers of catfish in Africa. But this has been grossly inadequate to meet WHO's protein requirement recommendation per person. This is made up by imports from Europe, South America, and the Far East. That is unnecessary while using the Minister of agriculture's assertion that Nigeria's aquaculture industry has the potential to serve the whole of Africa. sinking fish feed pellet machine and floating fish feed pellet production machine is important to fish farming in nigeria.
One of the challenges of fish farmers is fish feed pellets in Nigeria and 80 percent of the cost of fish farming is the feed. Although the quality of the imported fish feeds is good, the cost puts them out of reach for most farmers.
If you produce fish feed pellet by yourself, the cost of production will drop by 54 percent because you don't need to pay for labor, just carry it and feed the fish and you will be using raw materials (chicken waste) that are locally available.
(1)Fish feed production in nigeria
With a fish feed hammer mill grinder machine,fish feed mixing machine, fish feed extruder or fish feed pellet making machine, and feed cooler or feed dryer, Richi Machinery can supply a simple feed making technology for fish farmers that could cut down the cost of fish production by 80 percent. This could be achieved if every fish farmer gets to know the floating fish and sinking fish feed pelletizer machine which has developed maturely enough in many other countries.
The fish feed pellet extruder can be divided into two types: dry type aquatic fish feed extruder and wet type fish feed extruder. Dry type fish feed extruder does not need the steam boiler and can process materials into floating pellets directly, so the dry type fish feed pellet machine is cheaper and easier to use and operate. While the wet type is with the conditioner and the steam boiler which can make material ripen and mixed enough, so the fish feed pellet is of better quality and the capacity of the machine is higher than the dry type. Thus the wet type fish feed machine is suitable for large feed pellet factory while the dry type fish feed pellet machine is better and economic for the small and medium size user or fish feed mill factory.
(2)How much is fish feed pellet making equipment in Nigeria?
With the development of Nigeria's aquaculture industry, more and more customers from Nigeria consult us about"how to produce fish feed in nigeria","where to buy RICHI fish feed pellet machine in nigeria","where to buy richi sinking fish feed pellet machine in nigeria","how much is fish feed equipment in nigeria","floating fish feed machine price in nigeria",etc.
Generally speaking,100kg/h-20t/h floating fish and sinking fish feed by pellet machine price in nigeria is usually between thousands to tens of thousands of dollars. If it is a large-scale fish feed pellet production plant, there is more than one fish feed pelletizign equipment or extruder machine.
(3)More uses
This innovative cost efficient fish feed machine could process various locally sourced and abundant raw materials in Nigeria, like soybeans, groundnut cake, thrash fish etc. Besides, it can produce not only all kinds of floating or sinking aqua feed pellets for fish, eel, shrimp, crab, loach, bullfrog, etc, but also many kinds of pet feeds for cat, dog, and etc. The output can be from 0.01t to 20 ton per hour for your choice. The resultant effect could be a 54 percent reduction in the cost of catfish and other species of fishes in Nigeria. With this fish feed machine, even those who are just trotting in aquaculture business can afford to make fish feeds themselves.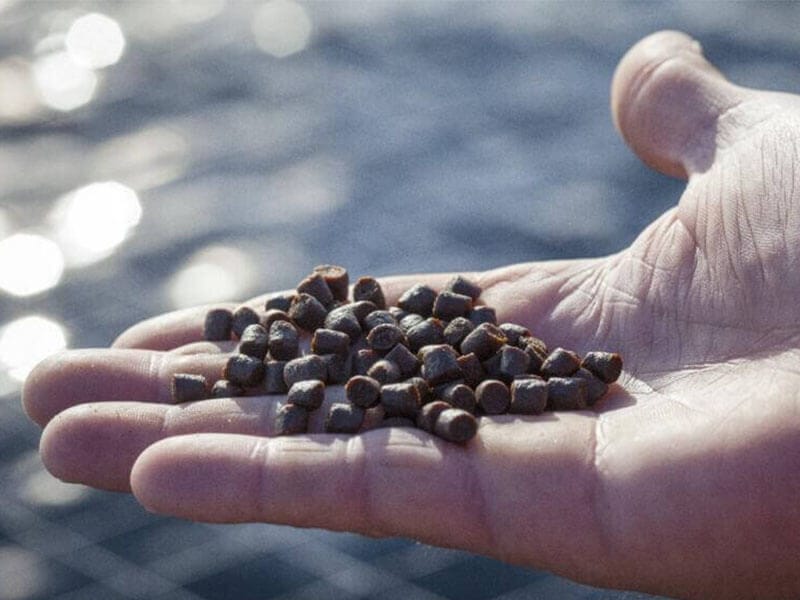 3.Local Raw Materials For Fish Feed In Nigeria
For making more profits in aquaculture and fish farming business, Nigeria fish farmers need to cut down fish feed cost because it occupies a big part in the whole production chain. Today, let's discuss the way for Nigerian to use local raw materials to make fish feed pellets for lowering feed cost.
(1)The Significance Of Using Local Fish Feed Raw Material In Nigeria
As the fastest growing food production industry in the world, aquaculture, and fish farming industry in Nigeria also plays an important part in delivering high-quality proteins to the market, so lowering the feed cost – main cost factor in aquaculture has great significance and value in stimulating the development of aquaculture. Meanwhile, with high price and unstable supply, imported fish feed has always restricted the development of Nigeria fish farming. Furthermore, from the perspective of environment and economy, people should focus on using local feed ingredients to produce nutritional and healthy aquafeed through fish feed extruder and other equipment, reducing feed cost as well as creating an effective value chain and pull whole aquaculture industrial chain.
(2)Available Local Fish Feed Raw Materials In Nigeria
Similar with other animals, fish also need protein, carbohydrate, lipids, minerals, and vitamins for healthy growth. The main ingredients of fish feed contain protein, fat and mineral substance. And raw materials of these ingredients mainly include straw meal, soybean cake, peanut cake, corn protein powder, rice bran, wheat bran and so forth. To be specific, based on the nutrient requirements of fish, here are some potential local resources that can be used in making fish feed:
①Raw materials for protein: fish meal(with 62%-66% crude protein), blood meal, silkworm chrysalis meal, shrimp meal, soybean meal(with 45% crude protein), cottonseed meal(with 32%-42% crude protein), rapeseed meal(with 33%-40% crude protein), peanut meal, sesame meal and corn gluten meal, etc. Besides, earthworms, maggots, and insects are also high-quality animal protein feed for fish.
②Raw materials for energy source: wheat, wheat middling, full cream rice bran, corn and other grain. Among these materials, corn has high carbohydrate that cannot be absorbed easily by fish or shrimp, so in general, corn content should be low when producing aqua feed. Wheat has soft texture as starch but wheat has excellent elongation and elasticity, which makes it natural adhesion agent that can promote water stability of fish feed for long-time floating on water. Full cream has high content of fat, adding about 6% as raw material can make it easy for pelletizing and save power consumption, but remember to pay attention to oxidative rancidity. Moderate addition of fat content can promote the digestive ability of feed, improve availability of protein so as to achieve the effect of saving feed protein.
③Mineral substance (like calcium, phosphorus, iron, zinc and iodine) is an important component of fish feed, and plays a pivotal role in fish growth and nutrition. Common raw materials with minerals contain fish meal, shell powder, egg shell powder, calcium phosphate and bone meal.Locally available raw materials such as yam, plantain, banana, cowpeas, macona, maize, cassava, millet, sorghum, groundnut, sunnhemp seed, leaf concentrates, kitchen garbage and brewery wastes are considered as potential materials for fish feed.
4.How To Produce Fish Feed Pellet With Local Raw Materials In Nigeria
With such abundant local resources, fish farmers may consider how to produce fish feed by themselves instead of purchasing feed so as to lower their farming cost and gain higher profits.
•choose scientific and nutritional aquafeed formulation.
•master advanced feed processing technology.
•choose suitable fish feed making machine.
(1)When choosing fish feed formulation, there are several principles to follow: according to nutritient requirement of farmed fish and nutritional value of feed, because different fish has diverse varieties, ages, weights, habits, physiological conditions and even water quality environment, which makes them have different requirements for nutriment. According to palatability and digestibility of feedstuff (for example, blood meal has about 83% protein but only 19.3% protein is digestible while bone meal has only about 46% protein but its digestibility is 75%). According to the balance bewteen protein and amino acid in order to reach the requirements stipulated by nutritional standards. According to lowering materials cost on the basis of nutrients for maximum economic benefits.
(2)As to aquafeed processing technique and equipment, Fusmar, a pioneer in the manufacturing field of fish feed machine and fish food production line, is able to offer the whole production processing of fish feed and the appropriate equipment – from materials crushing, mixing, extruding and drying cooling to final feed packaging.
For instance, fish farmers can use fish feed grinding machine for grinding raw materials into very small granulars, use high-efficiency fish feed mixer machine to blend feed materials evenly for ensuring high quality compound feed, use fish feed extruder machine to make floating feed pellet and also adjust extrusion degree for floating time on water when extruding pellets, use fish feed dryer to decrease moisture of feed down to 8%-12% for convenient storage, and eventually use packing machine for automated weigh and package of finished fish feed pellets.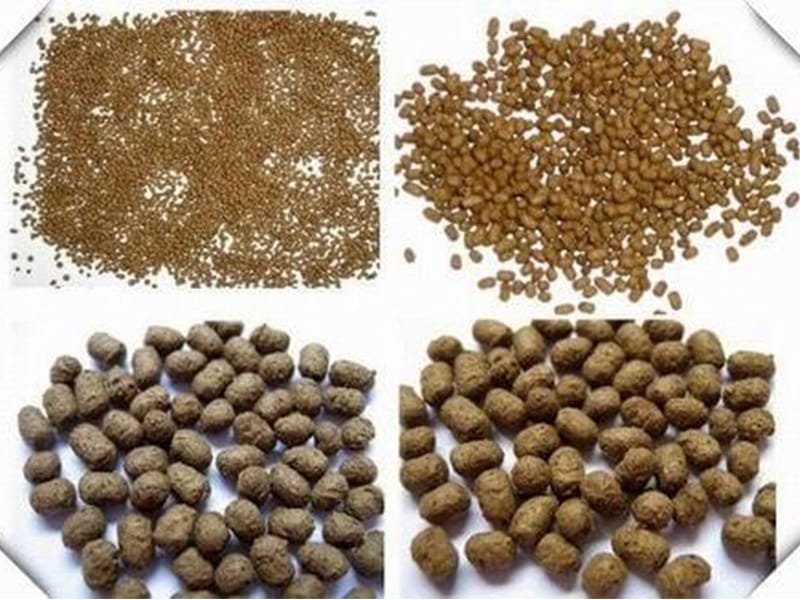 5.Why Choose Fish Feed Pellets To Feed Fish In Nigeria
To buy a fish feed machine in nigeria is very necessary.Fish feed pellet processing machine is a feed eqipment that directly presses the crushed materials of soybean meal, bran, grass, fish meal, bean cake, barley, corn meal, and other materials into floating fish feed pellets and sinking fish feed pellets.
(1)The fish pellet feed should not be stored for too long. If the storage time is too long, it will cause dehydration mildew and affect the use-value of the pellet feed. Feeding the spoiled fish pellet feed will make the fish susceptible to disease. Richi Machinery recommends that users best produce feed pellets while feeding.
(2)When the total amount of bait is unchanged, the number of baits should be increased to reduce the amount of bait each time. So that the fish is always in a semi-hungry state, which can increase the bait utilization rate and reduce the bait coefficient.
(3)Before using the pellet feed, a short period of domestication should be carried out to make the fish form a fixed food court and a fixed time of feeding habits. The bait should be evenly distributed every time, the feeding time should be no less than 30 minutes, and the feeding area is 40 ㎡ ~ 60 ㎡, so that every fish can eat bait.
(4)The diameter of the fish pellet feed should be reasonable. When the fry is stocked, the water temperature is low, the growth is slow, and the size is small. It is more suitable to control the pellet size to 2 mm. As the temperature rises and the fry grows, the feed pellet size is 3 mm~3.5 mm, the pellet size in the later stage of breeding is 4 mm to 4.5 mm.
(5)Adding salt appropriately to prevent fish diseases. When using fish feed extruder to press the pellet feed for fish, RICHI Machinery recommends that 1% of the table salt be evenly mixed into the raw materials, which can sterilize and prevent fish diseases.
(6)Fertilize reasonably. Fish ponds fed with fish pellet feed should be properly fertilized to promote the growth and reproduction of plankton, increase the fish production.
6.Advantages Of Fish Feed Pellets For Feeding Fish In Nigeria
A large amount of data has proved that the 100kg/h-20t/h fish pellet feed made by fish feed pellet production line machinery has comprehensive nutrition, strong stability. It is not easy to collapse in water and not easy to pollute the water body, and is easy to digest and absorb. Fully meet the growth needs of fish, so as to speed up the growth of fish.
Richi Machinery warmly reminds: Never use prohibited drugs in the safe fish feed pellets, otherwise the fish will not grow well. Which will affect the sale and benefit, and also affect people's health.
7.Latest case of RICHI fish feed pelleting line for customer in Nigeria
Project:1-2 ton per hour fish feed pellet processing line in Nigeria
Capacity:1-2t/h
Project Progress:Shipped
Date:June 2020