How 1-100 ton per hour poultry feed manufacturing plant build?
2020-12-24 Back to List
If you are looking for related products or have any other questions, please feel free to contact us.
Contact Us
How 1-100 Ton Per Hour poultry Feed manufacturing plant build?how to design 1-100t/h poultry chicken feed production process?how to plant poultry chicken feed?1-100tph poultry chicken feed manufacturing plant cost?Today, I will tell you all these questions.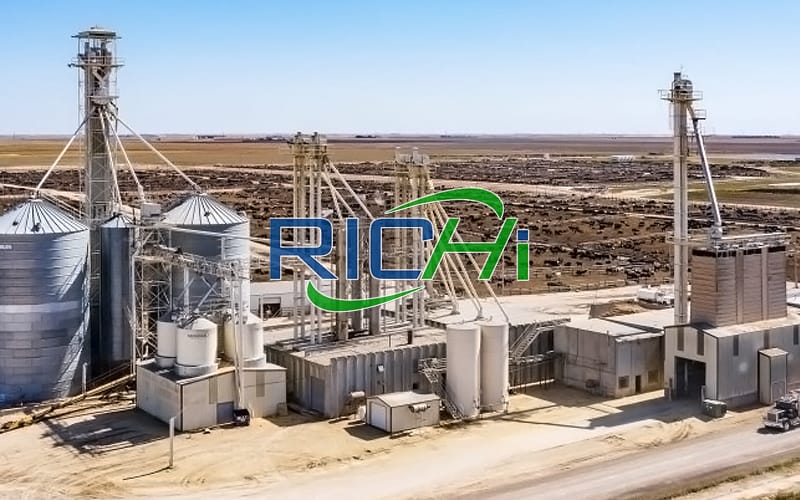 1.Poultry Feed Line Application
The 1-100 ton per hour poultry feed manufacturing plant is applicable to the production of animal feed such as chicken, duck, goose, quail, etc. Our poultry feed equipment is customized to the needs of customers and can fully meet the needs. If you need, please contact RICHI directly to discuss relevant detail.
2.Poultry feed making raw material
Common raw materials for poultry feed production include corn, sorghum, black wheat, wheat, polished rice, rice bran, rice, sub-powder, bran, barley and its products, oatmeal and its products, tapioca flour, rapeseed meal, cotton aphid, peanut meal, Whey powder, meat and bone meal, fish meal, blood meal, feather powder, etc.
3.Customized complete 1-100 ton per hour poultry feed manufacturing factory process
The 1-100t/h capacity poultry chicken feed production line mainly includes raw material receiving and cleaning system, crushing system, batching and mixing system, pelletizing system, cooling system, screening system and finished packaging system.
According to the specific needs of customers, we can design and design complete sets of poultry feed processing equipment suitable for broilers, laying hens ,chickens,ducks,etc.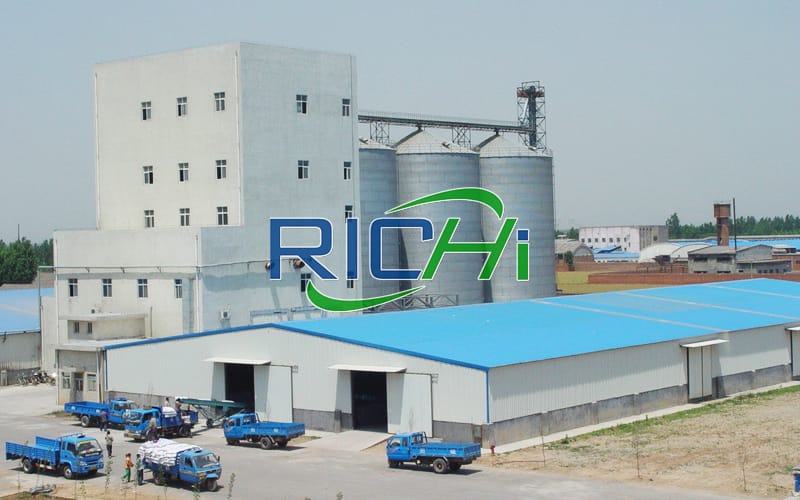 4.What can Richi Machinery provide to you?
RICHI can customize all kinds of animal feed processing plant with 1-100 ton capacity,and we can procide turnkey feed production project service.
♦ 1-100t/h poultry chicken feed pellet and powder manufacturing plant;
♦ 1-100t/h cattle feed making plant project;
♦0.1-20t/h aquatic feed processing plant;
♦1-100 t/h livestock feed mill factory project;
♦1-100 t/h ruminant feed production plant,etc.
5.1-100TPH poultry feed pellets processing flow chart
Raw Material → Feed Grinding → Feed Mixing → Feed Pelletizing → Pellet Cooling → Pellet Crushing → Screening & Grading → Pellet Packing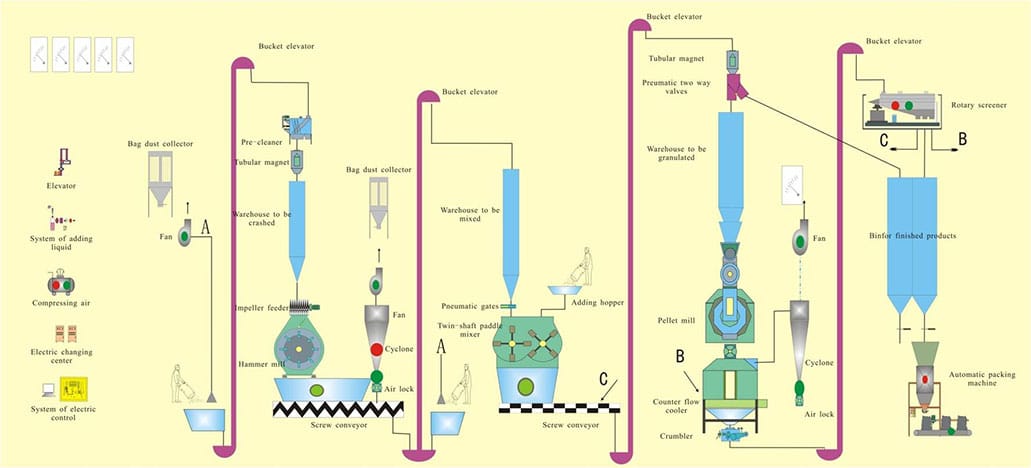 6.Equipments Needed In 1-100T/H Complete Animal Feed Manufacturing Plant For Poultry Feed
Machine to make poultry chicken feed include:Poultry Feed Grinding Equipments →Poultry Feed Mixer → Poultry Feed Pellet Mill Machine→ Counterflow Cooler → Poultry Chicken Feed Pellets Crumbler → Feed Pellets Grading Sieve → Automatic Weighing and Packing Machine
7.Turnkey 1-100tph poultry chicken feed manufacturing plant cost
Costs of setting up a turnkey 1-100 ton per hour ce high quality poultry chicken feed mill plant is usually between 15000USD-6000000USD.
8.Some 1-100tph capacity automatic poultry chicken animal feed pellet making plant project RICHI has done
10-15T/H poultry feed pelletizing production line in Afghanistan
1-2T/H small capacity poultry chicken feed pelletizing plant
3-5T/H chicken poultry feed pelleting production line in Urgench
10T/H poultry chicken broiler animal feed pellet making plant and 5-6tph cattle feed in Saudi Arabia
10TPH large capacity poultry pellet feed producing plant in Fergana
3-5 ton per hour poultry animal feed processing plant in Zimbabwe
15TPH chicken feed pellet and premix production machine line for poultry feed in Tashkent
10-15TPH large capacity animal poultry feed processing line in Urgench