Best Price Animal Feed Pelletizer Machine For 1-30t/h Poultry Feed Pelletizing Plant To Make Chicken Feed
2020-12-23 Back to List
If you are looking for related products or have any other questions, please feel free to contact us.
Contact Us
Richi Machinery is a professional 1-30tph China poultry feed production line manufacturer,also a chicken feed pellet machine suppliers.this article we will introduce "Best Price Animal Feed Pelletizer Machine For 1-30t/h Poultry Feed Pelletizing Plant To Make Chicken Feed" in detail. With the development of economy and the change of market demand, now many farmers and chicken poultry feed factories have found the importance of pellet feed processing equipment, animal feed pellet mill equipment for poultry chicken feed production is more and more familiar.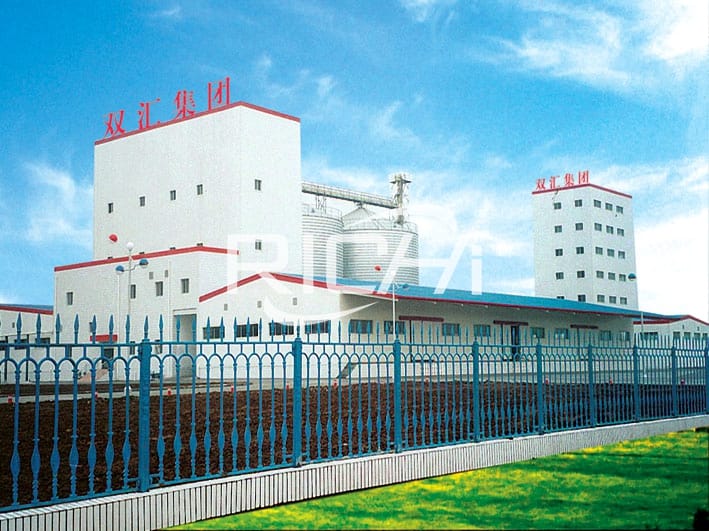 1.Introduction Of Complete 1-30 Ton Per Hour Poultry Animal Feed Pellet Making Plant For Chicken Feed
The chicken pellet feed made by the 1-30tph poultry feed pellet production line is of high hardness, smooth surface and sufficient internal ripening degree, which can improve the digestion and absorption of nutrition and kill the pathogenic microorganisms and other bacteria, and is also suitable for raising rabbits, fish, ducks and experimental animals.
(1)1-30T/H Automatic Poultry Chicken Animal Feed Pellet Manufacturing Plant Production Process
The 1-30t/h high efficiency broiler chicken feed pellet processing line is divided into: crushing, mixing, pelleting, cooling, Seasoning, packaging.
①Crushing System: Raw materials are sorted and selected, and each raw material is selected in a separate cleaning system and picking system, and then crushed to the fineness required by expansion molding.
②Mixing System: After various raw materials are selected and crushed respectively, they are put into a chicken feed mixing machine for centralized mixing, stirring evenly, and adjusting the moisture content and humidity required for expansion.
③Pelletizing: After precuring the powdery materials in the biaxial conditioning device, the feed pellets are formed by using the twin-screw extruding and puffing, with smooth and fine surface and even puffing.The poultry chicken feed pellet press machine unit has compact structure and automatic transmission connection.
④Cooling System: Initial cooling of pellet surface.
⑤Seasoning System: Fully automatic seasoning system, integrated with oil and powder spraying. After cooling the feed pellets in the pellet cooler, the spraying system will spray grease on the surface of the pellets. After spraying, the following process is an automatic spraying (powder spraying) system.
⑥Packaging System: Automatic weighing, semi-automatic manual packaging.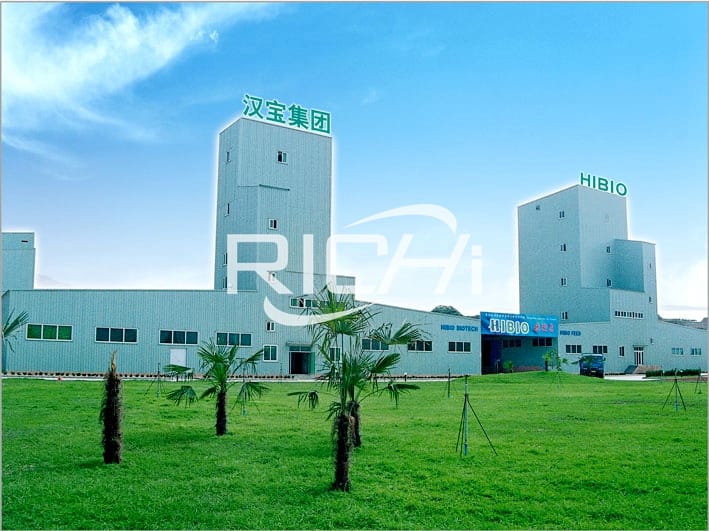 (2)Advantages of manufacturing plant for animal poultry chicken feed
① The process flow is continuous and reasonable, and each machine has good performance.
②The unit has compact structure, small occupation area, low energy consumption and high efficiency.
③ Simple structure, suitable for all kinds of poultry feed mill proceesing plant and large poultry chicken farms in rural areas to use, easy maintenance, safe and reliable, less investment and quick effect.
(3)Cost of poultry chicken complete feed pellet line 1-30T per hour
30t/h automatic complete poultry feed pellet line with reasonable price will cost 15000USD-1200000USD.
2.Introduction of key feed processing machine in 1-30t/h China manufacturer poultry feed plant——SZLH series ring die chicken poultry feed pelleting machine
Animal poultry granule feed pellet mill machine belongs to feed pelletization equipment, which is a poultry feed mill processing equipment with corn, soybean meal, straw, grass, rice husk, etc. as raw materials and directly pressed into pellets after crushing raw materials. Common ring die chicken feed pelletizing machine generally applicable to large, medium - scale poultry pellet feed production plant and farms. The method of feeding is forced feeding.
Generally speaking, the larger scale animal feed pelletizing line plant will choose to mix some fine feed in the feed as a supplement. If the amount of refined feed in the formula is too much and the degree of maturation is large, the ce ring die chicken poultry feed pellet making machine can be used to determine the degree of maturation of the feed by increasing the number of conditioners.
(1)Why choose poultry chicken pellet mill for 1-30tph automatic chicken animal feed pellet making plant?
①Pellet press machine production of feed particles, comprehensive nutrition.
② Increased feeding rate and decreased incidence.
③Granulated feed can also assist livestock to grind teeth and increase rumen function.
④Different poultry corresponding to different specifications of pellet feed.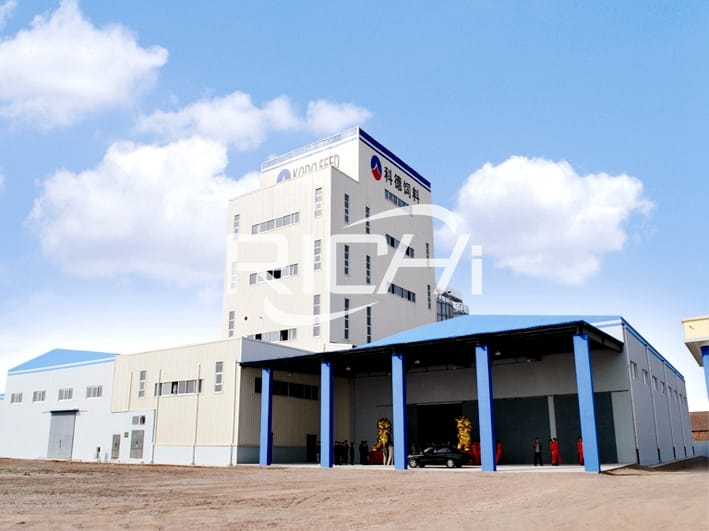 (2)The feature of pellet machine for 1-30t/h poultry chicekn feed manufacturing plant
①Simple structure, wide adaptability, small floor area and low noise.
②Powder feed and straw powder can be pelleted without adding or a little liquid, so the moisture content of granular feed is basically the moisture content of the material before granulation, which is more convenient for storage.
③Chicken, duck, fish, etc., can obtain higher economic benefits than mixed powder feed.
④Dry material processing, the production of feed particles with high hardness, smooth surface, internal maturation, can improve the digestion and absorption of nutrients.
⑤The pellet formation process can denature the pancreatic enzymes in grains and legumes, reduce the adverse effects on digestion, kill various insect eggs and other pathogenic microorganisms, and reduce various insects and digestive diseases.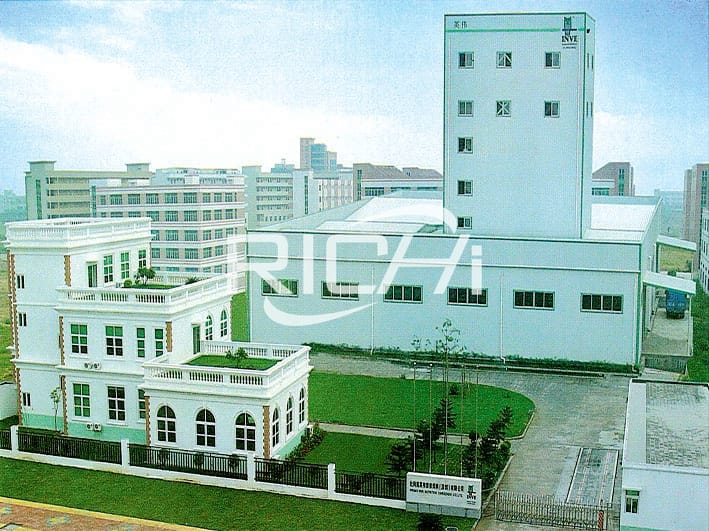 (3)The Working Principle Of Chicken Pellet Maker Machine For 1-30TPH Poultry Feed Pelletizing Production Line
①After the crushing table starts, it will idle for 2 to 3 minutes, and start feeding after there is no abnormal phenomenon.
②Work to pay attention to the running conditions of biomass pellet machine, feed to the average, in case of blocking stuffy car, do not overload for a long time.If there is vibration, noise, bearing and machine temperature over high, spraying materials to the outside, should immediately stop check, clean up the trouble ahead can continue to work.
③The crushed materials should be carefully checked, to avoid copper, iron, stone and other hard objects into the crushing room to form an accident.
④ Operators do not wear gloves, feeding should stand on the side of the biomass pellet machine, in order to prevent the impact of debris rebound to the face.
⑤ Long-term operation, should be fixed on the cement base. If often change open working place, chicken feed pelletizer with electric motor should be installed on the machine base that makes with angle iron.
RICHI Machinery is a professional china poultry feed pellet mill plant supplier, in order to meet the requirement of the customer, we not only provide a 1-30T/H full set poultry chicken feed plant but also provide a single feed machine for chicken feed in each chicken feed line production process.