Design Of Uzbekistan 20 T/H Turnkey Animal Feed Manufacturing Plant For Poultry Livestock Feed
2020-12-22 Back to List
If you are looking for related products or have any other questions, please feel free to contact us.
Contact Us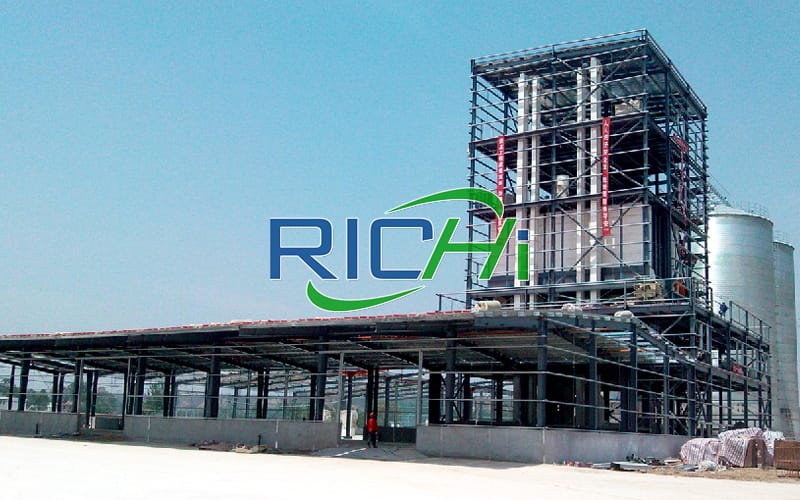 1.Raw material in this 20tph automatic animal feed pellet manufacturing plant for poultry livestock
Corn, wheat, barley, oats, sorghum, soybeans, soybean meal, fish meal, amino acids, mixed meals, whey powder, oil, meat and bone meal, grain, feed additives and so on more than 10 varieties of feed raw materials.
2.Plan design of complete 20 ton per hour animal feed mill plant for poultry livestock feed pellet production
The features of poultry livestock pellet feed are moderate grinding fineness(screen hole diameter 2-4mm),moderate curing and conditioning requirments(ring die animal feed pellet milling machine adopts two layers conditioners),finished products with big pellet diameter(pellet diameter is around 2.5-4mm).this turnkey high quality poultry livestock feed mill factory production process is with 20tph capacity, it adopts two grinding section, one batching & mixing section, two pelleting section and two packing section. The total equipment power is around 725kw. The construction area of the production area is about 21*17.5*28m, it equipped with 2T boiler. The whole feed pelletizing line of the 20TPH poultry livestock feed pellet production line is compact in design, reasonable in structure, meeting the requirement of environmental protection, and can be customized designed according to the requirements of customers.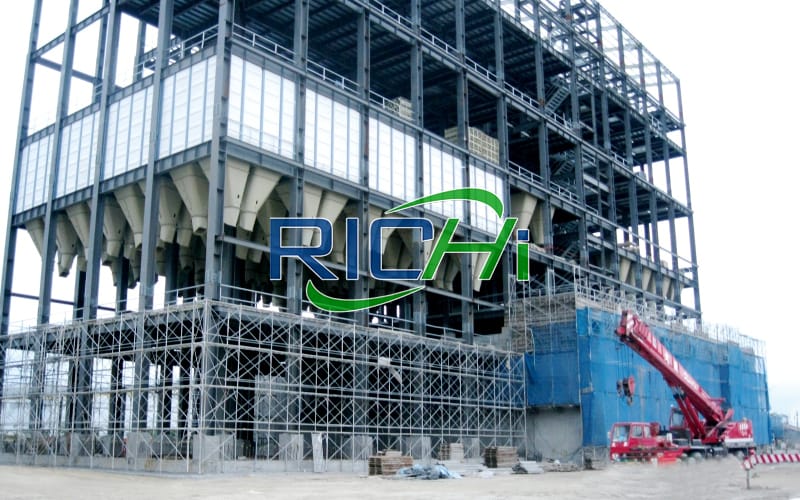 3.20T/H animal poultry livestock feed pellet making plant production process and feed equipments
(1)Raw materials receiving and cleaning section
The function of cleaning is to clean up impurities in the raw materials, such as large impurities, including ropes, clods, corn cobs and other non-magnetic impurities and magnetic impurities such as iron nails to ensure the quality of the product and the safety of subsequent processing equipment. The raw materials receiving and cleaning section of the 20 tons per hour automatic poultry livestock feed pellet manufacturing line contains granules feeding & cleaning and the powder feeding & cleaning.
Cleaning equipment:granules sifter SCY80,capacity 20-30T/H;powder sifter SQLZ60X50X100, capacity10-15T/H.
(2)Grinding section
The effect of grinding section is to increase the specific surface area of the feed, which is beneficial to the digestion and absorption for the animals, improving materials processing performance. The grinding section of the 20tph animal poultry livestock feed pellet processing line has two animal feed hammer mill crushers, and there are four bins above the grain corn hammer mill. Before the raw materials feeding into the bin, it need to remove the impurities by magnetic separator to ensure the safe operation of hammer mill feed grinder.
After impurity-removed, the material enters the grinding bins for grinding. The crushed materials are then transported by a screw conveyor into a bucket elevator and introduced into the batching bin through the distributor. The crushed materials are not only transported by screw conveyor, but also equipped with an auxiliary suction system, which not only saves energy consumption, but also prevents dust from overflowing, lowering the temperature of the materials and improving the grinding efficiency.
Grinding equipment(2sets):SFSP wheat corn rice maize hammer mill,110KW,capacity 10-15T/H.
(3)Batching & mixing section
Batching designs formulations according to the nutritional needs of different animals, using specific device to accurately weigh the various ingredients. Mixing is an operation in which various feed ingredients are metered and blended under external forces to form a uniform distribution. This section adopts two batching scale and 18 batching bins, of which the micro ingredients are manually added equipped with check weigher. After batching of material ingredients is completed, they enter the horizontal feed mixer for mixing, and finally the material is output through the conveyor and elevator.
Weigh equipment:batching scale PCS20/PCS10,batching accuracy≤3‰.
Mixing equipment:animal feed mixer,2000kg per batch,capacity 24-30T/H,mixing homogeneity CV≤10%.
(4)Pelleting section
The function of pelleting is to make fine crushed, easy flying dust, poor tastiness and difficult-to-ship feed into pellets by the action of heat, moisture and pressure in the granulation process to improve the good tastiness of the feed and reduce the feed-meat rate. Reduce feed waste and reduce environmental pollution. In this section, we adopt two SZLH420 double-layer conditioners high quality ce ring die animal feed pelletizer machine, and four bins designed above the feed pelletizer. After granulation, pellets enter into two pellet coolers and feed crushers in sequence, and then passed through the bucket elevator to enter the rotary screener for sifting, the finished products enter the packing bin, and the rest returns to granulation or re-grinding.
Pelletizing equipment(2sets):SZLH420,110KW,capacity 8-12T/H for each ce ring die animal feed pellet mill machine;Cooling equipment:SKLN6,capacity 10-15T/H for each pellet cooler.
(5)Packing section
The powder feed and pellet feed in the finished products bins which needs to be packaged will be packed by automatic packing machine, finished products that do not need to be packaged will be taken away by bulk truck.
Packing equipment:belt scale,screw scale,etc. Packaging range 20-50kg/bag,6-8 bag/min.
(6)Auxiliary section
20TPH poultry livestock animal feed pelletizing plant is with dust removing system in the packing section for dust removing to improve the working environments. Oil adding system in the mixing section is to improve the feed tastiness.