Design Of 3-5TPH Aquatic Floating Fish Extruded Feed Plant In Uzbekistan
2020-12-22 Back to List
If you are looking for related products or have any other questions, please feel free to contact us.
Contact Us
Producing extruding feeds by extrusion technology has become a trend of aquatic feed processing technology. The unique function of fish feed extruder machine is to change the weight of feed, to make floating, slow-sinking and sinking extruded fish feed. The floating fish feed not only can improve feed efficiency, but the important thing is that the farmer can see the situation of fish eating, which can avoid overfed and reduce feed waste.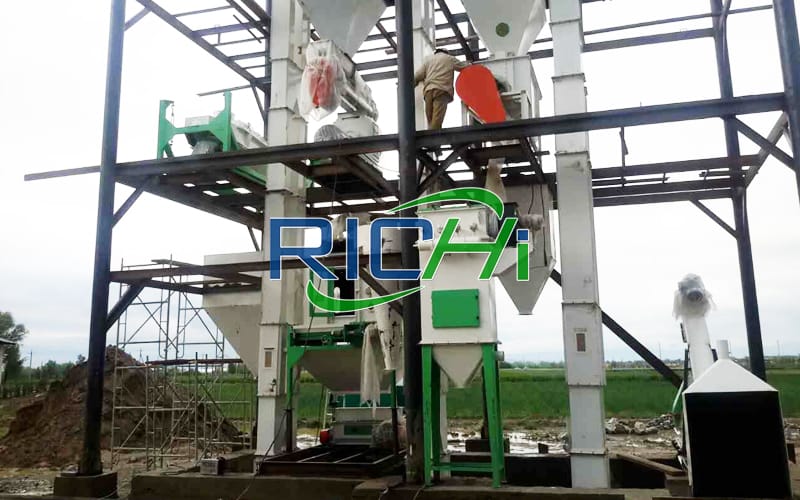 1.Raw materials of floating fish feed
The main raw materials of floating fish feed are protein, it consist of grain, bread meal, rice bran, bran, blood meal, oil, antibiotics, vitamins, etc.
2.Design of 3-5 ton per hour floating fish feed extruding plant
The features of extruding fish feeds are that the crush fineness is small (about 60-100 mesh), the curing degree is high, with high oil content (The refueling way is the combination of mixer, extruder and coating three ways), the diameter size of finish pellets is large (about 0.6-20mm). This extruded floating fish feed manufacturing plant's capacity is designed to be 3-5tph, adopting one grinding process, first dosing & mixing process, one pulverizing system, second mixing process, one extruding process, one coating & bagging process. The total power of this floating fish feed line is about 450kw, the working land size is about 30*24*30m, and matching 1ton boiler The 3-5tph extruding aqua fish feed mill plant has compact design, reasonable structure and meets the requirement of environmental protection. It can be customized according to customer's requirements.
3.3-5T/H floating fish feed manufacturing process and fish feed production equipment
(1)RM Receiving & Precleaning System
The usage of cleaning system is removing the raw materials' impurities, such as rope, clod, corn cob etc. non-magnetic impurities and iron nail magnetic impurities. It can ensure the quality of products and the safety of the subsequent floating fish feed production equipment. The RM receiving & pre-cleaning system of 3-5tph flating fish feed processing plant is divided into granule pellets feeding cleaning and mash feed feeding cleaning.
Cleaning Equipment: SCY80 Drum Cleaner, with 20-30tph capacity; SQLZ60X50X100 Powder Cleaner, with 10-15tph capacity.
(2)Grinding System
The usage of grinding system is increasing the specific surface area of feed which is good for animal digestion and absorption and improving the processing performance of raw materials. This process use one set hammer mill. There are 2pcs of pre-grinding bins on the top of the hammer mill. The impurities in the raw materials will be removed by tubular magnet device before feeding into the pre-grinding bins, to ensure that the fish feed hammer mill grinder can operate safely. The cleaned raw materials will feed into the floating fish feed hammer mill chamber for grinding. Then the crushed materials will be transported to the bucket elevator through the screw conveyor, and then feeding into the dosing bins via the rotary distributor. When transporting, one set of auxiliary suction system will be needed. It not only saves energy, but also prevents dust spillage, lowers material temperature and improves crushing efficiency.
Crushing Equipment: SFSP animal fish food hammer mill,55kw, with 5-7tph capacity.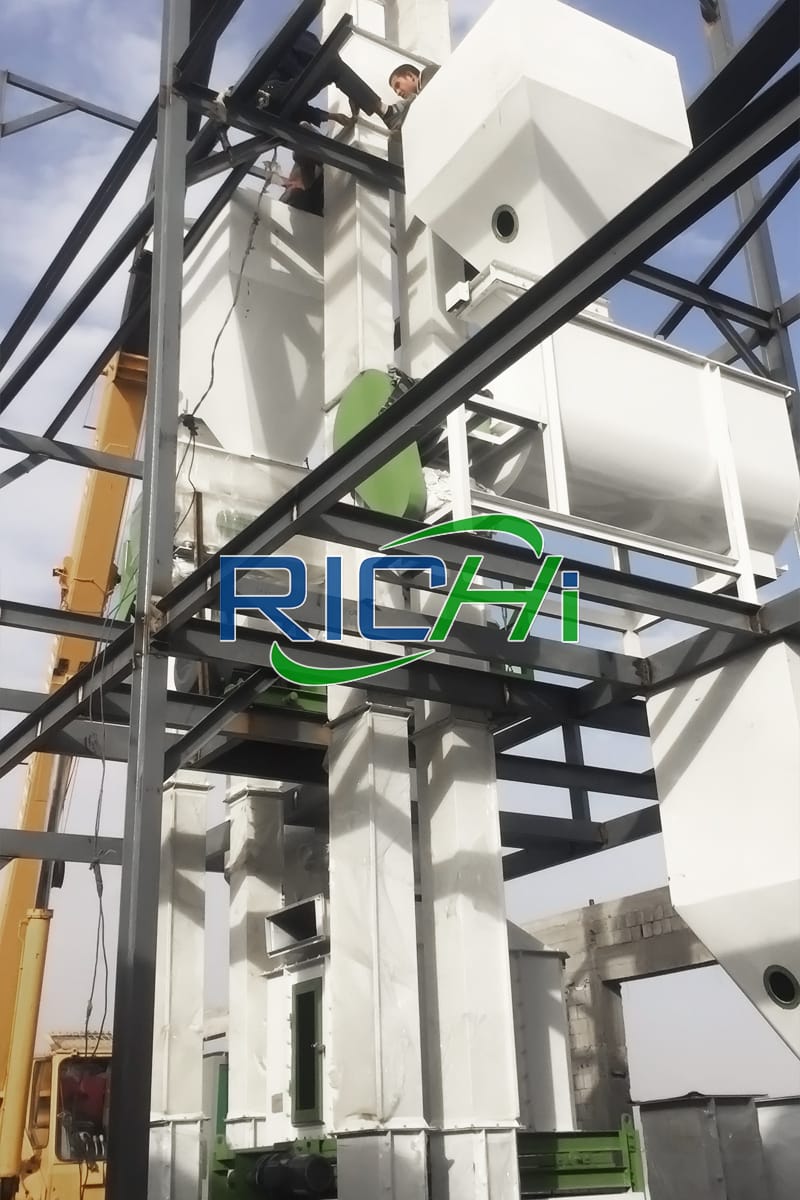 (3)First Dosing & Mixing System:
This dosing system is designed according to different feed formula, is accurate weighing process of different raw materials by using specific device. The mixing system is mixing various materials under the action of external force, after various materials are metered. It is an operation that makes the raw materials distribute evenly.
This process use one set dosing scale, 10 pcs dosing bins. The micro ingredients will be added by manual adding way. After the dosing and weighing process are finished, the raw materials enter the mixer for mixing, and finally the raw materials are output by chain conveyor and bucket elevator.
Weighing Equipment: Dosing Scale PCS10, dosing accuracy≤3‰ . Mixer: SHSJ2, 18.5kw, 1000kg per batch, with capacity 8-10tph, the mixing homogeneity CV≤5%.
(4)Pulverizing System:
Due to the development of aqua feeds and other special feeds, required a finer grinding particle size and the normally grinding particle size needed is about 60-120 mesh. However, the normal fish feed hammer mill crusher cannot meet this requirement, then the vertical pulverizer was designed. The floating aqua feed mill plant use one set vertical pulverizer, which adopts air-transport discharge, matched cyclone, pulse filter. The grinding fineness can be revised according to customer's requirements.
Pulverizer Machine: SWFL130, 160+15+2.2KW, with 3-6tph capacity.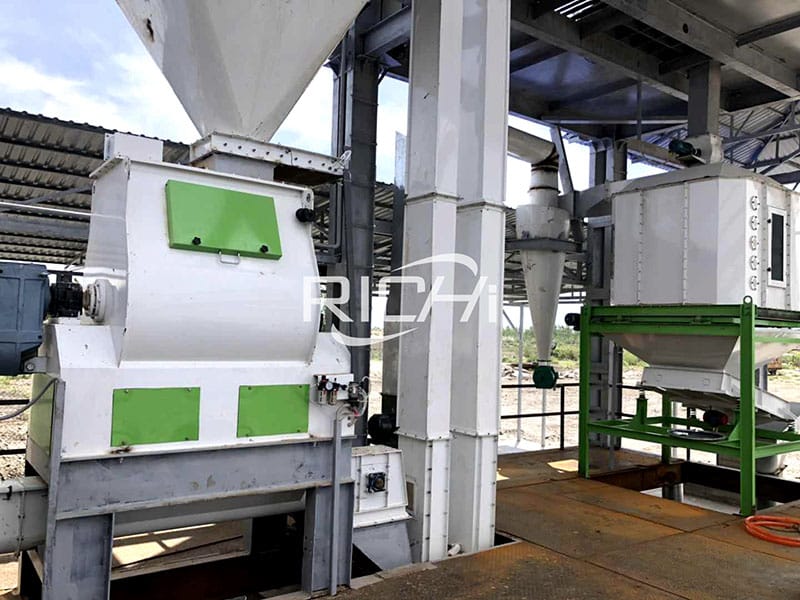 (5)Second Mixing System:
This process is mixing the micro ingredients and the raw materials which come out from the pulverizer machine. It has four dosing bins, one mixer and a manual adding hole.
Mixing Equipment: Mixer SHSJ2, 18.5kw, 1000 kg per batch, with capacity 6-8tph, the mixing homogeneity CV≤5%.
(6)Extruding System:
The extruded floating fish feed is to feed the powder feed raw materials (including starch or protein) into the extruder, after continuous mixing, conditioning and heating up, pressurization, extrusion from the hole, sudden pressure reduction, and cutting into pellets, drying, cooling process. Thus getting the lofty porous pellet feed.
This 3-5tph extruding aqua feed mill plant adopts one set floating fish feed making machine——single screw extruder machine. There is one pre-extruding bin installed on the top of the extruder machine. The high moisture of the extruded materials is transported to the belt dryer to reduce the moisture, and finally passes through the next fish feed production process.
Extruding Equipment: floating fish feed extruder, 2.2+18.5+160+5.5kw, with 3-5tph capacity (based on 1.0-4.0mm hole diameter).
Drying Equipment: SHGW240X2-6, 0.55+1.5*2+7.5*8+0.55kw, with 4-6tph capacity.
(7)Coating & Bagging System:
The post coating system cooperates some ingredients of feed that are susceptible to loss or damage during processing and adding them in the later process in a particular way. It is a method to protect these ingredients from loss or damage. It also solved the problem of insufficient oil addition because that the amount of oil added in the early stage should not be too much. The sprayed feed not only has a good appearance, but also has good palatability and strong nutrition. The design whether the materials are sprayed or not is decided by customer. Due to the high temperature of the extruded pellets,it needs to be cooled and finally packing them in bags or packing them in bulk bagging way.
Coating Machine: SYPG1000, 2.2kw, with 4-6T/H capacity.
Cooling Machine: SKLB4,1.1+1.5kw, with 4m³volume and 3-7tph capacity.
Bagging Machine: Use bagging scale, with bagging specification 20-50kg per bag, 6-8 bags per mins.
(8)Auxiliary System:
The dust removal system: it is used in the bagging system which can improving the working environment for workers.
Oil adding system and Water adding system: it can improve the feed palatability.