China factory price ce ring die pellet making machine for chicken cattle feed 5 tones per hour
2020-12-11 Back to List
If you are looking for related products or have any other questions, please feel free to contact us.
Contact Us
China factory price ce 5 tons per hour rinig die chicken cattle feed pellet mill machine for sale
5TPH ring die chicken cattle feed pellet making machine, also called 5t/h ring die animal poultry rabbit aqua fish shrimp feed pellet mill,5t/h ring die animal livestock horse goat duck dog cow prawn pig feed pellet mill, 5 ton per hour pelletizer of ring die to making animal feed,5 ton hot sale livestock and poultry feed ring die pellet mill, etc. It can be seen that ring die type pellet milling machines are called many, in fact, because ring die pellet mills can be used for processing All kinds of animal feed pellets, even aquatic feed pellets.
Ring die pellet mill machine 5 ton per hour widely used in medium and small animal chicken cattle feed processing plants.This 5 ton capacity ring die chicken cattle feed pelleting machine belongs to feed pelletization equipment. The 5 ton feed pelletizer directly pressed corn, soybean meal, straw, grass, rice husk, and other crushing materials into pellets.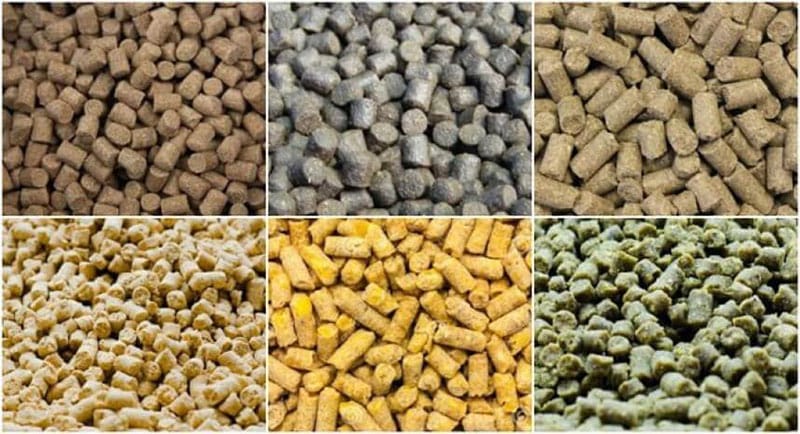 1.Why Choose 5 Ton Per Hour Ring Die Chicken Cattle Feed Pellet Making Machine?
5 Ton per hour ring die feed pelletizing equipment is the main feed processing machinery in 5 ton animal poultry cattle feed mill plants to produce pellet feed, its performance determines the feed processing yield to a large extent, occupies a very important position in the chicken and cattle feed manufacturing process. You can choose different models according to your needs.
This China supplier 5t/h poultry cattle feed pellet mill feed mouth is small, its type of settings often equipped with uniform feeder or forced feeder. According to the different feed quality requirements of users, you can choose to add a conditioner. The conditioner is usually connected to the boiler for use together, the steam generated by the boiler can make the feed fully mature, and can also supplement the moisture content inside the feed. The need for all the mature feed will generally choose a high quality 5 ton capacity ring die chicken cattle feed pellet press machine.

2.Parameters of 5 ton per hour poultry cattle animal feed processing equipment
Mode:SZLH350
Capacity:5-7T/H
Main Power:55KW
Final Pellet(mm):2-12
Dia.of Ring Die(mm):350
Conditioner Power(kw):3
3.Features of 5TPH Feed Pelletizer Machine
①Simple structure, wide adaptability, small floor area, and low noise.
②Powder feed and grass meal can be pelleted without adding or a little liquid. Therefore, the moisture content of the granular feed is the moisture content of materials before pelletization, which is more convenient for storage.
③It can obtain higher economic benefits than mixed powder feed.
④Dry material processing, the production of feed pellets with high hardness, smooth surface, internal maturation, can improve the digestion and absorption of nutrients.
⑤Particle formation process can make the trypsin resistance factor in grains, beans denaturing effect, reduce the adverse effect on digestion, can kill various parasitic eggs and other pathogenic microorganisms, reduce a variety of insects and digestive system diseases.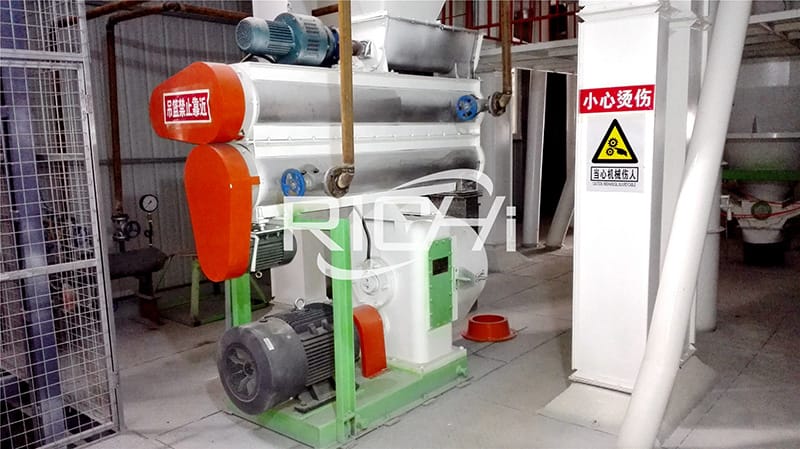 4.Working principle of 5t/h ring die cattle chicken animal pellet feed production machine
①Feeding way: this animal feed machine adopts mechanically forced feeding, high speed rotating centrifugal distribution into the pelleting chamber, through the scraper to distribute the material.
②Pressure: in the die with the same diameter, the diameter of the ring die is limited by the diameter of the ring die, so the pressure is limited.
③Discharging way: the ring die is of high rotating speed, and the damage rate is high when the material is discharged.
④Pressure wheel adjustment: ring die pellet machine is to use the middle of the pressure wheel eccentric wheel on the two screws to adjust the pressure.
5.Advantages of 5t/h factory price animal poultry livestock feed mill equipment
①Higher productivity than flat die pellet machine and low energy consumption.
②Good transmission performance, stable operation, and low noise.
③Long service life, the production of smooth, high-quality feed particles.
④Novel and compact structure, safe and reliable, low failure rate.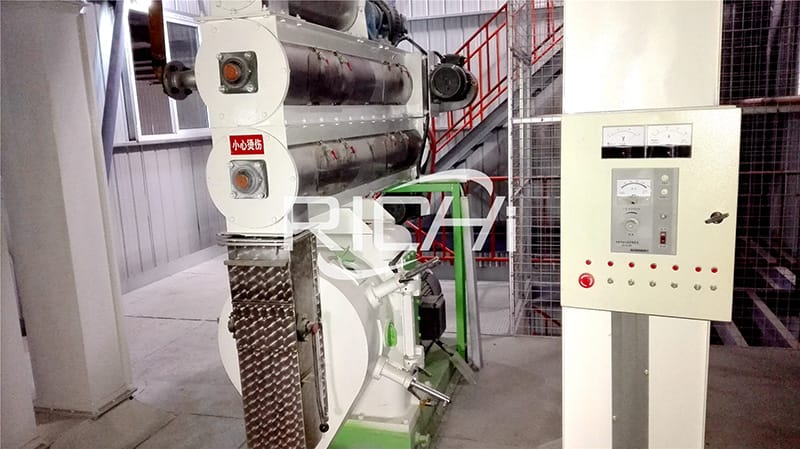 6.Prices for 5 ton per hour cattle chicken feed production machine
Customers are always seaching "5 Ton per hour poultry chicken cattle feed making machine price in bangladesh","5t/h chicken cattle feed machine price in german","5tph poultry feed pelleting machine price in uzbekistan","5t/h poultry chicken cattle feed pellet machine price in south africa","5t/h chicken cattle feed pelletizer prices in sri lanka","5 ton poultry chicken cattle feed machine price in nepal","5 ton pellet machine for making chicken food price in kenya",etc.In fact, the price of RICHI 5t/h chicken cattle feed granulator is uniformly priced. No matter which country you are in, the price of the equipment is the same. The price of a 5 ton per hour cattle and chicken feed granulator machine is generally between 20,000USD-30,000USD. For customers in different countries, there is only a difference in transportation costs.
Richi Machinery is a China professional animal feed pellet making machine supplier, in order to meet the requirement of customers, we not only provide a complete set of 5 ton per hour cattle chicken feed pellet production line,but also provide single machine in the process of making feed pellets.More details about 5 ton per hour manufacturing equipment for cattle chicken feeding,please feel free to contact us.