How to start fish feed production by floating fish feed pellet mill machine or fish food extruder ma
2020-12-10 Back to List
If you are looking for related products or have any other questions, please feel free to contact us.
Contact Us
1.Why Choose Animal Feed Manufacturing Machine For Making Feed Pellets?
Animal feed production machine refers to the machines that condense the powdery materials into pellet form. There are various pellet machinery types, like animal feed milling machine, poultry chicken feed pelleting machine,wood pellet machine, fish food pellet making machine, and so on. Here we are going to talk about the animal feed processing machine for making floating fish feed, etc.
By combining moisture, heat and pressure on feed ingredients, each of these animal feed pelletizer machine can produce a finely divided , sometimes dusty, unpalatable and difficult-to-handle feed material into nutritious pelleted feed for animals. Pellets diameter is generally from 1 to 12 mm. Pelleted feed made by animal feed pellet processing machinery can make animals have better performance than a meal ration. Good quality pellets have several benefits: the heat generated in conditioning and pelletizing process can make the feedstuffs more digestible by breaking down starches; reduce waste and less segregation in the feed; improve palatability and short eating period; and thus improve animal performance and feed efficiency. Last but not least, bulk density is increased, which enhances storage capabilities of most bulk facilities, and thereby reduces transportation cost.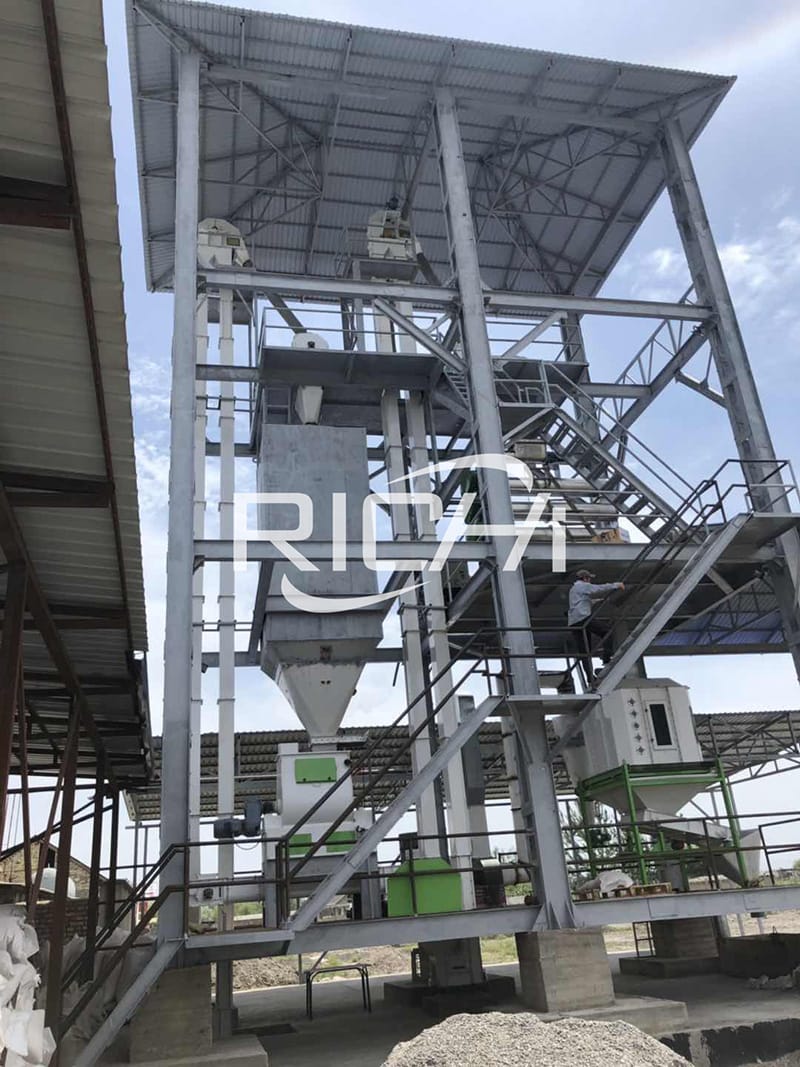 2.Machinery to produce floating fish feed
(1)Floating fish feed pellet extruder machine for sale
The most common used fish feed pellet machinery is fish feed extruder which is utilized to produce extruded fish feed pellets. According to the differences in the extrusion process, fish feed extruder are classified into two types, namely dry type fish feed extruder and wet type fish feed extruder. By using different types of screw to control the density of finished fish feed pellet, fish feed extruder can produce floating, sinking and slow sinking fish feeds based on the feeding characteristics and habits of fishes; extrusion cooking processing can destroy the pathogens and most viruses and reduce the toxin levels in the feed ingredients; extrusion processing can allow us to use wet feed ingredients with moisture content of 22-42% to make feed in single screw fish feed extruder; extrusion allow fish feed manufacturers to make high fat feed and the fat content can be up to 50%; extruded fish feed pellet machinery can manufacture different sizes and shapes aquafeed and the extruded fish feed pellets are stable in water for a long duration so they can reduce nutrients loses; extruded pelleting machinery can make aquafeed more resistant to mechanical durability and fewer fines during transportation.
★How much is floating fish food extruder machine?
Price of extruder machine for floating fish feed is usually between 3000USD-150000USD.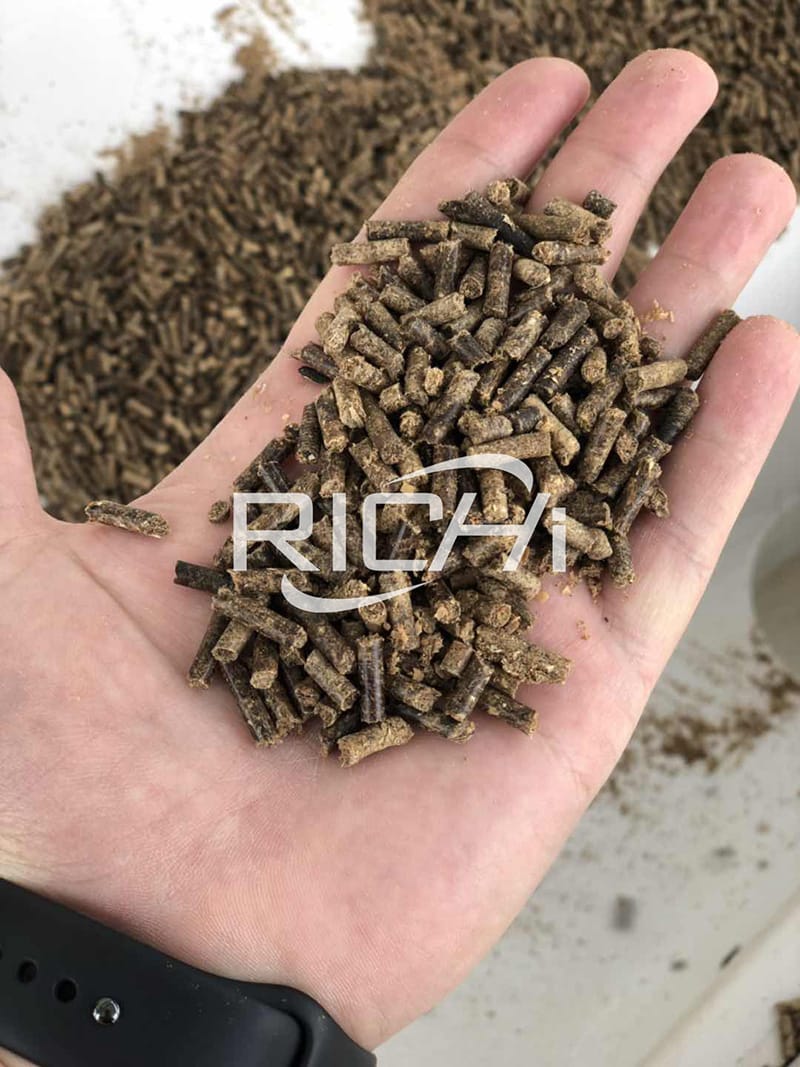 (2)Floating fish feed pellet mill machine for sale
Another type of fish feed pellet maker machinery is ring die aquatic feed pellet mill. The feed pellets made by this floating fish feed pellet making machine are lower in moisture. Ring die fish pellet milling machine offers low processing cost and higher output to the aquatic feed industry.
①High output and long service time
Produce both sinking and floating fish feed.Service time of the die with hole diameter Ø1.8mm is up to 8500t, with continuous production of 2500h and output of over 4.5t.
②High-quality shrimp feed
Double-layer jacket insulation conditioner and double-shaft differential conditioner. Optional hygienic conditioner, better maturing performance.The reverse opening structure and improved cutter make the cutting more convenient and improve the quality of feed incision.
③Advanced structure and smooth operation
Equipped with pneumatic external discharging structure, realize automatic external discharging when it is blocked or overloading of the main motor current.The improved feeding scraper divides material into two pressing areas, ensuring smooth discharging and stable operation.
★What is the price for fish feed pelletizing machine?
Ring die floating fish feed pellet making machine price is usually between 7000USD-100000USD.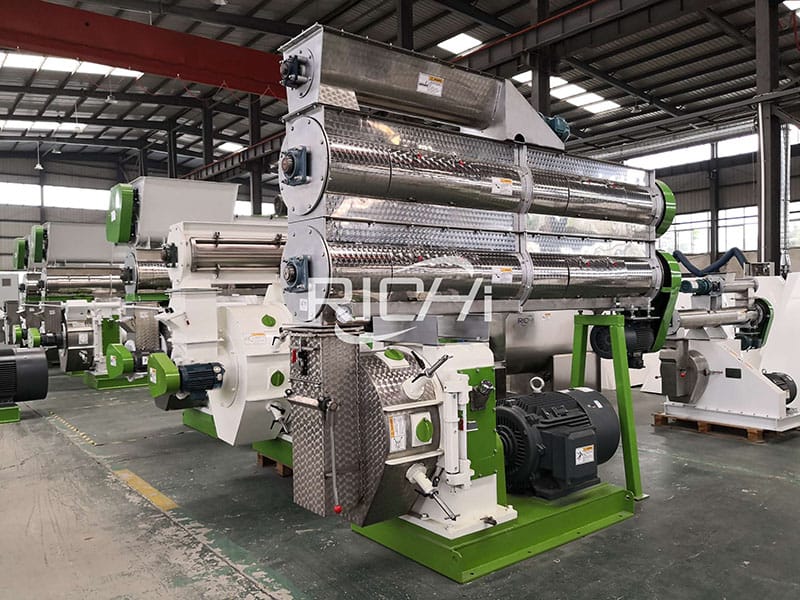 Perhaps you are also interested in the following questions. If you want to know more details, please consult online:
how to make fish feed for catfish?
how much are fish feed production equipment?
how to start fish feed production?
floating fish feed manufacturing process
1 ton capacity floating fish feed machine price
5 ton per hour fish pellet mill line price in bangladesh
how to make fish feed using local products?
dry dog food make machine floating fish feed extruder fit for many kinds of animal
fish feed mill pellet price philippines
fish feed machine how much in bahrain
single screw fish feed extruder machine for fish and pet feed pellets