Cost of setting up full automatic 6t/h animal chicken poultry feed pellet production line with CE
2020-11-19 Back to List
If you are looking for related products or have any other questions, please feel free to contact us.
Contact Us
Richi Machinery is a professional industry poultry chicken animal feed pellet plant animal feed processing equipments manufacturer from China, this article we will introduce full automatic 6t/h chicken poultry feed pellet production line with CE in detail. Complete set poultry animal feed pellet production line with 6t/h capacity is medium-sized poultry feed mill plants to produce poultry chicken powder feed, poultry concentrated feed, chicken pellet feed with a high degree of automation, is the ideal equipment for animal husbandry.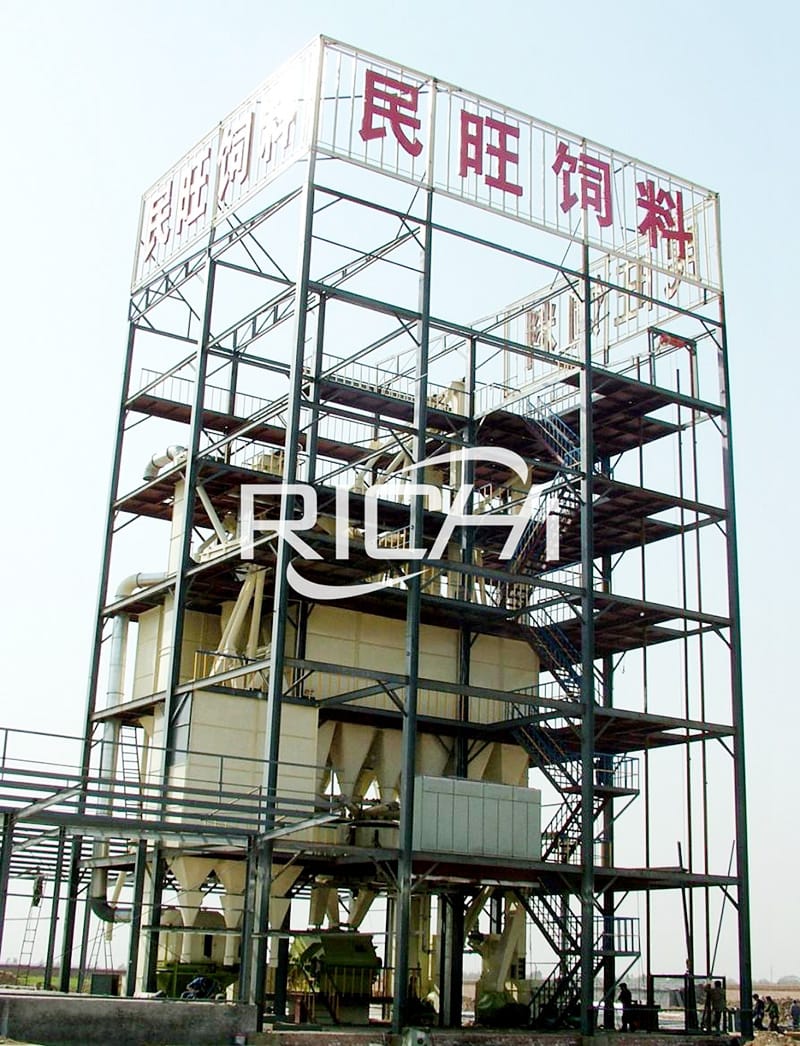 1.Introduction of 6t/h widely used poultry chicken animal feed pellet plant ring die feed pellet production line
(1)How to manufacture chicken feeds?(chicken feed production process)
Industrial 6 tons per hour poultry chicken forage pellet production line is based on the production of powder feed complete set of equipment to increase the pellet section equipment. There are crushing, mixing conditioning, pelletization, cooling and drying, screening and other processes, the fully automatic 6t/h chicken poultry feed pellet manufacturing line process flow is continuous and reasonable, the performance of each machine is good. The unit has a compact structure, small occupation area, low energy consumption, and high efficiency.
It is of great significance to feed maturation, increase nutrition, improve absorption rate, kill bacteria, store and transport, reduce cost, save resources, adapt to the chewing function of poultry chicken animals, and improve animal husbandry efficiency.
(2)6T/H poultry chicken feed manufacturing process flow chart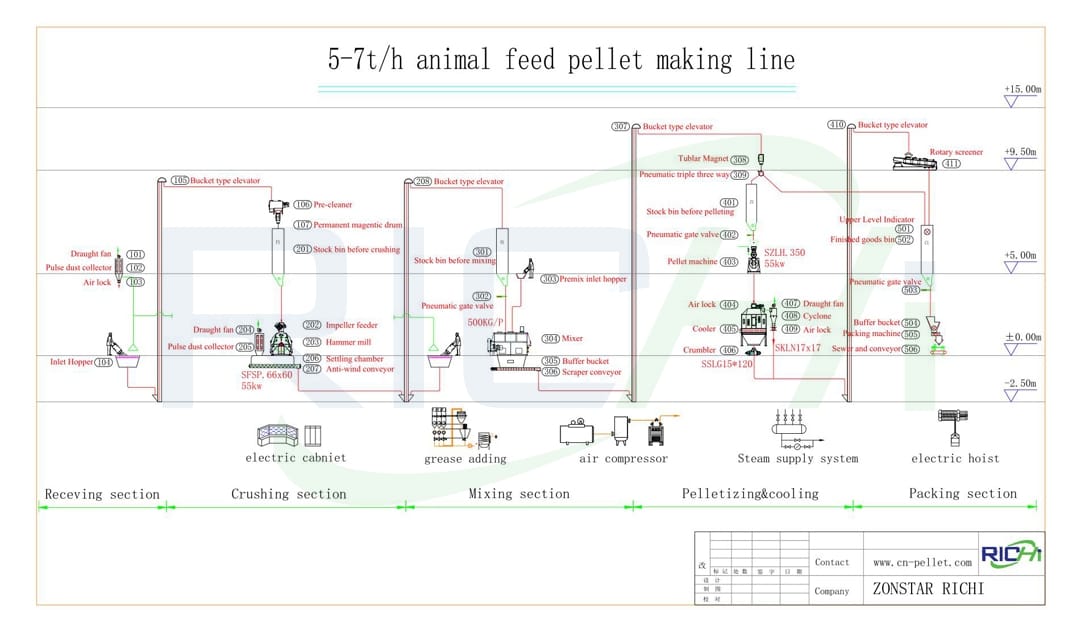 (3)Machinery for poultry chicken feeds production of 6 tons per hour automatic chicken feed pellet making line
The select superior performance of the chicken poultry feed grinder machine, pulse precipitator, screw conveyor, animal poultry feed mixing equipment, 6t/h ring die ce approved poultry feed compress pellet making machine, bucket elevator, counterflow cooling machine, automatic bagging machine,automatic batching scale,vibration screen, and other equipment combination. Set crushing, mixing, lifting, pelleting, cooling, screening, and other functions as one, automatic feeding, feed fast, feed smooth, is a set of automation, high efficiency, advanced as one of the investment, quick effect of the poultry feed industry.
When poultry chicken feed is processed, it can automatically heat up through the friction of the machine itself, so that the gelatinization, curing, pelleting and cooling of the material can be completed once, and the packaging surface can be smooth and clean, the hardness is moderate, which is convenient for sealing and storage, the pellet size can be according to the needs of users, suitable for processing pig feed, cow feed, sheep feed, rabbit feed, duck feed, fish feed and other pellet feeds.
(4)6 Tons per hour poultry chicken feed mill plant cost
What is the cost of 6t hr animal chicken feed plant?Cost of 6 ton per hour customized complete set automatic chicken animal feed pellet making plant is usually between 70000USD-200000USD.
(5)Advantages of 6t/h capacity poultry chicken animal feed mill plant factory
①The unit is compact in structure and fine in production, with all-steel frame structure, short construction period, high-efficiency pellet compactor, fast crushing speed, high mixing uniformity, and high pellet yield.
②Reasonable design, strong adaptability, low noise, low energy consumption, can use computer automatic batching or manual batching.
③It also can be used for animal feed processing of powder and pellets in a large poultry chicken farm.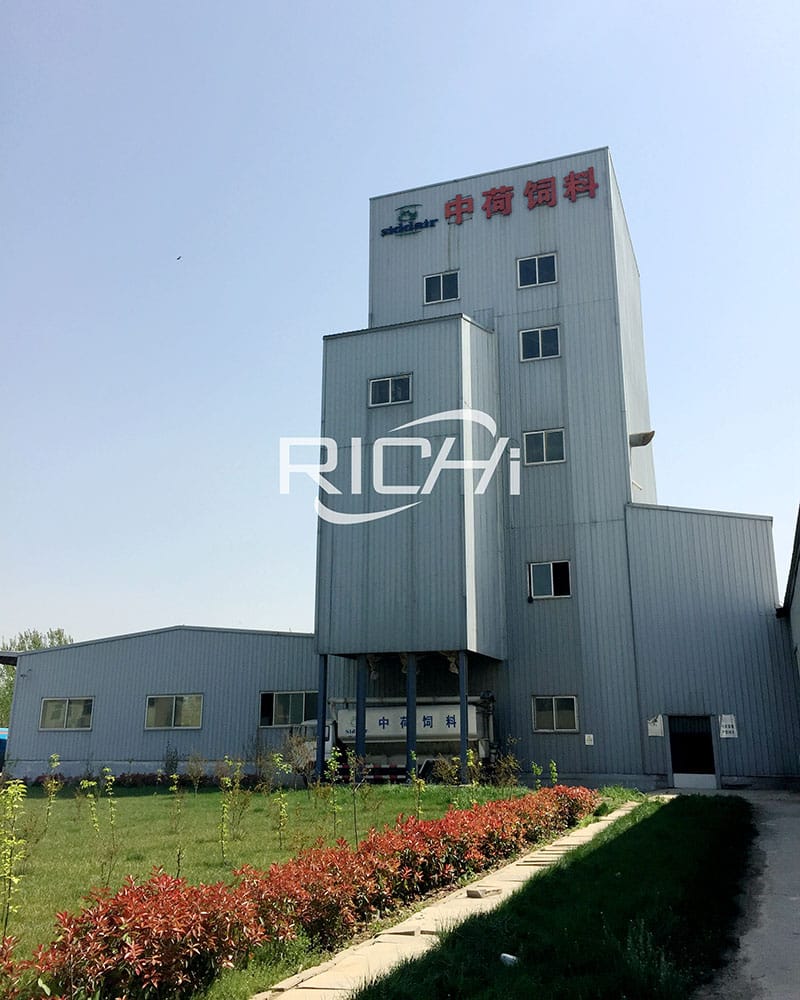 2.Features of the main poultry chicken feed processing machine for 6t/h chicken feed pellet making plant
(1)Features of grinding machine for chicken feed
①Used for the grinding of biological fermentation wet materials, like livestock and poultry excrement.
②The water allowable value of organic fertilizer materials reaches 25-55%, and particle size can reach the requirement of pelleting.
③Solve the problem of materials with high moisture, the grinding of organic materials treated by fermentation has better effect.
④High-speed rotating blade makes good grinding fineness, high efficiency and low energy consumption.
⑤Use high alloy wear-resistant hammer, more wear-resistant than ordinary hammer, and the service life of the hammer is increased.
(2)Features of chicken feed material mixing machine
①The creative design of the double-shaft mixer with gearbox ensures smooth transmission, variable speed operation, and reduces power consumption.
②The opening shaft and linkage mechanism are improved to ensure that the opening angle is larger than 90 degrees, and the door can be locked.
③The unique design of the air-return system ensures the steady flow of air during the full feeding process.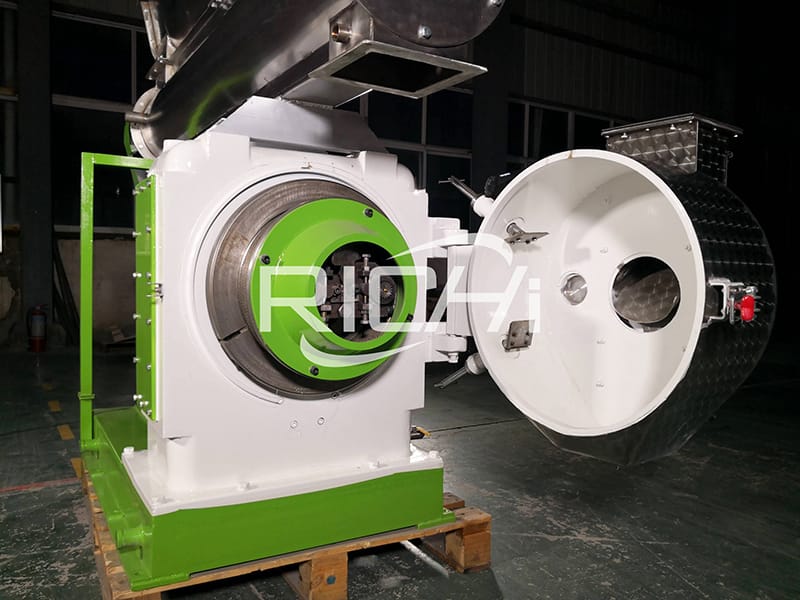 (3)Features of ring die chicken granule feed pellet mill machine
Simple structure, wide adaptability, cover small floor area, low noise; The pellet formation process can denature the trypsin resistance factor in grains and legumes, reduce the adverse effects on digestion, kill various parasitic eggs and other pathogenic microorganisms, and reduce various insects and digestive system diseases.
(4)Features of sieves
①The rigidity of a screening ship is strengthened, eccentricity is adjustable, users can adjust according to the characteristics of screening materials, wider adaptability.
②The internal flow design of the outlet prevents material deposition and avoids cross-contamination.
③There are two layers of screen, three layers of the screen and two layers of screen double-feed inlet choice.
④ It is applied to the classification and secondary cycle crushing process of granular materials and broken materials, as well as some pellets, cleaning and grouping treatment.
(5)Features of chicken pellet cooling machine
①Frame made of alloy section bars, with appropriate dimensions.
②Stainless steel aspiration hood with opening that can be positioned on every side of the cooler.
③Stainless steel case complete with inspection door and minimum and maximum level indicators. Min. level indicator height can be adjusted to enable the right product inflow into the case.
④Product extraction unit operated by micro reduction gear with brake.
⑤Stainless steel star valve with gear motor to adjust product inflow into the case.
⑥Discharging hopper to collect the product under the cooler.
⑦In case of anomalous stop of the extractor, a product discharging device with three ways of working, is foreseen.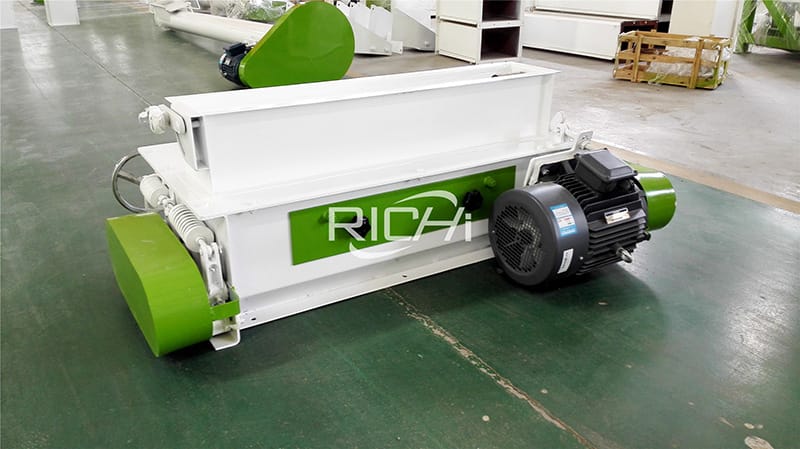 (6)Features of chicken feed pellet crumbler machine
①Machine structure in electric welded steel plate at suitable thickness.
②Higher part of the alimentation of the crumbler with bulkhead powered by a pneumatic cylinder for the roller by-pass.
③Manual adjusting system for the distance between the rollers with springs to protect them from the entrance of possible metallic pieces.
④Part of the power by a motor for each roller with belt transmission.
3.Perhaps you are also interested in the following questions. If you want to know more details, please consult online:
★feed lines 2 ton pellet for poultry fully automatic
★chicken feed plant 5 tons per hour from china
★30 ton per hour chicken cattle feed plant
★5 tonne per hour chicken feed pellet press
★compare a 10 ton per hour poultry chicekn pellet press to 1 ton per hour chicken feed pellet machine
★capacity 1-5 tonne per hour poltry feed plant
★plant for the production of chicken granular feed 10 tons per hour price
★poultry feed mill 30 ton per day
★poultry animal chicken feed pellet production line 3 tons
★China factory supply 9 thousad ton per year poultry animal feed plant cost
★1.5 tone poutry food mixer machine
★factory for poultry feed for 15 ton per hour
★price of poultry chicken cattle feed plant costing plant capacity of 1500ton per day
★15 ton hour animal poultry pellet feed plant layout pdf
★multi functional animal poultry livestock feed plant with 3 ton hour capacity