3 Ton per hour ce certificated compressing pellet machinery for bio-pellets in turnkey pellet plant
2020-11-10 Back to List
If you are looking for related products or have any other questions, please feel free to contact us.
Contact Us
1.Fuel Pellets Making From Wood &Biomass Materials By 3TPH Wood Pellet Machine
More and more people today are acquiring the skills for making wood pellets in full scale complete wood pellet plant. The other reason as to why pellet making is generating a lot of interest is because pellet heat is taking over as the core source of fuel. You no longer need to go commercial to get biomass pellets but if you get the relevant knowledge on how to manufacture them on your own it is really simple.
We cannot proceed without defining what we are just about to talk about. This term stands for any wood or biomass matter that is compressed into pellet form to be used as fuel. Biomass includes wood, grass, rain and all the other forms of agricultural material or waste. The process of making pellets is the same for most biomass materials, but for demonstration sake, we will use wood.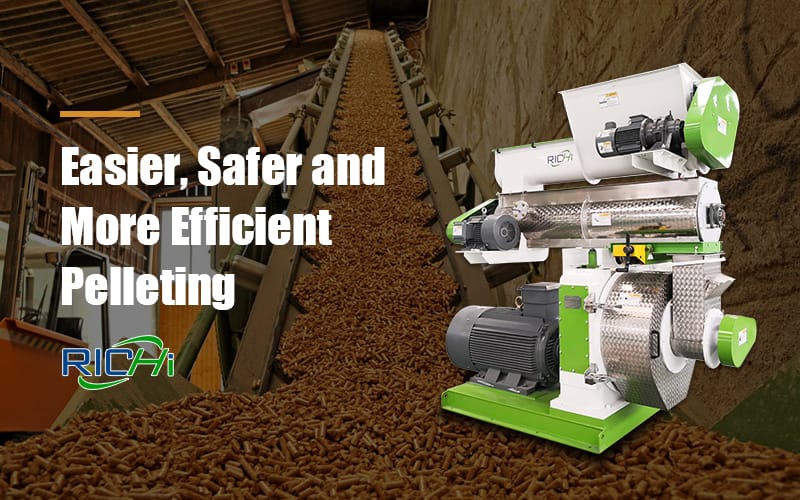 2.3 Ton Per Hour Wood Pellet Making Line Manufacutring Process
First you need to break down the biomass or wood materials into small pieces. For wood you will need to break it down into wood sawdust. You can either use a CE good quality biomass hammer mill or a good quality wood shredder chipper to grind it down into dust. A industrial wood hammer mill basically is used to break this material to the finest state.
For the process of making pellets to be successful, you need to dry the wood dust by high quality industrial wood sawdust rotary dryer but not completely. A small amount of moisture is required. Ten to twenty percent moisture is enough for all the raw materials. After the drying process you can then pre heat, the moist dust to make it easy for pellet making. You should ensure that you do not apply direct heat and also over heat this raw material.
Pellets are bound together by some adhesive. Some turnkey biomass pellet line materials do have a natural binding element and therefore do not need any additives. Some people use glue which equally works well. Additives serve a special function in the production of pellets. They serve to help in lubrication, decreasing combustion rates and also for bonding purposes. Binding additives also assist to reduce fine dust produced during transportation. They also assist to improve the durability of the pellets. Other plant materials that do not produce enough heat need some additional additives like vegetable oil, flour, starch, and any other binding agent.
The 3t/h biomass wood pelletizing mill machine has two very important physical parts; the roller and the die. The die is a ring surface that has many small holes drilled into it equal in size to the pellet size. At the top side of the die, the diameter of the holes is bigger than at the underside where the exit of the hole is. The die is made of a metallic ring surface. The next part is the roller. It works the same as the kitchen rolling pin and it is used to roll and spread the final moist wood dust on the die. When the moist wood dust is rolled over the die, it passes through the funnel shaped holes and gets compressed as it exists on the bottom side.
This process generates a lot of heat that melts the additives or binding matter. The heat is produced due to the pressure and the friction produced. The pellet cools down as it comes out on the other end of the die. The binding element in the pellets then cools down producing nice and well-shaped pellets ready for use. The process is a little bit involving and you might not get it right at the first time. But if you have the right knowledge, good material, quality pellet production equipment and some practice, you will end up making some really good pellets for use in your home and you can even decide to go commercial if you can produce more than you can use.

3.3 Ton per hour ce certificated compressing pellet machinery for 3t/h bio-pellets in turnkey pellet plant
Model:MZLH7688 Ring Die Wood Pellet Machine
The capacity of wood sawdust pellet:2500-4000 KG/H
The Size of Pellet Machine: 2200*900*1300 MM
The Anti-caking Feeder Power:3 KW
The Forced Feed Power :1 KW
The Pellet Machine Power: 280KW
The Final Pellet :6-12mm
The Weight : 5500KG
4.Wide Application Of Biomass Wood Pellets Fuel
Biomass pellets are very economical and environmental friendly making them a very reliable source of fuel. You can use these pellets for several purposes:
• You can use them domestically for all your heating needs
• They can be used commercially for production of energy
• They are also used as horse bedding material instead of using wood shavings
• They are extremely absorbent and therefore can be excellent filters for the cat litter
• Due to their absorbent characteristic, they are very efficient materials in case of spillages. They come in handy in the oil industry or where there are any forms of spillages.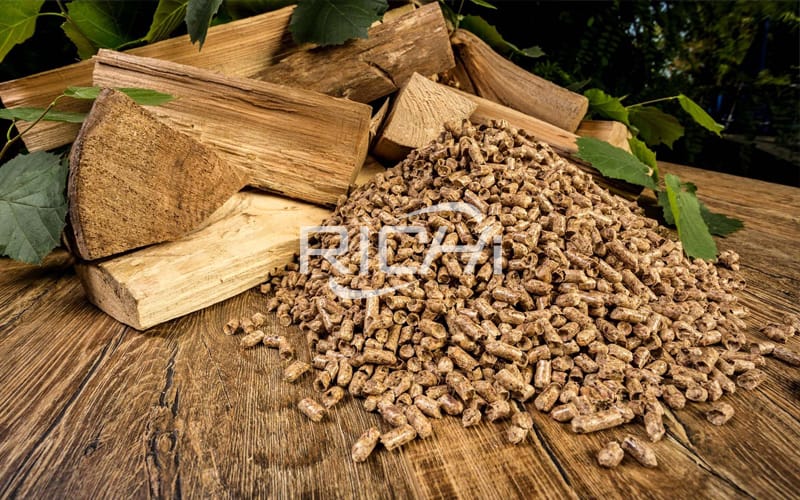 5.Biomass Fuel Pellets in Europe
Biomass pellets fuel is known for its renewability, cost effective, eco-friendly. It is seen as the most promising alternative to traditional fossil fuels. Both wood residues from wood processing industry and new wood from forest resources are good choices for pellet fuel production. Besides, new biomass resources are being discovered on and on for making pellets. In recent years, great amount of energy-rich woods are planted in fallow agricultural areas, especially in Europe. With the growing of these energy woods, the resources for pellet production will be even rich in the near future.
In our time, environmental pollution and energy shortage is the two great challenges. In 1997, the United Nations Climate Change Conference has agreed to reduce 5.2% of the global emissions by the year 2012. And the 1997's EU Commission Renewable Energy White Paper also prescribes to double the proportion of renewable energy by the end of the year 2010. Biomass, as the main part of renewable energy resources, must be taken seriously and be developed widely and fast. Biomass fuel is estimated to take about 74% of the total renewable energy consumption in European Union.
(1)Analytic Of Europe Wood Pellets Market
Wood pellets fuel is made from wood dust by use of ring die wood fuel pellet mills. In the 1980s, the Finland's Technical Research Centre made the first step in Pelletization Research, but the study is stoped due to a decline in oil prices. It is from the 1990s when the wood pellets are put to use in North America including Austria, Denmark and Sweden. Nowadays, wood pellets have been widely applied in home heating, family cooking, district heating stations and even at power plants.
In Germany, many pellet production plants are built in recent years. According to some statistics, there are 28 pellet plants in 2005 (290,000 tons of wood pellets were produced). In 2006, the number of pellet plant has reached 63. By the year 2007, there are 44 biomass pellet production plants and its annual pellet production has first exceeded the one-million ton record. Moreover, a further 13 pellet manufacturing factories are built in 2008. The existing factories are also keep expanding their capacities.
There are more than 70,000 pellet heating systems built in German households, reported by the Federal Office of Economics and Export Control (BAFA). The average consumption of each home heating system is 5~6 tons every year. That is to say, more than 350,000 tons of wood pellets are needed per year. So we can see that the potential of wood pellet industry is great. There are also plenty of wood pellets exported to other countries, making the international wood pellets trade improving rapidly.
Wood wastes such as saw dust, wood processing residues and scrap wood such as thinner trunks and tree tops are good choices for pellet production. Besides, new biomass resources are constantly being discovered. In recent years, great amount of energy-rich woods are planted in fallow agricultural areas, especially in Europe. With the growing of these energy woods, the resources for pellet production will be even rich in the near future. As high quality biomass fuel resources, wood pellets have become one of the most important fuel in Europe and Austria. More and more investors and companies are entering this market.
(2)RICHI China supply 1-5 ton per hour customized biomass wood fuel pellet line project in Europe
Germany easy to handle 2.5TPH stable performance biomass wood pellet production line with ce
Netherlands 2t/h ce iso wood pellet mill plant for biomass fuel
Austria ce hot selling 5 ton per hour complete wood pellet line
Ukrainian 0.5tph China factory offered large capacity sawdust pellet line with ce
Romanian best solution biomass wodo pellet line for pine waste
Albanian CE Certificate pine pellet machine wood pellet mill for sale
Slovakia customized biomass wood pellet line project with ce
Spain ring type-horizontal of wood pellet machine with ce
1-1.5 T/H Biomass Wood Pellet Mill Production Line in Iceland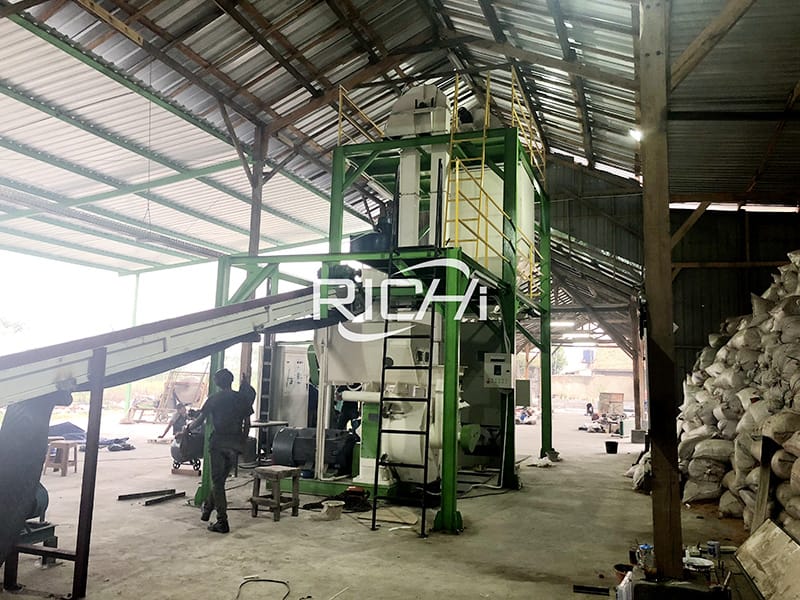 6.How To Start A 3TPH Low Cost High Return Wood Fuel Pellet Plant?
Before staring a 3t/h latest technology high quality wood pellet production line, you should firstly calculate the production costs at first. The cost of wood fuel pellet production is mainly affected by feedstock costs and drying costs which takes 30% of the total costs. Besides, the utilization and availability of the pellet plant also influence the costs. Three shifts per day at five days per week is the basic requirement for an economic pellet production. The wood pellet production process costs will be greatly increased if the availability of the plant is low. To ensure the profitable of your business, the availability of the plant is required to achieve 85%~90%.
Click to see more details about "how to start a 3 tph high quality ce wood pellet mill line? "
7.SWOT Analysis Of Wood Fuel Pellets Business
(1)Strengths of pellet business:
★Diverse suitability from stoves to big power plants
★More stable price than that of competing fuels
★Good availability and low price of raw material
★High energy content
★Small storage requirement
★Does not freeze or mold
★Burns cleanly, small ash amount
★Easy to handle, use, and transport
★Environmentally friendly energy form, in particular as regards CO2 emissions
★Tight and homogeneous fuel
★Renewable indigenous fuel
(2)Weaknesses of pellet business:
★Heating system binds the user
★Particle emissions
★Lack of quality marking for use equipment
★Insufficient fuel service system so far
★Price of equipment higher than that of competing one
★Poor knowledge among consumers
(3)Strengths of the environment of pellet business:
★High growth potential increasing environmentalism
★Increase in the production of mechanical wood-processing industry; lowering the price of pellet raw material
★Energy politics favoring indigenous bioenergy
★Increasing price of electricity
★Instability of prices of import fuels, especially of oil
(4)Threats of the environment of pellet business:
★Competing indigenous alternatives: wood chips and earth heat
★Reduction in prices of import fuels
★Environmental policy unsuitable for pellets