How To Make Palm Empty Fruit Bunches Pellets For 1-20TPH Biomass EFB Fuel Pellet Production Plant?
2020-10-26 Back to List
If you are looking for related products or have any other questions, please feel free to contact us.
Contact Us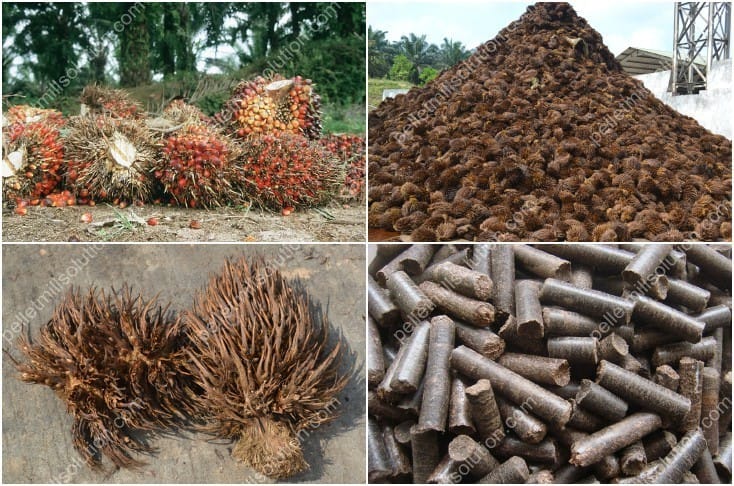 1.Palm empty fruit bunch pellets
Palm empty fruit bunch pellets are taken from the waste of palm fruit bunches and are short palm fibers. After compression, a granular solid form of 6-12 mm is extruded, which can be used to replace firewood. This process does not use any binder, but the natural lignin components in the fiber combine with each other to form a solid. Burning palm pellets is more efficient than firewood, and the moisture content is lower than 12%, while the moisture content of firewood may be as high as 65%. Palm empty fruit bunch pellets can be used in industrial or residential boilers and kilns to generate steam, power generation or heating purposes.
Palm empty fruit bunch is an important kind of raw material in the biomass pellet production particularly in the Southeast Asian countries including Thailand, Indonesia and Malaysia. The mentioned Asian countries are said to have gathered the greatest number of palm trees in the world lending to a huge influx of investors in the region.
Empty palm fruit bunches are the main waste; the traditional palm shell pellet mill machine cannot produce EFB pellets in large quantities because the palm silk fiber is tough and easy to entangle; but the customized granulator only needs to directly chop and bake the empty palm fruit bunches. Dry pellets can be made into biomass fuel; the calorific value can be as high as 5000 calories; large quantities are exported to Japan, Korea and other places.
As a matter of fact, the crude palm oil production is beyond 48 million metric tons per yearly. On the same note, billions of palm biomass residues such as palm empty fruit bunch (EFBs), palm kernel shells and palm frond or leaves gets processed. This clearly shows that there is plenty of palm empty fruit bunches for biomass pellet fuel production.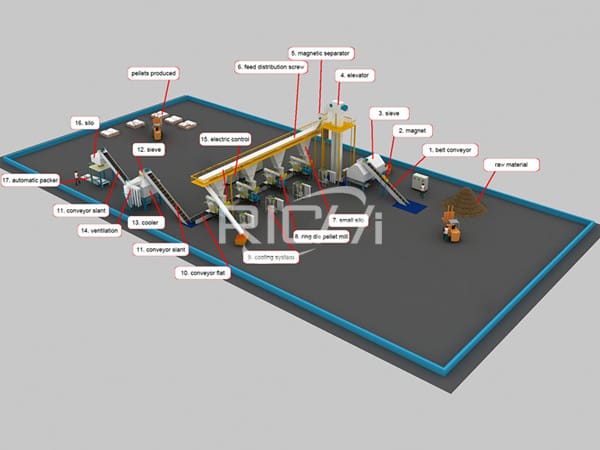 2.How To Pellets Are Made From Palm Empty Fruit Bunches By 1-20TPH Automatic EFB Pellet Production Line?
Making pellets from empty fruit bunch by setting up a complete EFB palm empty fruit bunch pellet production line. Actually, the EFB pellets are the same as other related biomasses which involves drying,crushing,pelletizing,cooling and finally packaging. How to build a 1-20 tons per hour automatic efb wood pellet plant ?
(1)Drying and crushing the palm empty fruit bunch is a bit different from the other biomasses due to its nature. Unfortunately, inexperienced manufacturers fail to identify the required equipment for crushing and drying the palm fiber. Only, biomass companies that have already made EFB pellet are able to find the best equipment for the purpose.(Read More:palm tree chipper machines,Palm fiber hammer mill crusher,widely used palm fiber rotary dryer)
(2)After crushing EFB fiber you are left with EFB fiber powder which contains proper moisture is then fed into the EFB pellet mill and pressed to form EFP pellets with high density.
Generally speaking, customers have different names for EFB pellet machines, such as Palm empty fruit bunch pellet machine,oil palm fronds pellet machine,Palm kernel cake(PKC) pellet machine,Palm Kernel Shell pellet machine.It's just that the palm waste used by everyone is different.
(3)The EFB pellets coming from the palm fuber pellet mill are hot and they must undergo the processes of cooling first. The cooled pellets are later packaged in bags of different sizes depending on the market needs.
3.Highlights Of Empty Fruit Bunches Palm Pellets
(1)They have very high heating efficiency
Palm pellets combust very efficient in the boilers leaving a very small fraction of waste which is about 5%. This kind of energy product can work very well in areas where tremendous amounts of energy are a necessity.
(2)They have low moisture content
The moisture content of EFB pellets is about 8-12% which is less than its counterpart shredded EFB fiber which has a moisture content of between 50-60%. The low moisture content can help at greater lengths to cut the cost of transportation and also increases the combustion ratio.
(3)They have wide applications
Apparently, EFB pellets can be used for different purpose some of their different use include house cooking and heating, as industrial boilers and power plants to replace coal.
(4)EFP pellets are free from smoke and harmful gases
The world has joined hands to fight global worming which is as a result of smoke and industrial emissions. With the use of EFB pellets, the world is made a safe haven for our future generations. This is the way forward if we are want to change the devastating effects of global warming.
(5)They are easy to handle and store
EFB pellets have compact volume which makes it easier to handle and store them. Due to their compact nature, storage space is highly saved.
There are other kinds of wastes in palm oil production suitable for biomass pellet production such as palm kernel shell and palm frond. We can also supply pellet mills for making palm kernel pellets and palm frond pellets. Besides, for large industrial scale pellet production, we will customized the best pelletizing solution depending on your specific needs and situation. Feel free to contact us through the below inquiry from for detailed information about our EFB pellet mill machinery.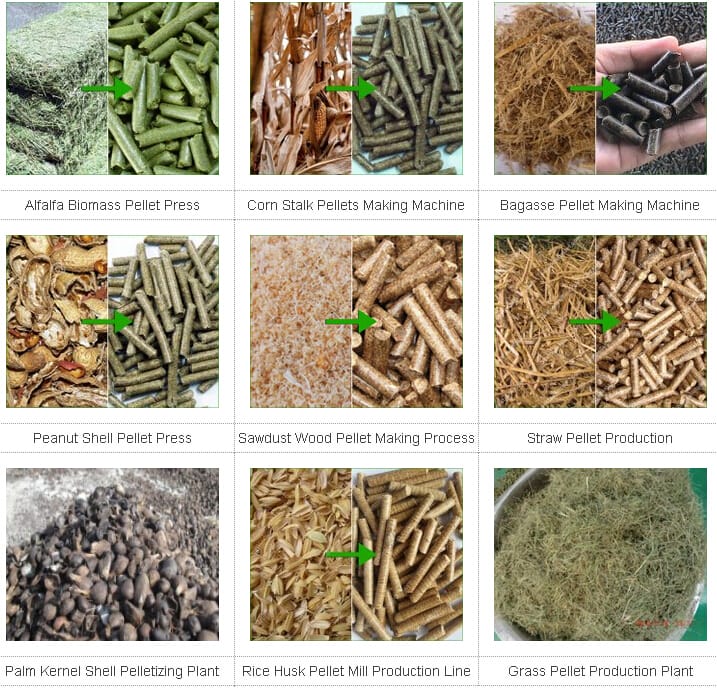 4. About palm fiber
Palm fiber is manufactured from Empty Fruit Bunch (EFB). EFB is generally regarded as a waste product after processing and refining of Fresh Fruit Bunch (FFB). Palm fiber itself is a 100% natural product, which is harmless, can be decomposed naturally and will not damage the environment. EFB is generally regarded as a waste product after processing and refining of Fresh Fruit Bunch (FFB). Palm fiber itself is a 100% natural product, which is harmless, can be decomposed naturally and will not damage the environment. Palm fiber itself is a 100% natural product, which is harmless, can be decomposed naturally and will not damage the environment.
(1) Characteristics of palm fiber
•low cost
•adequate supply
• No species changes
• Low moisture content
•No carcinogen
•Not toxic
• No traceable HCN compounds
• Can be decomposed naturally
• Does not damage the environment
• No health hazard
• Contains lignin moisture
• It can be combined to form a solid after compression.
(2) Palm fiber specifications
•Moisture content: 12-15%
• Impurity content: 3% (maximum)
• Length: 50mm -150mm
•Oil content: <2%
•Color: light yellow, brown
Contact Richi Machinery to get more details of equipments for complete EFB fuel pellet production line biomass fuel pellet making.