Take you to understand the economical and profitable biomass energy pellet mill machine
2020-10-02 Back to List
If you are looking for related products or have any other questions, please feel free to contact us.
Contact Us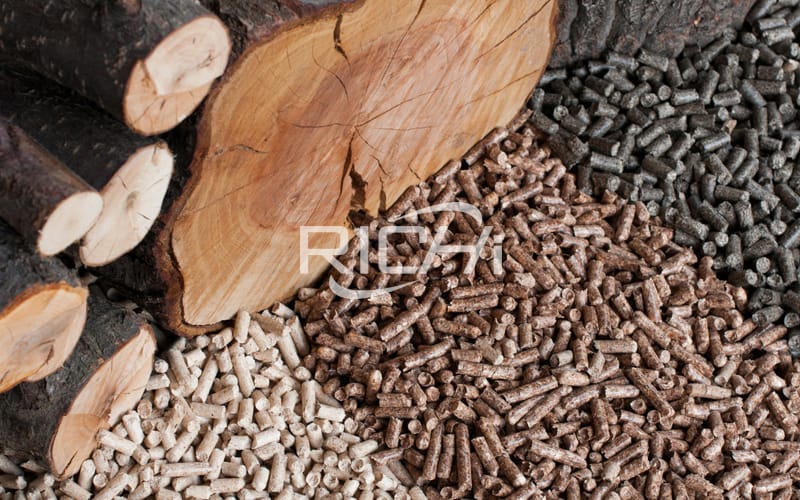 1.What does biomass include?
Biomass energy pellet mill machine, as its name indicates, can make pellets from biomass materials.
Biomass refers to all kinds of plant and animals that have life. But for making pellets, biomass just means plant, which includes wood waste as sawdust, wood shavings, tree branches, wood chips; crop waste as wheat straw, cotton stalk, corn stalk, wheat bran and many other biomass wastes like peanut shell, sunflower husk, bagasse, EFB, etc.
These biomasses contain a kind of substance called lignin. Under high temperature, the lignin in biomass will soften and melt and can adhere with the fibers. By the extruding of biomass fuel pellet making machine roller and die, the biomass will be pressed tightly into solid pellets.
Of cause, not all plants are suitable for pellet making. Only those contains much lignin can be used as raw material for biomass solid pellet mill machine.
2.Why do we need to make biomass pellets?
In fact biomass pellet making is not a must. But in recent years, many countries and areas are utilizing biomass pellet making machine to deal with their biomass waste and produce valuable fuel pellets.
(1)The price of traditional fossil fuels like coal, gas and petrol is increasing and their amount decreases. This is the major cause, since we all know that fossil fuel is non-renewable and the burning of coal even do harm to environment. As a result, people find biomass pellet making renewable and feasible.
(2)There are large amount of biomass waste produced. It is always a headache to people, especially those who own furniture factory, crop fields or palm oil plant. To make their biomass into pellets can not only help them make use of waste, but also bring them extra profit. So why not making biomass pellets?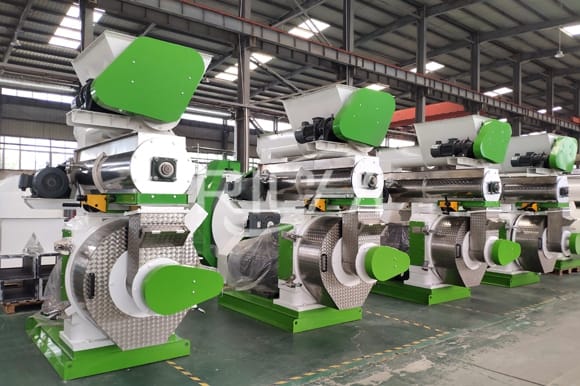 3.How to choose China factory price biomass pellet making machine?
What are the biomass granulators you can think of? According to the raw materials, there are many types, the common ones are rice husk pellet mill,rice straw pellet machine,coconut shell pellet machine,coffee husk pellet mill,chicken manure pellet machine,sunflower stalk pellet machine,Europe oak wood pellet mill,Europe white pine wood pellet mill,Indonesia solid wood pellet mill,efb pellet machine price for Indonesia market,acacia wood pellet mill,ce agriculture waste biomass wood pellet mill machine,factory price peanut shell pellet machine,bamboo straw pellet machine,pellet machine for Rice husk empty coconut shell pine rubber,etc.
To choose biomass pellet making machine mainly depends on your capacity required.If you need capacity as 300-4500kg/h or even larger, you'd better choose large ring die biomass pellet making machine, since they are industrial bio fuel pellet press.Biomass pellet making is a sunrise industry, and more people put their capital into high quality biomass pellet processing machines. As a leading professional ring die biomass pellet mill manufacturer and supplier, Richi Machinery is willing to solve your problems and hear from you!
4.Cheap Price Biomass Wood Pellet Mills Also Have Good Quality
Many people who want to buy professional design biomass fuel wood pellet mills often prefer cheap price biomass wood pellet mills, the reason is that cheap price biomass pellet making machine can save them a lot of cost.
China factory directly offered cheap price biomass wood pellet mills cost much less than expensive ones. They are cheap because their production cost is low. The cheap price pellet mills are always found in China, where the labor cost and raw material cost is much lower than in other countries.
Because of this, many people often enter "best price good wood pellet making machine", "China best price biomass wood pellet machine","factory directly supply cheap price wood pellet mill machine",etc. when searching for "biomass wood pellet mill machine" on the Internet.
Many European biomass energy pellet machine manufacturers said that they produce pellet mills with high quality and high price, while Chinese suppliers offer biomass pellet machines with low price and low quality. In fact, it is totally wrong! How can they say there are only low price and low quality pellet mills from China? Have they ever utilized China biomass wood gtanulator pellet machine? Of course not! They have never used, and they made that conclusion just based on their surmise. Their purpose is to highlight their product quality while belittle high performance biomass wood pellet machine from China factory.
As a matter of fact, cheap price ce certification biomass pellet mills from China are welcomed by customers in many countries. Take Richi Machinery for example. Ever since its foundation, RICHI has sold wood pellet machine for biomass fuel pellets to various places in Thailand, Malaysia,Australia, Netherlands, Canada, Iceland, USA, and many other countries and areas. We can also receive tens of enquiries regarding our competitive price biomass wood fuel pellet machine every day. Most of them show great interest in buying RICHI wood pellet machine for biomass fuel pellets.
However, as there are many biomass wood pellet mill manufacturers in China, not all of them sell at the same price. Some suppliers sell at extremely low price because the production cost of their low quality pellet mills is extremely low. Those who buy from such suppliers will surely regret and won't buy from them anymore.
As a reliable and professional biomass pellet machine supplier from China, RICHI never have extremely cheap price biomass wood pellet mills. All of our on selling good quallity pellet product line biomass pellet machines have reasonable price and trustable quality (approved by CE, ISO, BV, SGS and can meet EU Standard). All of our commercial biomass wood pellet machinery have long service life that can be used for several years (if users follow Instruction).
So if you want to buy China Supplier Offer biomass pellet machine with cheap price,best price,reasonable price,low cost, choose factory manufactured cheap price biomass wood pellet machine from RICHI.