How To Construct High Quality Complete Animal Feed Mill Plant Engineering?
2020-10-24 Back to List
If you are looking for related products or have any other questions, please feel free to contact us.
Contact Us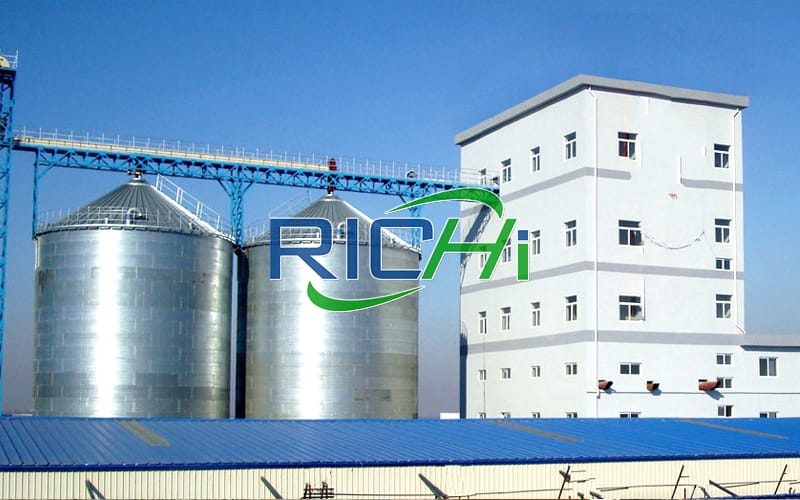 1. Reasonable plant layout planning
Reasonable plant layout planning is the first step towards quality animal feed mill plant project. Feed factory siting, environmental protection and safety supervision design, processing technology, and plant function division should satisfy the requirements of production process, fire protection and environmental protection, and urban planning.
All the exhaust gases from grinding, cooling, and drying sections in animal feed mill factory need to be centrally cooled, and purified by activated carbon and UV photolysis to achieve emission standards. For the noise treatment, we should use sound insulation, vibration isolation materials, and install silencer on the inlet and outlet pipes of fans. The separation of rainwater, production and domestic sewage in feed factory should be planned in advance, with corresponding sedimentation tanks. The sewage is drained to the sedimentation tank and then discharged.
2. Detailed and precise animal feed pellet production process design
Richi Machinery's professional team provides a detailed and precise plant layout planning, processing technology plan, 3D drawings display and 3D detailed design of project. A precise animal eed pellet prodction process planning includes storage, various types of feed bins, logistics line, ingredients mixing, grinding and pelleting, finished product storage and delivery, oil storage and addition, boiler and transformer, electrical automation system and project details customization, ensuring safe, automatic, efficient, energy-saving and green, clean and beautiful factories.
Richi Machinery has been striving for perfection of details like wear-resistant measures, noise, exhaust gas and dust treatment, explosion-proof, equipment hoisting, humanized operation.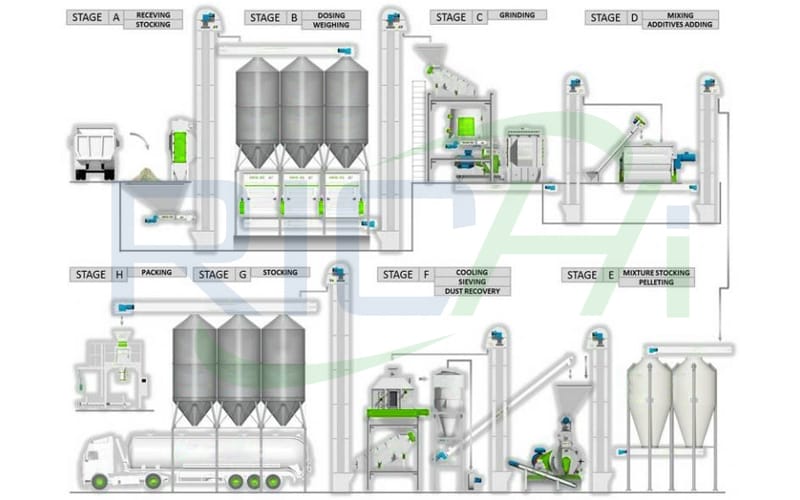 3. Strict WBS node control in project construction
RICHI tries to control each section, equipment and spare part to minimize waste and improve animal feed production quality.
There are 255 nodes during Richi Machinery Feed Engineering Process Management and Control, to completely control the progress, safety and quality of construction. Company leaders can know more about projects in real time, and make accurate decisions quickly. Each project can also make a lateral comparison, automatically generating the achievement rate of project progress, providing managers with intuitive data.
4. Quality Control System conforming to international standard
Richi Machinery uses advanced software with modular and parametric design, 3D display model and Quality Control System to automatically generate project, section and non-standard prefabricated parts drawings.
Richi Machinery Quality Control System can maximize the quality of projects. 86 major categories and 450 prefabricated parts are designed with 3D standardized modules to eliminate errors, reduce residues, make easier operation and maintenance. Projects with prefabricated parts ensure on-site assembly with shorter installation period and higher quality.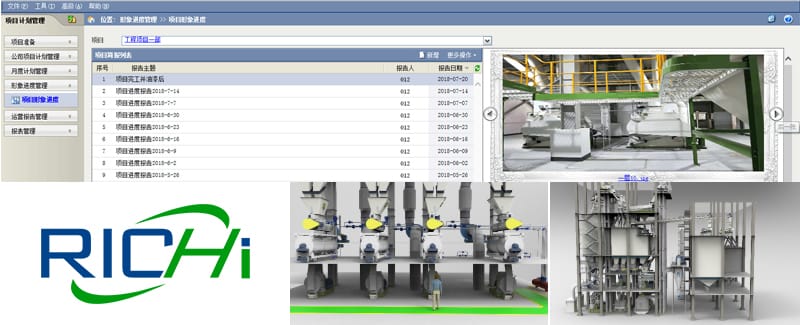 5. More innovation for animal feed mill factory manufacturing process
Innovation for intelligent factory accelerates feed engineering development. Richi Machinery provides intelligent logistics, warehouse, production, quality management, etc. and excellent operation and management services on this basis.
Dust-free hydraulic unloading shed, automatic unpacking machine and positive pressure conveying of powder materials are used for raw material receiving. Grinding section has automatic functions like stone and metal removing , broken sieve detecting, non-stop sieve changing, bearing temperature measuring, spark detecting, and vibration monitoring. Automatic ingredients calibration scale and micro element batching scale are used for mixing. Automatic oil adding, roller gap adjusting in pelleting section and automatic moisture adjusting, tailings treating in cooling section are also available.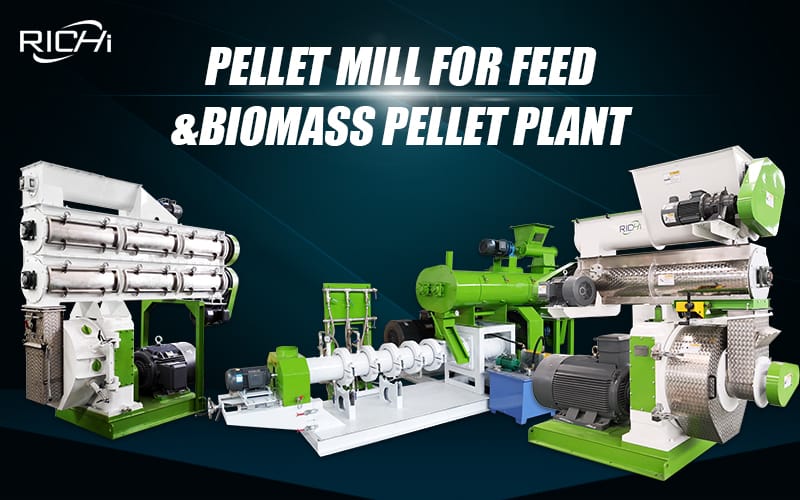 6. Stable and reliable animal feed processing equipment
From first generation animal feed pellet mill machine in the early stage to China's famous large capacity ring die animal feed pellet making machine Type SZLH(45t/h), Richi Machinery has built the most complete and stable ring die feed pellet milling machine series in the whole industry! Also, it has achieved several patented grinding technologies, in which the multi-cavity technology can increase the grinding efficiency by 30%. With smooth transmission, accurate spraying, higher mixing speed, and less power loss, Richi Machinery double-shaft feed mixer machine is now the world's well-known feed enterprises' choice.