How To Choose High Quality Hard Wood Pellet Mill Machine?
2020-09-03 Back to List
If you are looking for related products or have any other questions, please feel free to contact us.
Contact Us
High quality hard wood pellet mill machine is one kind of good selling biomass fuel pellet machines of Richi Machinery. Just as its name implies, the raw materials of this kind of machine is hardwood, like pine, fir, birch and poplar, etc.So,if you are looking for good quality solid wood pellet mill,CE certificate pine wood pellet machine,palm tree wood pellet mill, Asia acacia wood pellet machine,rubber wood log wood pellet machine,etc.So you are looking for the most popular hard wood pellet machine.Those hardwood should be preprocessed then they can be processed by professional design biomass wood pellet machine for wood pellet production plant. Usually, the hard wood should be turned into wood sawdust, then they can be compressed into good hard wood pellet bio-fule.
You should find a suitable stable performance biomass hard wood pellet machine, then the hardwood pellets will have the best quality. But which kind of hard wood pellet processing machine is suitable?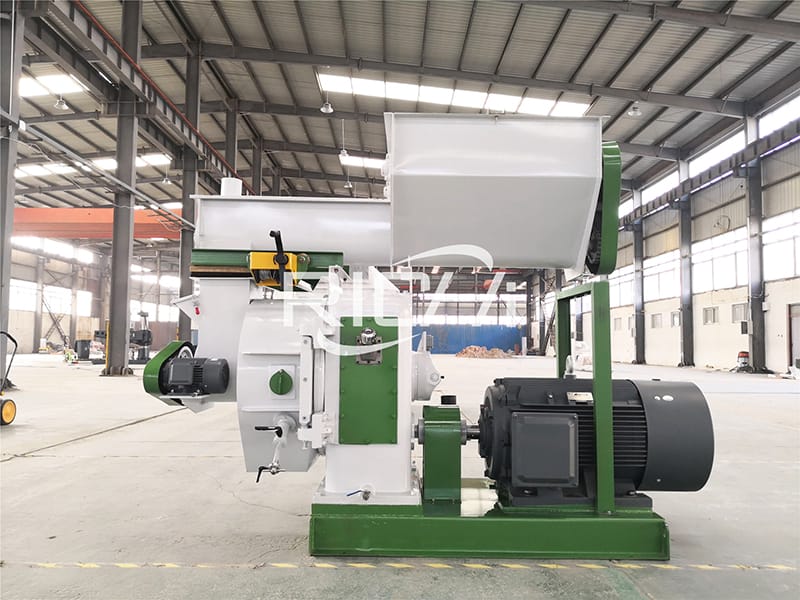 1.Good quality ring die hard wood pellet mill for wood pellet plant
For the high quality biomass hard wood pellet line,ce high quality ring die hard wood pellet mill machine is the best choice. Ring die has a good efficiency on processing the hardwood. On the premise of guaranteeing the production capacity, the quality is well guaranteed. The hardwood pellets from the ring die wood pellet machine has a high density, high combustion ratio, and low ash content, which has an active effect to the environmental protection. The good quality ring die automatic wood pellet machine can work for single machine, and it can work in the completely biomass wood pellet production line with several machines(including easy to operate industrial drum wood chipper,professional manufactured wood chip dryer,wood pellet cooler,pellet bagging machine,etc.).
300-500kg/h factory offered hard wood pellet mill
800-1000kg/h China factory supply competitive hard wood pellet mill
1-2 ton per hour hard wood pellet machine for biomass energy industry
2-3t/h good quality hard wood pellet mill machine with CE
2.5-4t/h ring die biomass hard wood pellet mill with factory price
3-4.5 ring die automatic hard wood pellet machine for hard wood
2.Differences between hardwood and hardwood pellets
(1)Hardwood has a lower combustion ratio than the hardwood pellets;
(2)Hardwood has more ash than the hardwood pellets;
(3)Hardwood can not burn efficiently while the hardwood pellets can;
(4)Direct burning of hardwood does great harm to the environment, it will lease a lot of carbon dioxide intensifying the green house effect.
To a large extent, pellet mill for hard wood realizes the target that there is no pollution which is suitable for the requirement of mutual development between environment and social production. Hard wood pelletizer press mill is the indispensable tool and energy producing machine in the future. What's more, many countries begin to encourage the development of new kind of energy, so the hardwood pellet making machine has a great development space and a large potential.