What equipment are needed for a 20t/h poultry chicken feed pellet processing plant?
2020-06-21 Back to List
If you are looking for related products or have any other questions, please feel free to contact us.
Contact Us
A 20t/h poultry chicken feed pellet production plant needs to be equipped with double SZLH420 feed pellet production lines.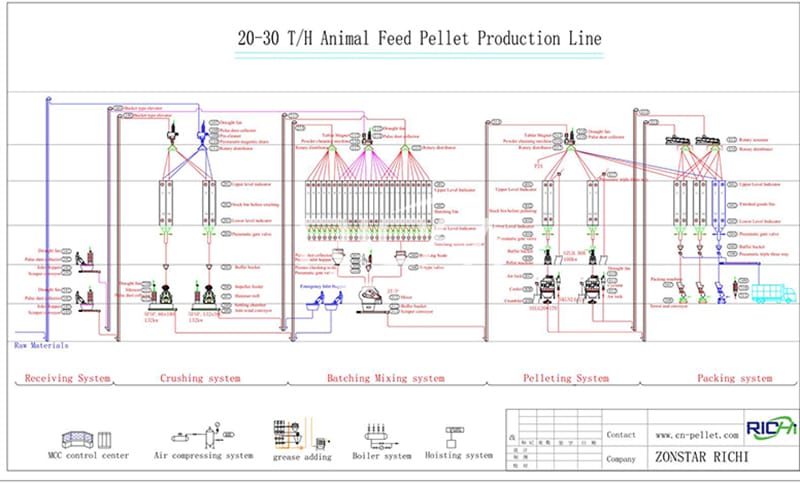 The features of poultry chicken feed pellet are moderate grinding fineness(screen hole diameter 2-4mm),moderate curing and conditioning requirments(pellet mill adopts two layers conditioners),finished products with big pellet diameter(pellet diameter is around 2.5-4mm. Double SZLH420 chicken poultry feed process is with 20tph capacity, it adopts two grinding section, one batching & mixing section, two pelleting section and two packing section. The total equipment power is around 725kw. The construction area of the production area is about 21*17.5*28m, it equipped with 2T boiler. The whole line of the 20TPH double SZLH420 chicken feed making plant is compact in design, reasonable in structure, meeting the requirement of environmental protection, and can be customized designed according to the requirements of customers.
1.Prime technology equipment in turn-key poultry chicken feed pellet plant for sale:
(1)Cleaning equipment:granules sifter,capacity 20-30T/H;powder sifter, capacity10-15T/H.
(2)Grinding equipment(2sets):SFSP series chicken feed hammer mill grinder,110KW,capacity 10-15T/H.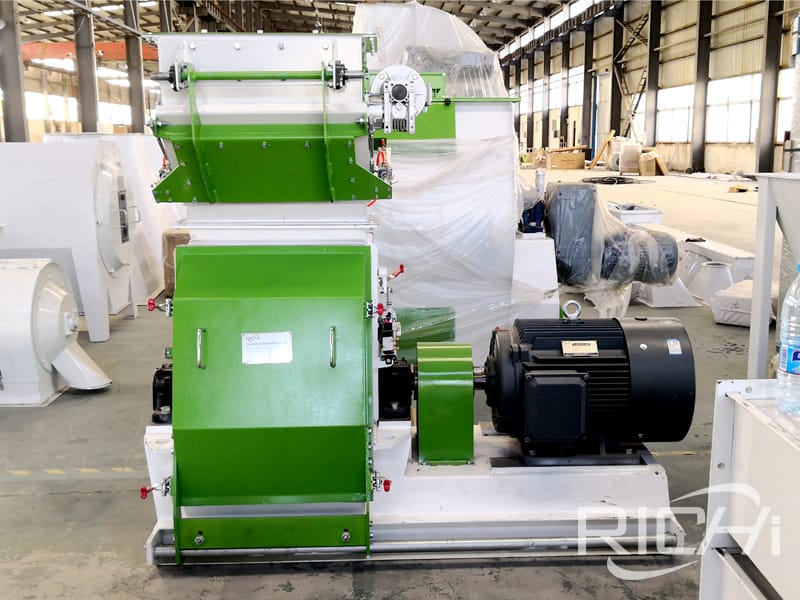 (3)Weigh equipment:batching scale,batching accuracy≤3%.
(4)Mixing equipment:chicken feed mixer,2000kg/batch,capacity 24-30T/H.
(5)Pellet equipment(2sets):SZLH420 ring die chicken poultry feed machine,110KW,capacity 10-12T/H for each pellet mill.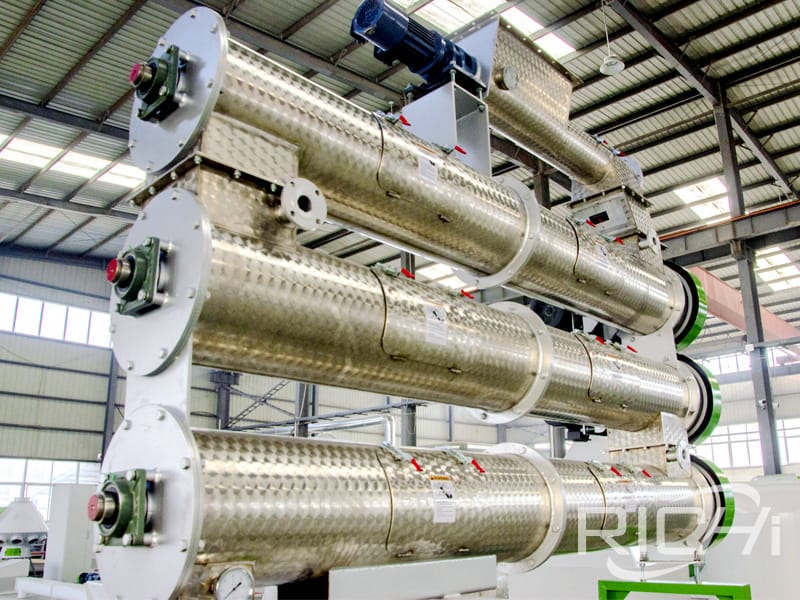 (6)Cooling equipment:SKLN pellet cooler,capacity 10-15T/H for each cooler.
(7)Packing equipment:belt scale,screw scale, etc.Automatic Packing Machine,Packaging range 20-50kg/bag,6-8 bag/min.
Note: The above configuration is just one kind of reference, different feed output, different equipment configuration. Even if the same feed output is affected by the customer's budget, site, and local policies, it will affect the configuration of the chicken feed production line. Therefore, for Richi Machinery, with 1000 customers and 1,000 configurations, we can customize any type of chicken feed pellet production line for customers.
2.Chicken pellet fomula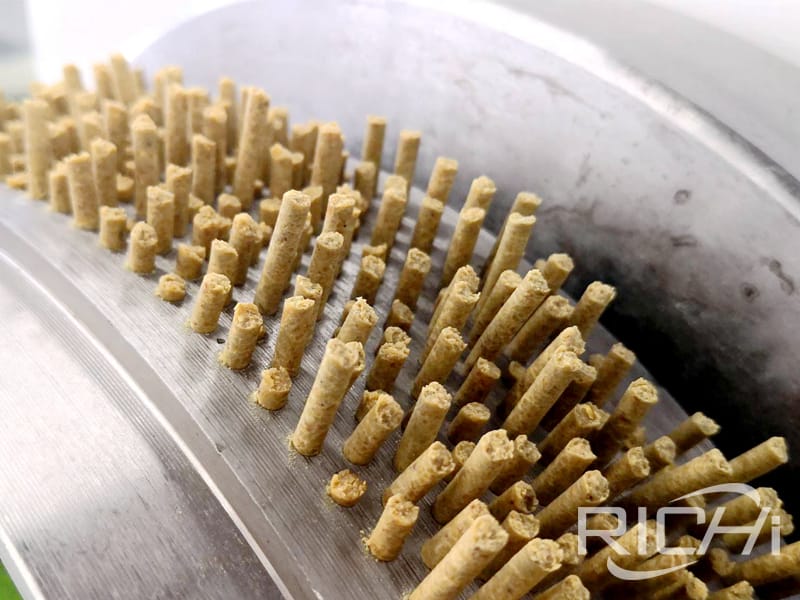 The above is the configuration of a hot 20-ton chicken feed production line recommended by Richi. Next, let's talk about the design of chicken feed formula, because chicken feed formula is also one of the important factors affecting the chicken feed pellet production line. If the customer's chicken feed formula needs fat addition, then a fat addition system needs to be configured. If the customer has a large variety of formulas, then it is recommended to use an automatic ingredient system... So what standards do the chicken feed formula design need to follow? Here are some suggestions from Richi Machinery based on years of cooperation experience with feed mills and chicken farms:
(1) Scientific and nutritional  
The feed standard is the basic basis for diet coordination, but different varieties and feeding and management conditions will affect the demand and standards of nutrients. Therefore, according to the genetic characteristics, production level and feed conditions of chickens, refer to appropriate standards to determine the content of dietary nutrients. In production practice, the values ​​in the feeding standards should be adjusted appropriately according to your own specific situation.
The designed chicken pellet feed formula should meet the nutrient needs of chickens at different stages, not only to consider the palatability of the feed, but also to consider the optimal ratio of each nutrient to improve digestibility and meet growth needs. When designing poulry chicken feed formulas, an economic nutrition level can be determined according to the source of raw materials and production requirements.
In order to make the nutritional value of the feed at full price, a variety of feeds can be used to mix, play a complementary role of various nutrients, and improve the digestibility and utilization rate of nutrients. Compound feed should not only ensure the amount of each nutrient required by the chicken, but also ensure the nutritional full price of the formula by balancing the ratio between the various nutrients. Only in this way can we fully utilize the potential of feed nutrients and achieve better feeding effects.
(2) Security  
Some feed ingredients (such as cottonseed cakes and rapeseed cakes) contain anti-nutritional factors, the dosage should be controlled, and the materials should be used reasonably to prevent poisoning; the quality and grade of the raw materials should be inspected and tested before selecting feed materials. If there is mold, rancidity, or toxins Contaminated feeds are not allowed to be used; pay attention to the antagonism and compatibility of various nutrients; the use of additives should be standardized. Only by putting safety first, can the designed formula be used in chicken feed making plant.
(3) Economic  
The chicken feed formula must be properly weighed between quality and profit. It is necessary to improve the quality of the feed as much as possible and to minimize the cost. This requires the design of reasonable nutrients and the improvement of the production performance and feed conversion rate of the chicken after feeding chicken feed pellet formula with high economic benefit.
(4) Operability
Maneuverability is a feasible principle in production. The designed chicken feed pellet formula should be adapted to the production conditions of the enterprise, and the types of raw materials and production quantities selected should also be adapted to the market conditions.
(5) Legality
Legality means that the feed products produced according to the chicken feed pellet formula should comply with the provisions of the feed standards, such as nutrition indicators, sensory indicators, hygiene indicators, etc., and follow the feed regulations.
You can directly consult Richi Machinery for any questions about "how to make chicken feed","machine for chicken feed","chicken feed mill near me","corn grinder for chicken feed in chicken poultry farm ",please feel free to contact Richi Machinery!
Email: enquiry@cn-pellet.com
Whatsapp/Cel: +86 185 7410 3366