Installation and commissioning of poultry chicken fish animal cattle cow feed machine
2020-05-26 Back to List
If you are looking for related products or have any other questions, please feel free to contact us.
Contact Us
In order to ensure the normal operation of the animal feed pellet production line, extend its service life and reduce failures, and improve economic efficiency, many customers have focused their attention on maintenance, and the fact is that the animal feed machine line production should be strict from the installation and commissioning stage. Follow the standard. Here, Richi Machinery puts forward the following opinions for users' reference.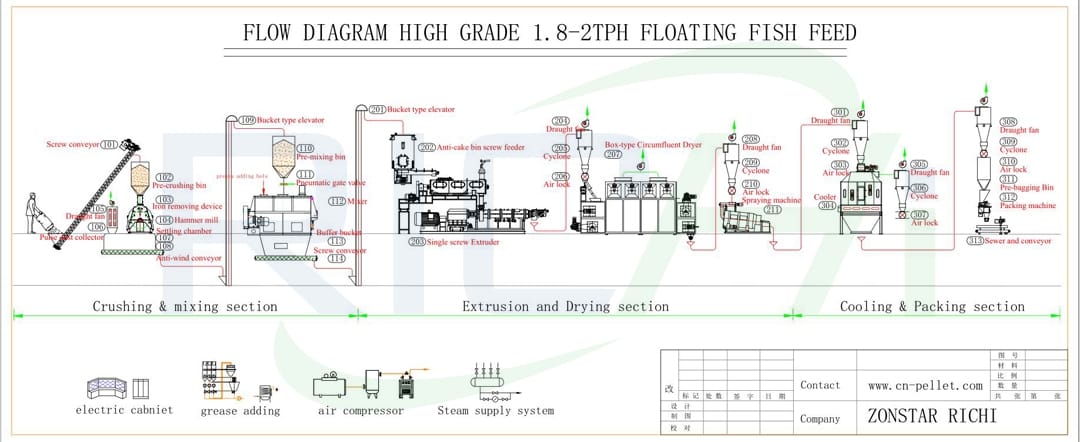 1. Before installation, check whether the dimensions of each installation foundation meet the requirements of the drawings according to the feed equipment plan and foundation plan. If there is any discrepancy, it should be repaired until the dimensions are correct before installation.
2. The installer should first be familiar with the installation requirements of each equipment and carry out the construction in strict accordance with the technical requirements.
3. The equipment may cause deformation, damage or loss during transportation, so before installation, check and check the equipment list, and take corresponding measures to make each equipment in good condition before installation.
4. Each equipment of animal poultry cattle chicken shrimp feed pellet production line should be numbered before entering the installation site, and the installation process flow card and schedule should be formulated. According to the requirements of the installation process sequence, the equipment should be transferred to the site one by one for installation.
5. Installation sequence: from top to bottom, first install the host equipment and the rack, and then install the connecting pipes and electrical equipment.
6. Tools required for installation: equipment and village materials must be prepared.
7. After installation, the rotating parts of the equipment must be flexible and free of jamming, bumping, and impact sounds. The connecting parts must be firm and sealed, and there must be no leakage of powder, air or oil.
8. The installation of electrical feed making equipment should comply with the relevant national regulations, the direction of each line should be clear, and there should be no running or leakage, and the wires and cables should have protective shells to prevent rats from being bitten.
9. After all equipments of animal feed pellet plant ring die feed pellet production line are installed, each stand-alone machine should be run in empty vehicle test mode, and only after normal operation, can it be put into load test run.
10. Before the load test run, calibrate the electronic batching scale and packing scale to achieve the specified accuracy.
11. The load runs for 8h, and can be handed over to the factory for production and use only after there is no fault.
For installation and commissioning services of Richi Machinery, please visit https://www.cn-pellet.com/service/ for more details.