What is high quality wood pellet machine price?
2020-05-25 Back to List
If you are looking for related products or have any other questions, please feel free to contact us.
Contact Us
For this question, we can give an answer, but this is the range, not an accurate number. The price of biomass professional wood pellet line is usually between 100,000 and 10 million, with a span of more than 9 million in the middle. Why? In fact, there are many factors that determine the price. Let me give you a detailed explanation: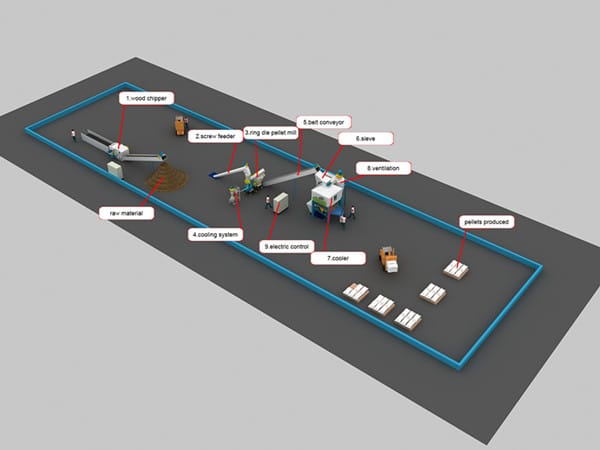 1. Output
The output of the wood pellet production line determines the price of the production line. If the output is large, the equipment will be large, and the corresponding price will be high. It can be said that it is almost proportional. For example, the output of 1 ton per hour is 100,000, and the output of 2 tons is 200,000. The equipment used in a production line includes a series of biomass processing equipment such as granulators, mixers, pulverizers, coolers, dryers, etc., all of which are divided into different output, and different production line scales correspond to different equipment configurations. Therefore, if a complete wood pellet line is to be configured, there is a very large price gap between the 1 ton wood chip production line and the 10 ton large capacity heavy duty wood pellet line only in terms of output.
2. Raw materials
The raw material requirements for biomass wood pellet fuel are generally 2-6MM in size, and the moisture content is 10-15%, so if the raw material does not meet this condition, it will be pre-treated. For example, logs, branches, etc., need to use a slicer. If the moisture of the raw materials is large, a drying device should be used. If it is wood chips, then no slicer is needed, only cleaning equipment and crushing equipment are needed. Therefore, in terms of raw materials, the equipment configuration of the production line is different according to the different raw materials of customers, and the corresponding prices are different.
3. Craftsmanship
The so-called process is the degree of automation of the production line, as well as the operating mode, which involves a relatively large, high degree of automation and high price. The closed degree of operation mode and conveying mode is high, then the dust will be much less and the price will be high. The process is simple and the price is cheap. For example, in the packaging stage, some wood pellet processing factories do not have a packaging section, because after the pellets are made, they are directly discharged into trucks; some manufacturers have a packaging section, but they are not equipped with an automatic packaging system. This stage is done manually.
4. Quality
At present, the industry of biomass pellets is very hot, and many people are interested in the prospect of wood pellet fuel. However, there are many equipment manufacturers for biomass pellets, the quality is uneven, and the prices vary greatly. But for biomass pellet processing, if you really want to gain benefits, you must choose a biomass pellet machinery manufacturer with good quality, low maintenance cost, and guaranteed after-sales.
Learn about Richi Machinery's biomass pellet processing equipment:https://www.cn-pellet.com/product/wood-pellet-machine/
Learn about Richi Machinery's biomass pellet production line:https://www.cn-pellet.com/solution/wood-pellet-production-line/
We are biomass pellet line manufacturers,welcome to contact us for best price wood pellet mill plant.Whether it's paper, plastics, kichen waste ,grass, hops or wood, we've worked with just about every conceivable material. So, you can be sure that Richi knows your industry like the back of our hand. We work in biomass, waste, fertilizer, paper, fiber, plastics, and a host of other industries. You can be sure we'll find a solution that's just right for you.