How to build a small or large scale wood pellet plant?
2020-05-09 Back to List
If you are looking for related products or have any other questions, please feel free to contact us.
Contact Us
How to build a small or large scale wood pellet plant?Whatever it is samll or big,a typical biomass pellet plant covers the following process: material resizing→material cleaning→drying→pelletizing→sieving & cooling→pellets packing.
Among all the demands, as a clean biofuel energy, wood pellets are seen a dramatically increasing market demand through all over the world because the technology for making wood pellets is mature and the raw material is easy to obtain. In a foreseeable future, it's no doubt that business of making wood pellets is promising and will not out of date. Companies who has access to proper raw materials and who owns large drying capacity are already be active and taste benefits in this area, even more and more wood chips and logs are brought as raw material to make wood pellets. Chances never waits for people, so does making money. It's your chance now, build your own pellet plant and start making money today!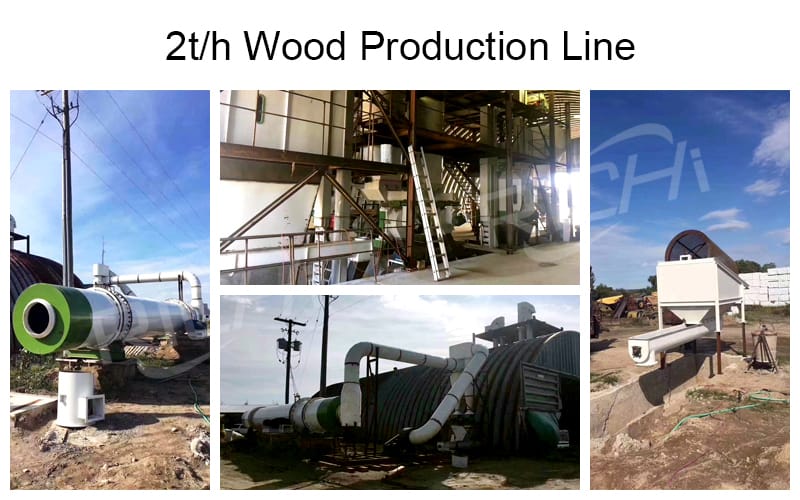 What equipments do you need to build a wood pellet plant?
1.Wood crusher chipper: a wood chipper is to cut large size woody material, e.g. logs, branches, into smaller slice material.
2.High efficient wood hammer mill: a hammer mill can process wood chippers, straws into smaller pieces, of which the size is less than 3mm. This size is preferred for a pelletizer to get raw material feeding in.
3.Wood dryer: Moisture of material matters a lot to pellet quality. As different raw materials have different moisture, a dryer is crucially important to pellet production process. Each material requires an unique moisture. If you want to make pellets from wood, material with moisture of around 15% is the best.
4.Wood pellet mill machine:it is the essential equipment that you must have for building a pellet plant. As to how many piece of pelletizers you need is depending on the amount of raw material you are dealing with per hour and the estimated capacity. If you are a starter in wood pellet business, you may start with one ring die pellet making miachine to build a mini pellet plant at the beginning.
5.Cooling and sieving system: pellets come from pelletizer need to be cooled down to keep a better strength. The sieve will separate intact pellets from ash, which could be in recycling use.
Needless to say, you also need belt conveyors or elevators or packing machine to connect all the equipments. Chances are you may also need a debarker, magnetic separator, weighting and packing machine, etc. To build a complete biomass pellet plant is a little complicated than buying a wood pelletizer and making pellets at home. But never mind, contact with Richi Machinery, we will reply you with a total solution just suitable for your requirment.