Hot selling high quality 110kw 1 ton per hour biomass molding fuel pellet mill machine price
2020-03-23 Back to List
If you are looking for related products or have any other questions, please feel free to contact us.
Contact Us
Hot selling biomass pellet mill?110kw 1 ton per hour biomass pellet mill machine?Biomass molding fuel pellet mill price?Yes.Richi Machinery can provide granulator machine suitable for any biomass fuel, and the price of the granulator is directly proportional to the quality. Why are our biomass molding fuel pellet machine so durable? As a result, our customers have set a maximum life of 18 years, and those devices are still operating steadily.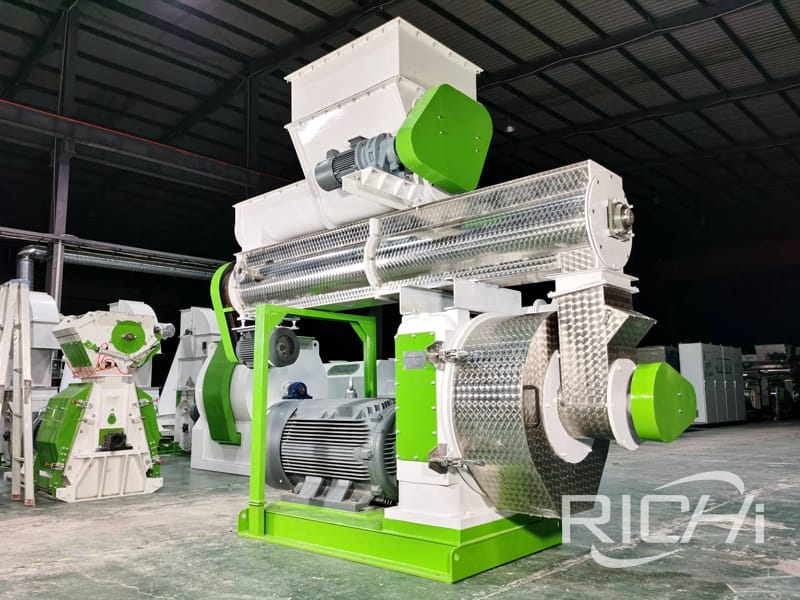 1、What's biomass molding fuel?
Biomass molding fuel is an energy made from biomass materials such as agricultural wastes i.e. straws, corn talks, peanut shells, grass, etc, wood residues, e.g. wood branches, leaves, sawdust, shaving, etc,It is produced by pellet machines or briquetteing machines, after going through several processing procedures, such as crushing, drying, mixing, molding or compressing, etc. And the final products are pellets, bars, and briquettes, which are used as a replacement for coal, gasoline gas and other traditional fossil fuels.
How high is the calorific value of biomass molding fuel after processing? How is this fuel produced? What are the characteristics? Application range?
2. Process of biomass molding fuel:
Biomass molding fuel is based on agricultural and forestry residues. It is sliced, pulverized, decontaminated, refined powder, screened, mixed, softened, quenched and tempered, squeezed, dried, cooled, inspected, and packed. Formed into an environmentally friendly fuel, with high heat value and sufficient combustion. It is a clean and low-carbon renewable energy source. As a fuel for biomass combustion equipment such as biomass burners and biomass boilers, it has a long combustion time, enhanced combustion, high furnace temperature, and is economical and environmentally friendly. It is a high-quality environmentally friendly fuel that replaces conventional fossil energy.
3. Characteristics of biomass molding fuel:
(1) Green energy is clean and environmentally friendly: combustion is smokeless, odorless, clean and environmentally friendly. Its sulfur content, ash content, and nitrogen content are far lower than coal, petroleum, etc. It has zero carbon dioxide emissions. It is an environmentally-friendly and clean energy. "Good reputation.
(2) Low cost and high added value: The use cost is far lower than petroleum energy. It is a clean energy substitute that is strongly advocated by the country and has a broad market space.
(3) Increased density: Convenient storage and transportation: The formed fuel has small volume, high specific gravity, and high density after molding, which facilitates processing and conversion, storage, transportation, and continuous use.
(4) High efficiency and energy saving: The calorific value of 2.5 ~ 3 kg of wood pellet fuel is equivalent to the calorific value of 1 kg of diesel, but the cost is less than half of diesel, and the burn-up rate can reach more than 98%.
4. Application scope of biomass molding fuel:
Instead of the traditional diesel, heavy oil, natural gas, coal and other petrochemical energy, as a boiler, drying equipment, heating furnace and other thermal energy equipment fuel.
Pellets made of wood raw materials have a low calorific value of 4300~4500 kcal / kg.
5. What is the calorific value of biomass fuel pellets?
For example: all kinds of pine (red pine, white pine, scotch pine, fir, etc.), hard miscellaneous wood (alder, alder, elm, etc.) is 4300 kcal/kg, and soft miscellaneous wood (poplar, birch, fir, etc.) ) Is 4000 kcal / kg. Note that different biomass fuels have different heating values.
6, CE good stability 110kw 1 ton per hour biomass molding fuel pellet mill machine recommended:
https://www.cn-pellet.com/product/wood-pellet-machine/
Welcome to contact Richi Machinery for 110kw 1t/h biomass pellet machine price!