How to make feed pellets for laying hens?
2020-03-21
For laying hen farmers with their own ingredients, the process generally includes crushing and mixing section.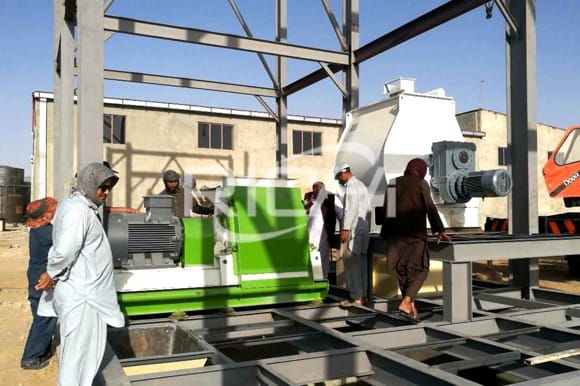 1.Crushing process
Equipment: Laying hen feed hammer mill crusher
Crushing can increase the contact area between feed and digestive enzymes, which is beneficial to the digestion and absorption of nutrients, but the crushing pellet size is too coarse and too fine. Many raw materials such as corn and soybean meal (flaky) need to be crushed, and the grain size of the diet should be controlled according to different feeding stages.
2.Mixed process
Equipment: Laying hen feed mixing machine
The purpose of feed mixing is to ensure that each component can be uniformly present in different parts, and the coefficient of variation of the mixing uniformity of the feed mixer needs to be less than 7%. The equipment is fixed, and the factors affecting the mixing effect are mainly the mixing time, the filling factor, and the feeding procedure.
The mixing time should be appropriate. Different mixing machines and methods have different mixing times. The optimal mixing time for batching equipment in professional feed plants is generally within 2 minutes. For mixing equipment purchased by farmers, the mixing time is generally 5-10 minutes. Wait. Because in the material mixing process, the mixing effect quickly reaches the best mixing uniformity with the extension of the mixing time. However, when the materials have been fully mixed, if the mixing time is prolonged, the uniformity of the mixing will decrease.In short, the mixing time is too short to achieve sufficient mixing, and too long will cause separation and also affect the mixing quality. Richi Machinery can determine the mixing uniformity for customers from time to time, and then determine the optimal mixing time for customers.
In the feeding sequence, generally 80% of the components with large proportions are put into the mixer, and then the materials with small proportions are put, and then the remaining 20% ​​of large components are put into, so that the remaining large The components are covered on the trace components (premix), so that the trace components can be prevented from falling into the hard corner or bottom of the mixer, etc., and the flying loss of the trace components can be avoided. If the mixer is equipped with a spray grease device, the powder should be mixed for a period of time before adding liquid components and mixing it with the powder.
(Filling factor refers to the ratio of the volume of the material loaded in the mixer to the volume of the mixer. Its size affects the accuracy and speed of the mixer.)
If you want to know more about "how to make laying hen feed pellets", "laying hen feed pellet production process", "laying hen feed pellet processing equipment" and other questions, welcome to consult Richi Machinery!