Automatic pet feed processing line plant for sale
2020-02-10 Back to List
If you are looking for related products or have any other questions, please feel free to contact us.
Contact Us
Recently, Richi Machinery visited an old domestic customer. Five years ago, the customer's feed mill was a small plant with only four houses. This year, the feed mill has become the fastest-growing outstanding enterprise in the region. The person in charge of the feed factory warmly welcomed us and said, "Thank you very much for the sales you talked to me for a long time. Since we purchased Richi's automatic pet feed pelletizing line, our development is unlimited!"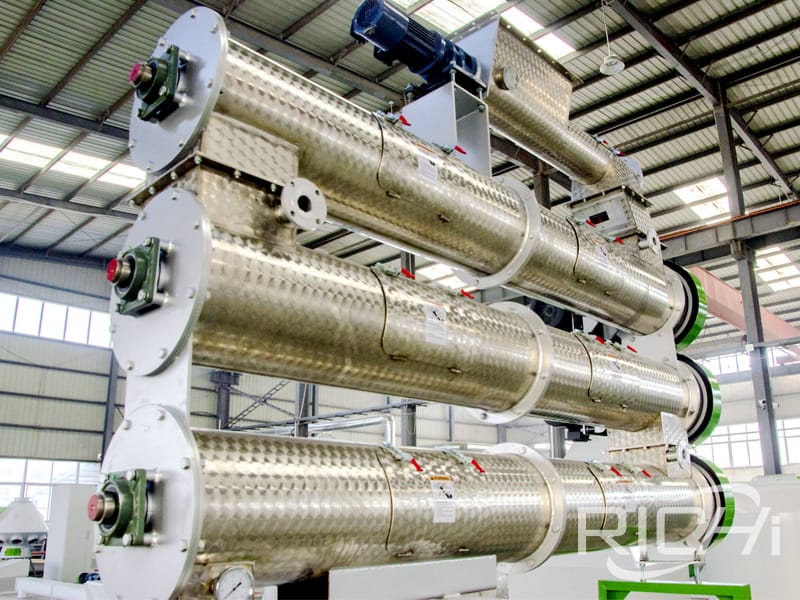 In fact, the development of the pet breeding industry is faster than we think. Many companies specializing in raising pets and breeding pure breed dogs, cats and rabbits are increasing. The group that keeps these pets is also expanding step by step. The market for pet feed has also increased as the number of breeders has increased. Most people choose to feed them with feed. This customer purchased a pellet feed production line for pet rabbits from Ruiqi Machinery. These feed machines can not only produce pet feed, but also produce poultry feed, ruminant feed, and so on. They can also interface with pets. In recent years, in addition to producing rabbit feed, the customer also purchased a set of animal feed granulators specifically for cat feed and dog feed.
Although,the customer said, I was a bit distressed when buying the unit. But feed machinery can actually be used for multiple purposes. A pellet unit can be used for both pig feed and chicken feed. It is nothing more than a hammer mill crusher.
In fact, the prospect of pet feed is indeed great. In the case of the author, there is a golden retriever at home. For more than 4 months, the Golden Retriever will eat 10 kg of dog food in half a month. Although the quantity is a bit large, for me who breeds Golden Retriever, if I have better feed, I am willing to buy better.
Want to learn more about pet food line production, pet pellet feed production line equipment ,dog food processing line,pet food line,automatic pet feed milling machine and more? Feel free to email or email us and let us know your needs in as much detail as possible!