What is the effect of the amount of feed mixer on the operation of the mixer?
2020-01-22 Back to List
If you are looking for related products or have any other questions, please feel free to contact us.
Contact Us
Classified by application, animal feed mixer can be classified as broiler feed mixer machine,pig feed mixer,livestock feed mixer,cattle chicken feed mixer,chicken feed mixer.There are also differences in the types of mixers used for each feed line. The most important difference is the difference in the filling amount of the mixer.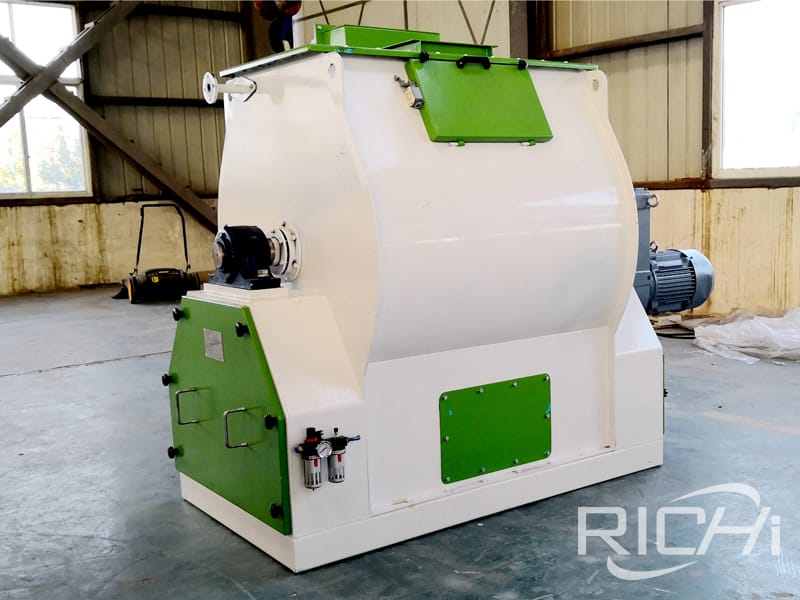 The feed mixer machine mainly relies on three types of mixing methods: convection mixing, diffusion mixing and shear mixing to make the materials move in the machine to achieve the purpose of uniformly mixing the materials. No matter what type of feed mixer, the appropriate loading amount is that the mixer works normally and Important prerequisites for getting the desired effect. If there is too much charge, the mixer machine for animal feed will work overload. What's more important is that too much charge will affect the cyclic movement of the material in the machine, resulting in a decrease in the quality of the mixture. If it is too small, it will not be sufficient. Making use of the efficiency of the mixer and wasting energy is also not conducive to the flow of materials in the mixer and affects the quality of the stainless mixer.
Various types of feed mixers have their own reasonable filling factors, and their respective reasonable filling factors have been obtained in laboratories and practices. Among them, batch (intermittent) horizontal ribbon mixers have their filling factors. Generally, 0.6~0.8 is appropriate, and the highest material position should not exceed the plane of the top of the rotor; the filling factor of the batch vertical screw mixer is generally controlled at about 0.6~0.85; the drum mixer is about 0.4; the planetary mixer It is about 0.4 to 0.5; the rotary container type mixer is about 0.3 to 0.5; the V type mixer is about 0.1 to 0.3; the double cone type mixer is about 0.5 to 0.6. The filling factors of various continuous mixers are not the same. Generally, the filling coefficient should be controlled in the range of 0.25 to 0.5, and should not exceed 0.5.
Learn about Richi Machinery's animal feed mixing machine products and contact us for feed mixer 500-2500 kg price :
single roller double rotary belt mixer(capacity : 250kg)
high efficiency feed mixer(capacity : 1500kg)
single roller double paddle mixer(capacity : 500kg)
small vertical feed mixer(capacity : 500kg)
stainless steel feed mixer(capacity : 1000kg)
twin-shaft paddle mixer(capacity : 500kg)
animal feed mixing machine(capacity : 2000kg)
single shaft screw mixing machine(capacity : 1000kg)