How to install the ring mould and press roller of animal feed pellet machine?
2020-01-01 Back to List
If you are looking for related products or have any other questions, please feel free to contact us.
Contact Us
After all parts of the pellet mill are normal, carry out the empty running test, check whether the spindle and the press roll are running, and adjust well.Also should adjust the feeding scraper, otherwise it will make the material difficult to enter between the ring mold and the press roller, part of the material from the ring mold cover channeling, high pulverization rate.Adjust the clearance between the curve of the upper edge of the scraper, the ring die and the ring die cover, so that it is controlled between 2 and 3mm.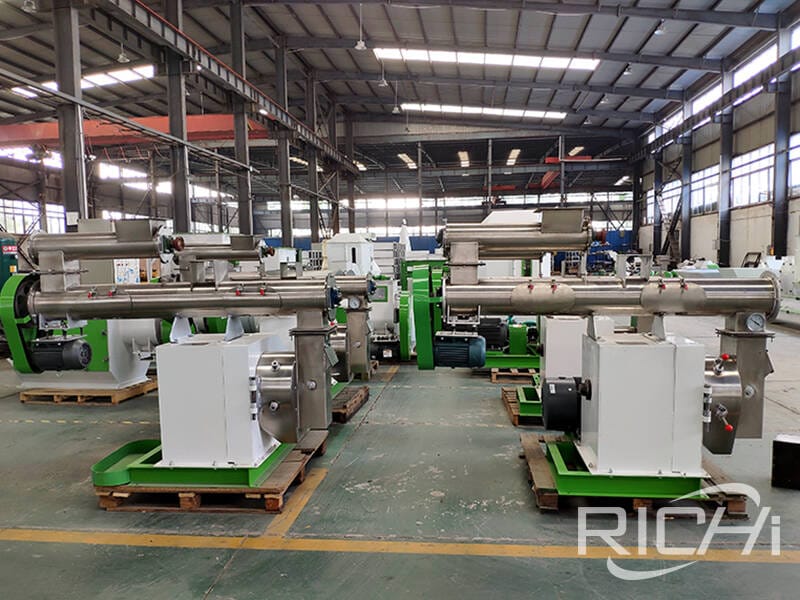 The gap between the new ring die and the new press roller is 0.05mm-0.5mm. It is better to rotate the ring die and press roller does not rotate well.Adjust the axial round nut of the pressure roll until the washer is adjusted and locked properly. Add enough butter (usually high-temperature resistant lithium base fat, one time for 8h) to avoid burning the ring mould bearing due to excessive temperature.The gap between the ring die and the press roller is too small, the ring die and the press roller are easy to wear, serious will accelerate the ring die (die quality is not good) burst.And the noise is big, affect production.Generally, the clearance should be selected according to the size of the ring die hole, die hole small clearance is smaller, die hole large clearance is larger;The new ring die clearance is smaller, the old ring die clearance is larger.The gap between ring die and press roller is too large, which will cause the difficulty of discharging.
Please note: generally speaking, ring mould and press roller are replaced with each other, and the replacement cycle is three months. However, if the maintenance is good, the service life can be extended. For some customers who do not have high requirements for the finished product of feed particles, the replacement time will be longer!