Sorghum and barley feed production line processing technology
2020-01-01 Back to List
If you are looking for related products or have any other questions, please feel free to contact us.
Contact Us
With the introduction of Australian sorghum barley and American sorghum into Chinese market in recent years, the application of sorghum barley in feed has been more and more accepted by the market.Sorghum and barley, as an alternative to corn feed, has been used in more feed enterprises.While more research is being done on nutrition, the research on its production processes cannot be ignored.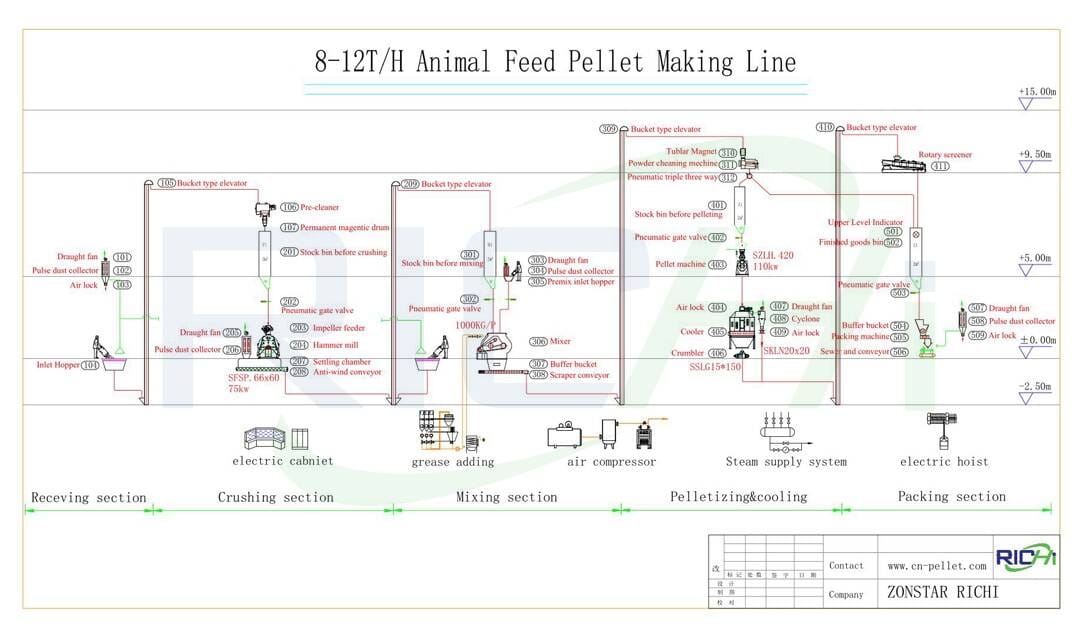 1. the difference of crushing technology
There are great differences in the understanding of grain size of sorghum and barley.According to the self-dosing data of feed mills and farms in Australia, the difference in crushing technology of sorghum and barley is likely to lead to low production efficiency of pigs. In vitro starch digestion test shows that the larger the crushing pellet size is, the lower the digestibility is. The crushing pellet size of sorghum or barley should not be greater than 1mm.Other studies have concluded that the ideal crushing degree for hard and soft sorghum is between 300 and 500 microns, respectively.But as pigs and chickens age, so does the ideal pellet size.The crushing strength of sorghum barley should be paid more attention to the principle of more suitable tempering and pelleting, with small grain size, large feed contact surface per unit weight, and more sufficient tempering. Therefore, the crushing grain size of sorghum barley feed is not easy to be too large (no more than 1.2mm is recommended).It is generally believed that is more able to reduce the crushing pellet size than roller crusher.
2.Moisture control during mixing
The moisture content in the powder before conditioning is a very important parameter, which has a great influence on the quality of finished feed, feed processing efficiency, equipment loss, animal absorption of feed nutrients and animal production performance.Sorghum, barley as conditioning need higher steam temperature and low humidity, so in order to better tempering pelletizing, after mixing water is particularly important, the author thinks that blend to moisture should be controlled at about 12-13% advisable, because the best granulating moisture 15% - 16.5%, a 1% increase of moisture, temperature rise 11 degrees, so if the water is too low, the blend material will not be able to achieve the best temperature warm, when the blend to low moisture, mould inhibitor solution suggested by adding liquid.
3. the steam conditioning requirements are higher
Conditioning is an important part of feed production.Steam quality plays a decisive role in quality control.Conditioning is the process in which steam transfers water and heat energy to feed. Only dry saturated steam can transfer heat energy to feed quickly. The heat transfer of saturated steam is instantaneous.Due to low heat capacity and poor heat transfer performance, superheated steam requires a 2-3 minute self-cooling process, and the tempering process is less than 3 minutes, so the tempering cannot be completed well.The heat capacity of wet steam is also very low, and the secondary evaporation will reduce the heat energy, the moisture will also hinder the heat exchange between steam and feed, resulting in the local water is high, which is easy to cause the pellet machine to slip. After the local water is high, it is not easy to be taken out in cooling, which is easy to cause local mildew.
In sorghum and barley, because it is rich in starch and fiber, it is more likely to produce hydroplaning if wet steam is used for its conditioning.And if the use of superheated steam, due to inadequate conditioning, poor starch gelatinization, pelleting will be more difficult, so the steam requirements are higher than corn feed.
4.Pelletizing ring mold difference
Due to the high starch content and high fiber content of sorghum and barley, more extrusion amount is needed to ensure the smooth pelleting process. Therefore, the hole opening rate of the ring mold is not easy to be too high, otherwise, the reduction of the area of the bell mouth will reduce the extrusion amount of the feed, causing difficulties in pelleting and reducing the pelleting capacity.It can be said that the annular mould with the same compression ratio uses sorghum and barley feed, compared with corn feed, the annular mould perforation rate is slightly lower.
Does your feed line also contain sorghum and barley?Welcome to consult Richi machinery to obtain your exclusive feed process solutions!