Equipments for Grass Pellet Production Line
2019-12-28 Back to List
If you are looking for related products or have any other questions, please feel free to contact us.
Contact Us
What equipment does a grass pellet production line need?The configuration of 1-2 ton grass grain production line, 3-4 ton grass pellet production line, 5-6 ton grass pellet production line, 8-10 ton grass pellet production line, 10-15 ton grass pellet production line and 16-20 ton grass pellet production line are all different, including different product models and parameters, different equipment configuration quantity, different process and so on.Today we will talk about the grass pellet production line configuration of basic feed equipment.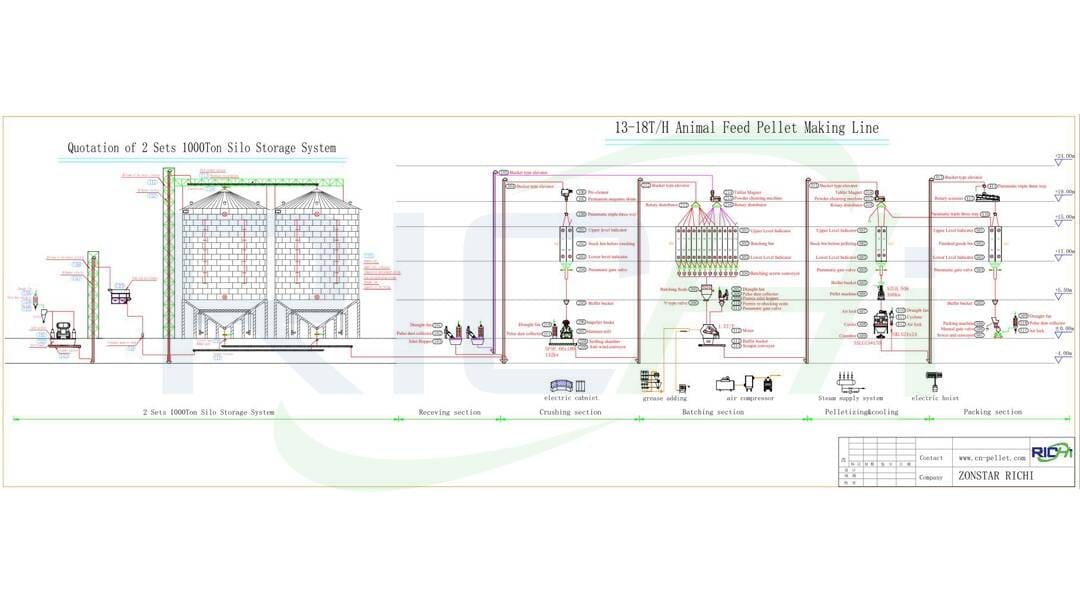 Pellet Machine Production Line need Straw/Grass crusher ,Cyclone,Pulse dust collector,dryer,Single shaft double ribbon mixer,Scraper conveyor,Stainless steel Feeder,Force feeder,Stainless steel conditioner,Pellet machine,Cooling Machine,Belt and sewing machine,MCC Control Center ;Mimic control panel .
I would like to recommend an example of Richi 's old customer using grass pellet:
With grass powder (green hay, crop straw)55% ~ 60%, concentrate (corn, sorghum, oat, bran, etc.)35% ~ 40%, minerals and vitamins 3%, urea 1% composition compound feed, with a pellet feed press into the pellet feed.When pressed, 17 kg of water is added for every 100 kg of materials, and 100 ml of formaldehyde solution with a concentration of 37% is added to improve its nutritional composition and digestibility.According to the data finally provided by our customer, the production of eight-month-old lambs was fattened with pellet feed for 50 days, with an average daily gain of 190 grams. For every 1 kg gain, 6.4 kg of feed was consumed.By the way, this customer purchased a 10 t/h sheep feed line.It can be seen that the use of pellet feed lamb, is a good way .
If you are interested in the production line equipment, technology and quotation of grass pellet feed, please contact Richi machinery!