How To Choose Fish Feed Processing Machinery To Start Your Own Fish Feed Plant?
2021-02-23 Back to List
If you are looking for related products or have any other questions, please feel free to contact us.
Contact Us
How To Choose Fish Feed Processing Machinery To Start Your Own Fish Feed Plant? Will it be profitable to start aquatic feed business? Today we will talk about this topic.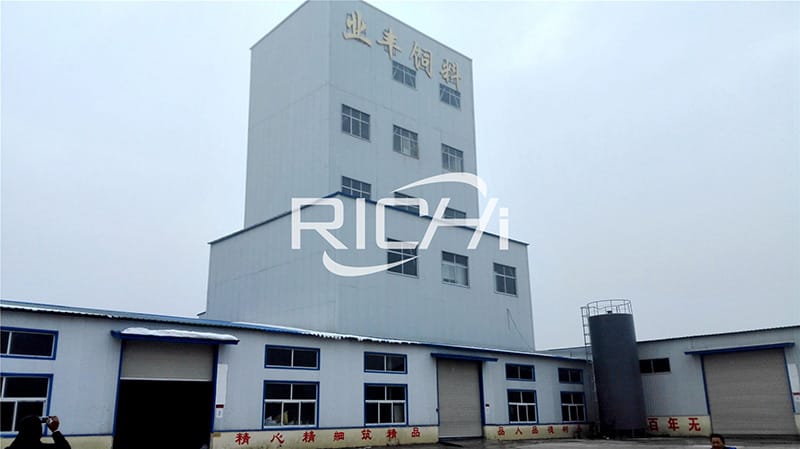 1.A news from China's Jingzhou feed industry
Recently, a high-efficiency feed technology seminar hosted by China Jingzhou Feed Industry Association was held. According to the association's work report, the city's feed industry will achieve a total output of 1.88 million tons in 2020, of which, in addition to 660,000 tons of pig feed and 658,000 tons of poultry feed, the output of aquatic feed will reach 532,000 tons, which is the highest in both production and output value.
In recent years, Jingzhou's feed output has grown at an average annual rate of 25%. It has become a new industry that cross-sectors, cross-industry, and multiple economic components coexist. Its output and output value rank second in Hubei Province. The former "freshwater fishing capital" has become a strong feed market now. The development of the feed industry in Jingzhou City has once again stimulated the innovation and efficiency of the freshwater aquaculture industry in Hubei Province, China.
Take the city's largest aquatic feed company as an example. In 2020, based on the advantages of the traditional ordinary freshwater fish feed market, special aquatic feeds and extruded feeds sold 10,000 tons of special feeds and 5,000 tons of ordinary extruded feeds last year.
Perhaps you think this is a special case, but in fact, in 2020, even under the shadow of COVID-19, aquaculture is still the fastest growing protein industry in the world, with a 3% growth. And according to authoritative data, the growth of global aquaculture is expected to continue to grow. Although China is the main leader in the Asia-Pacific region, the main growth in the region comes from Vietnam, Bangladesh and the Philippines, which account for nearly 1 million tons of aquafeeds. There has also been an increase in aquaculture feed in Latin America and Oceania, with growth in Latin America led by Brazil and Ecuador.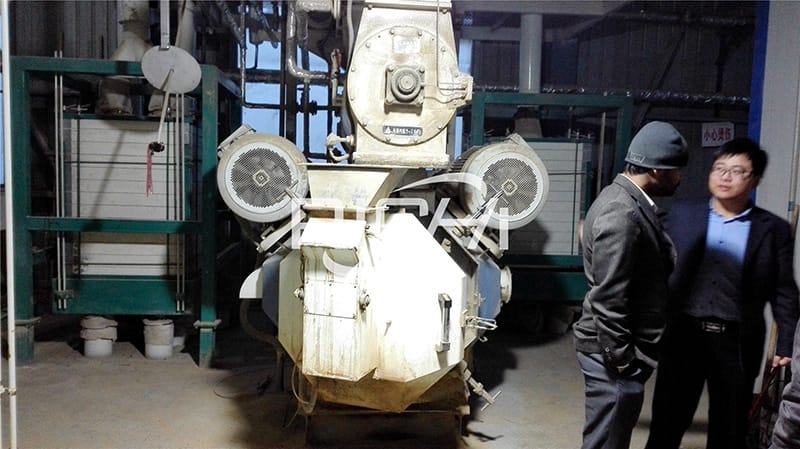 2.Richi Machinery-floating fish and sinking fish feed pellet making machine manufacturer from China
Due to the high production yield and low cost, fish feed manufacturing machinery is becoming more and more popular in aquaculture feed processing industry. Fish feed pellets can be divided into hard feed pellets, soft feed pellets and extruded feed. The diameter of feed pellets range from 0.5mm to 10mm. And the selection of feed size depends on what kind of aquatic animal and aquatic feed. So before searching for aquatic fish feed manufacturing machine for sinking fish or floating fish, you must decide what size of feed pellets you need.
(1)Choose the Most Appropriate Size and Type of Fish Feed Pellets
Feeding big fish with small pellets is not economical. Meanwhile, feeding the young fish or shrimp with big pellets will cause swallow problem. For example, when feeding adult grass carp, 8mm feed pellets are suggested.
In addition to pellet size, we should also pay attention to the feed pellet type. There are hard feed pellets, soft feed pellets and extruded feed pellets. The first two belong to sinking fish feed, while third one belongs to floating fish feed. Once in water, the hard and soft feed pellets sinks in very short time, which is suitable for feeding the fish living in the bottom of the pond, while the extruded feed can be made floating or slow sinking.
Choose the wrong size or type of feed not only increase the feed waste, affect the fish health, but also can cause water pollution. Therefore, it is very important to choose the right fish feed manufacturing machine for making the most appropriate size and type of fish feed.

(2)Soft Fish Feed Pellets Vs Hard Fish Feed Pellets
Soft and hard feed pellets are made by the same type of pellet machine through the same processing method. The difference is that :
①Soft Pellets: Steam or water is needed during the fish feed pelletizing process. The final pellets contain more water (moisture content 20~30%, density 1g/m3). The pressure required to produce soft feed pellets is small and the mechanical power is also small. Take a 5.5kW fish feed pellet processing machine for example, it can make about 140kg 4mm pellets per hour, enough for 50~100m2 of fishpond.
②Hard Pellets: No need of steam and water. The final pellets contains less water (moisture content 17`18%, density 1.3g/m3). The production out of hard pellets is higher than that of soft pellets. When setting up a complete and automatic hard feed pellets production line, cooling and drying equipment is generally needed, while soft pellets production doesn't need it. Here is a 40ton per hour fish feed mill plant for your reference.
③Extruded Feed Pellets For Fish
Expanded or extruded fish feed pellets are produced under high temperature (130~150℃) and high pressure (40~60 atmospheric pressure), help killing salmonella and escherichia coli and prevent fish diseases. The extruded feed are cooked and starch was gelatinized, making it easy for fish to digest and absorb. Recently, one a complete set of floating fish feed pellet machine was shipped to our American Agent. Some people worry that the high temperature will damage the protein inside the feed. While, we have done the crude protein content test on the extruded compounded fish feed.
Fish meal 15%, soy flour 20%, barley flour 15%, corn flour 10%, locust tree leaves 4%, bran 35%, and growth hormone 1%.
The crude protein content in the raw material measured before extruding was 25.9% and it was 27.17% after extruding. The actual effect of feed farming also proves that expanding / extruding does not destroy the crude protein in the feed. View the project design and main equipment for complete processing plant for fish feed.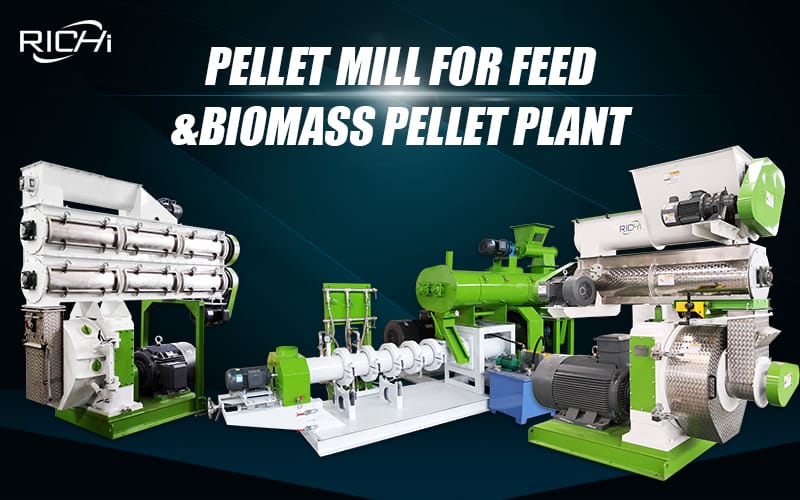 4.Energy Saving and Consumption Reduction Factors
In the fish feed pellet extruding process, there are many factors affecting the feed density, such as fish feed processing technology, fish feed manufacturing equipment, processing parameters, process control, feed raw materials, formula, etc.
Besides, the Energy saving and consumption reduction is also is also the key point. At present, it mainly studies the low-energy processing technology and the influence of the main process parameters on energy consumption, and establishes the corresponding mathematical model to achieve the door of energy saving and consumption reduction.
For example, in the production process of Suckling pig, the corn raw material is not fully expanded, but partially expanded. In the later process, expansion and low temperature granulation are adopted to guarantee the reduction of energy consumption per unit product.
5.How To Choose Fish Feed Processing Machinery To Start Your Own Fish Feed Plant?
(1)SZLH Series Fish Feed Pellet Mill for Floating Fish and Sinking Fish
(conditioner equipment for production fish feed)
①Produce both sinking and floating fish feed.
Service time of the die with hole diameter Ø1.8mm is up to 8500t, with continuous production of 2500h and output of over 4.5t.
②High-quality fish feed
Double-layer jacket insulation conditioner and double-shaft differential conditioner. Optional hygienic conditioner, better maturing performance.
③Advanced structure and smooth operation
Equipped with pneumatic external discharging structure, realize automatic external discharging when it is blocked or overloading of the main motor current.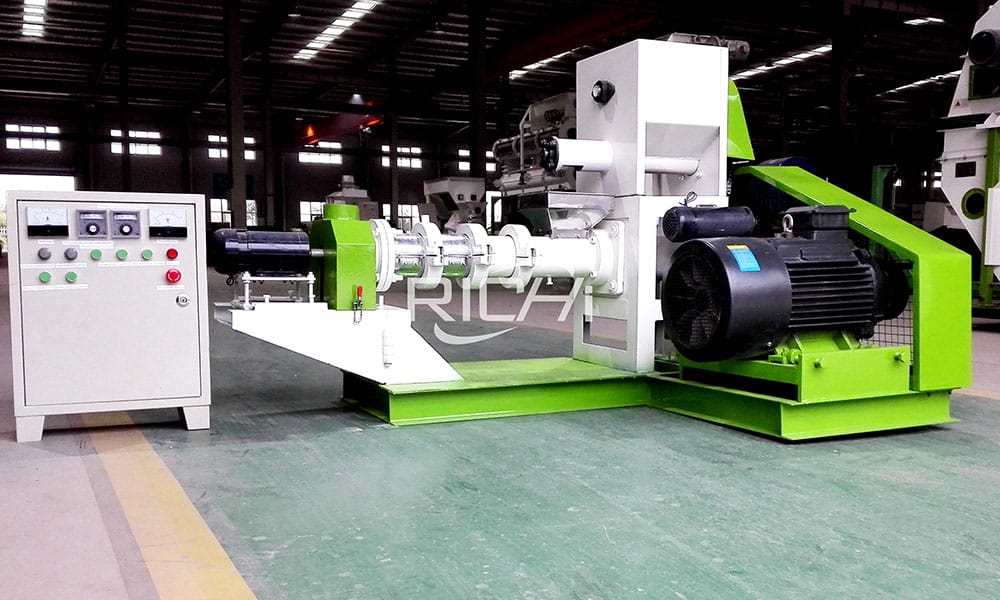 (2)Fish Feed Extruder Machine for Floating Fish and Sinking Fish
①The new type conditioner can soften material fibers, improve gelatinization degree, reduce power consumption and increase production capacity.
②Intelligent control system, key data on-line monitoring, improve efficiency.
③The conditioner can be automatically cleaned to reduce the residue and cross contamination after shutdown.
④For example, 168F extruder, power of 160KW, uses the φ4mm template to produce floating fish feed. The measured output is 7.19t/h, increased by 30%-50% compared with the average level of the same model, and the main power consumption is 20 kWh per ton.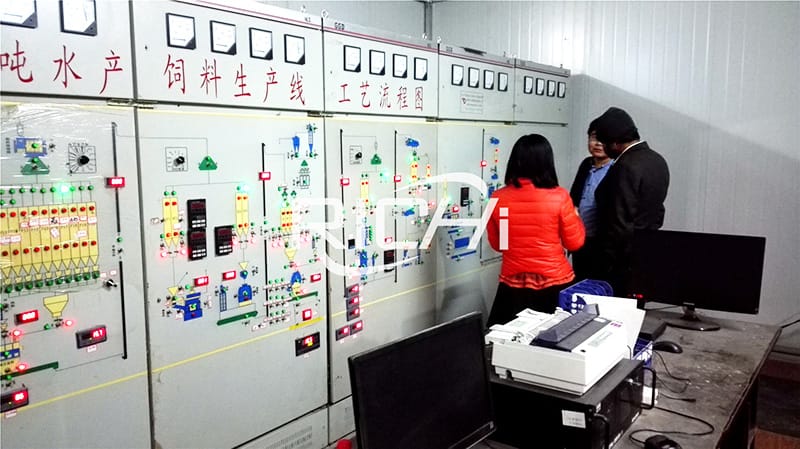 6.How to start your own complete fish feed production line with best business plan?
Because of the variety of aquaculture feed, the change of raw materials, the high requirement of crushing fineness and the poor fluidity of the materials, the production technology of aquaculture extruded pellet feed is high.
To achieve the above requirements, the key technology lies in the process of aquaculture feed production. Among them, the extruding and pellet making process, the preconditioning and the final quality control process will jointly determine the characteristics of the final product. Richi Machinery as animal fish shrimp feed mill plant manufacturer will provide you with the best technology and products to help you get quality aquatic feed.
(1)Best business plan for 500kg per hour small fish feed production plant
(2)Best business plan of 1.8-2 tons per hour floating fish feed making plant
(3)Best business plan for 1-1.2 tons per hour automatic complete floating fish feed processing plant
(4)Best business plan for low cost complete ce 5 tons per hour floating fish feed pellet making line
Check more fish feed plant design:https://www.cn-pellet.com/solution/aquafeed-production-line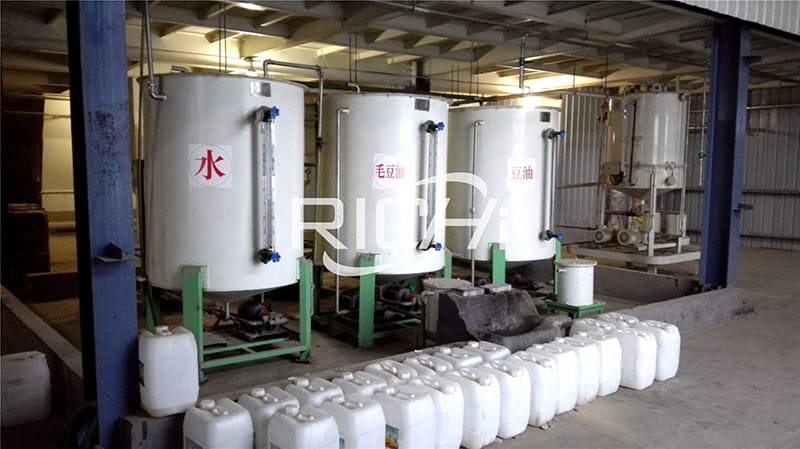 7.RICHI high quality floating fish feed mill factoty and sinking fish feed production plant projects
(1)Complete 5 ton per hour sinking fish pellet mill line in Uzbekistan
(2)1 ton per hour capacity integrated fish pellet plant project in Bolivia
(3)The 300-400kg/h floating fish feed processing line In Cote d' Ivorie
(4)100-150KG/H Floating Fish Feed Pellet Manufacturing Line In Ukraine
(5)100KG/H Small Scale Fish Feed Production Factory In UK
(6)100-150KG/H Dry Type Floating Fish Extruded Feed Production Line In Nigeria