Analysis and Treatment Method of Blockage of Your 10T/H Poultry Chicken Feed Pellet Mill
2020-11-06 Back to List
If you are looking for related products or have any other questions, please feel free to contact us.
Contact Us
In the 10t/h poultry chicken feed pellet plant manufacutring process, the safe and normal production of 10 ton per hour chicken feed pellet milling machine is greatly important. In actual chicken feed production, however, it is easy to cause a thick and hard material between ring die and roller for various reasons. The roller cannot squeeze the material out of the die hole, so that the ring die can be stuck or skidded, causing the common phenomenon of large 10t/h ring die chicken pellet mill blocking. Through on-site analysis of equipment and materials, the reasons for blockage are as follows:
1. Improper gap between ring die and roller
Too large gap results in thick and uneven distribution of the layers between ring die and roller, roller is easy to slip for uneven force. Once the extrusion pressure is less than the resistance, the material cannot be squeezed out, causing blockage. In order to avoid it, we should pay attention to adjusting the gap. According to the observation, the gap is generally 3-5mm. Also, the experience of workers is quite important.
2. Influence of steam
The most ideal conditions to produce chicken pellet feed are: suitable moisture for raw materials, good quality of steam and sufficient time for conditioning. Correctly using dry saturated steam can effectively improve the output and chicken feed pellet quality. The applicable saturated steam has soften and lubricate functions in the process of chicken feed pelleting, which can improve productivity, reduce frictional heat energy and prolong the service life of ring die; it also can reduce electricity consumption, promote the gelation of starch and the bond of fibrous fiber, increase the molding rate of particles, reduce the powder material, make the material appearance smooth and tidy, thus raise the product competitiveness.
Poor steam quality makes high moisture content of material when discharged from the conditioner, causing blockage of die hole and roller skid when conveyed into the pelleting cavity. The specific performance are:
(1) Insufficient steam pressure and high moisture content are likely to cause materials absorb too much water. At the same time, when the pressure is low, temperature of material when conditioning is low, the starch cannot be gelatinized well and the effect of pelleting is poor;
(2) Unstable steam pressure causes unstable material conditioning, resulting in large current fluctuation of 10t/h chicken fee pelletizing machine and uneven material moisture, thus causing blockage.
Workers should pay attention to various factors such as steam pressure and the amount of material fed, so as to avoid high material moisture caused by steam pressure and moisture content. At the same time, the boiler should provide high-quality dry saturated steam.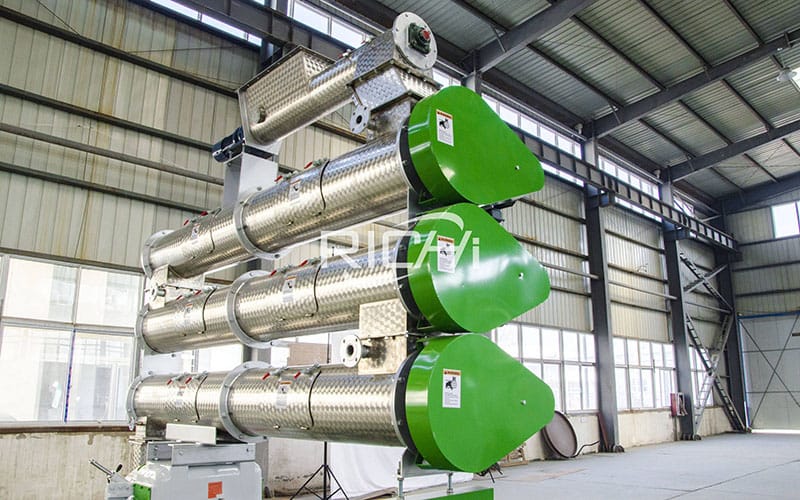 3. Effect of conditioning
To make poultry chicken pellet feed meets the competitive needs of market, we must ensure high-quality poultry feed. The conditioning quality of material before pelleting is very important, because it directly affects the output and chicken feed quality of 10t/h poultry chicken animal feed pellet making machine.
Conditioning is the pre-treatment of powdery materials before pelleting, the process of adequate mixing and absorbing of materials and steam in the conditioner. Use conditioner which meets the technical requirements, can make materials fully mixed with steam in the conditioner to achieve the softening material and gelatinized starch, which is conducive to the forming of powder materials and producing qualified products. The conditioner should have long time of heat preservation, heating and humidification, the number of layers can be assembled according to demands, to ensure that the material fully meets the requirement of conditioning, improve the external and internal quality of poultry chicken feed, and improve its water resistance.
Nowadays, the most advanced method to achieve ideal effect is using conditioner + hygienic conditioner + conditioner.
Through on-site debugging, we can adjust steam to minimize blockage. Because the boiler equipment has been fixed, the supply of steam is determined, it is necessary to pay attention to the treatment of water vapor in the steam pipeline, try to remove the condensate from the steam line, and the steam pressure in the front of conditioner should be extremely stable.
4.RICHI CE Approved 10T/H poultry chicken feed compress pellet making machine
(1)Introduction of 10 ton ring die chicken pellet mill
Model:SZLH420 Chikcen Poultry Pellet Making Machine
Capacity:8-12t/h
With on-site electric control cabinet,oiling machine. Siemens Motor, SKF bearing.
Feature:Feeder, double-layer conditioner, ring die, door are made by stainless steel.
Size of conditioner:Length 3000mm*Dia 380mm
Rang of Final Pellet:1.0-12mm
Ring Die Inter Diameter:420mm
Application:Also Can Make the fish feed, aquatic feed,livestock feed,ruminant feed,dog food,pet food,etc
(2)10T/H China supplier poultry chicken feed pellet mill cost
Hot Sale 10Ton Per Hour Chicken Poultry Feed Ring Die Pellet Mill price is between 30000-40000USD.