Where are the best quality animal feed equipment for sale
2019-12-04 Back to List
If you are looking for related products or have any other questions, please feel free to contact us.
Contact Us
What does animal feed pellet equipment cover?It not only includes poultry feed pellet equipment, but also includes chicken feed pellet equipment, pig feed pellet equipment, livestock feed pellet equipment, sheep feed pellet equipment and so on.However, in these feed production lines, the equipment used is by many similarities, but according to the specific type of feed different production line configuration.The following is an example.The following figure is a 3-4t /h animal feed production line, in which the conveyor, crusher, mixer, cooler, granulator, elevator, packaging and other equipment are required. Of course, according to the actual output and capital budget of the customer to reduce, increase, and replace with the feed production line configuration to meet the customer's production needs.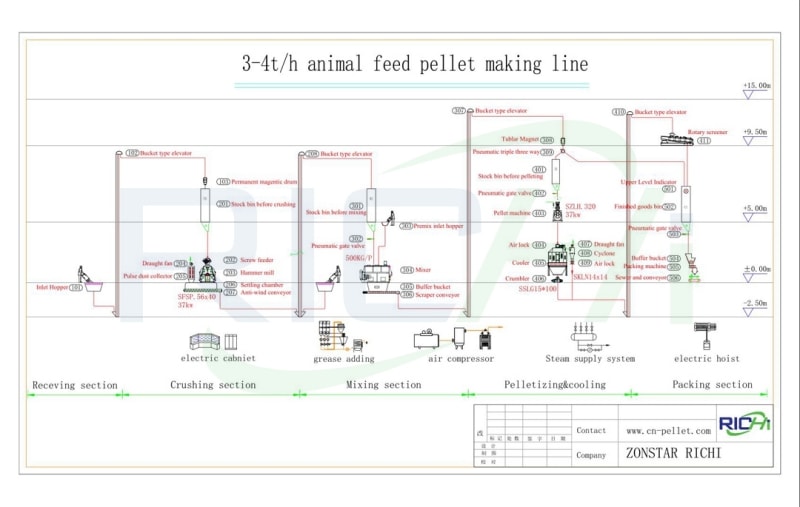 For many countries, the purchase of animal feed equipment is very difficult, must be imported.As a manufacturing power - China's feed particle equipment is more and more attention.In China, henan province is a big manufacturing province, because of the increasingly fierce domestic competition in China, we pay more attention to quality, focus on technology research and development, focus on providing customers with worry-free service. As a member of China's feed machinery industry,Richi can provide you with the best quality.
If you want to know more about our products, please visit our website https://www.cn-pellet.com/product/
If you know your output and want to know the specific production line configuration, please browse https://www.cn-pellet.com/solution/feed-production-line/
If the content can not answer your questions, welcome to consult our customer service staff directly online or call our consulting number, we will give you a quick reply!