2-3 Ton per hour high quality ce wood pellet mill line machines exported to Canada
2020-10-16 Back to List
If you are looking for related products or have any other questions, please feel free to contact us.
Contact Us
Lately, a complete set 2-3 Ton per hour high quality ce wood pellet mill line machines were built in Canada. He bought this machinery for manufacturing biofuel pellets from wood wastes such as small wood chips, wood shavings. (Feel free to get in touch with us for more details and latest price of this whole set of wood pellet production line machinery. We are also at your service!)
Transforming biomass wastes into high quality pellets for animal consumption or burning purpose is never that easy. One needs to have an complete wood pelletizing system to make the process effective and efficient. Our newest mobile biomass pellet making machine set includes a hammer mill, pelletizing system, separation system, cooling system, packing system among other units. That makes it easier for the farmer to crush, pelletize, cool and transport the biomass waste products such as wood residues, crop stalks and rice husks quite easily.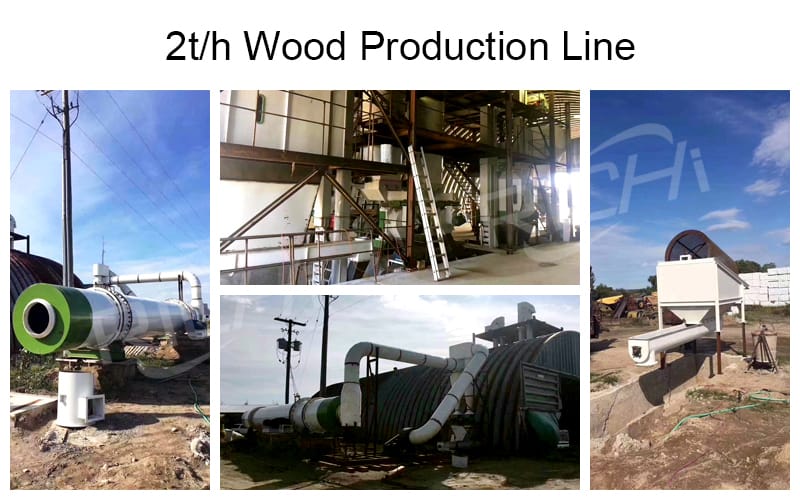 1.The design of 2-3tph on selling good complete wood pellet line in Canada
The exterior of this new biomass wood pellet production line machines are simple in design yet includes a range of features.
With its variable frequency regulation, the user can control the workflow during the pelletizing process to meet the specific requirements.This assmebly unit combines both basic and advanced technology to cater for a farmer's multi-functional needs. The result is smooth, delicate and high density finished wood pellet product.
Main machines: hot selling wood chipper crusher machine,good quality wood hammer mill for wood sawdust, shifter, wood pellet rotary dryer, storage bin, industrial machinery wood pellet machine, wood pellet cooler, auto-packing machine and other auxiliary equipment.
Capacity(kg/h):2-3
Total Power(kw):385
Pellet Size(mm):2-12
2.Key features and advantages Of Canada easy to handle 2-3 TPH stable performance biomass wood pellet production line
(1)It ls Easy To Operate
The turn-key biomass pellet plant works through the aligned process by simple sections . Only few person are required to operate these functions, which cuts down on the cost of labor.
(2)lts Application ls Flexible and Extensive
The good biomass wood pellet production line can be used in pelletizing a range of crop waste materials for making biomass fuel pellets as well as animal feed. That ensures every customer's requirements are met with just a complete pellet unit.
(3)lts Special Pneumatic Design Minimizes Waste
One of the features that make the biomass pellet making machine great is its pneumatic conveying system, pellet cooling and dust control system. These three systems ensure all materials are utilized efficiently and that no waste is realized.
(4)It Comes From a Reliable Manufacturer - Richi Machinery
This 2-3 ton per hour best price complete wood pellet production line is from RICHI, one of the most reliable and trusted biomass pellet line manufacturers in the industry. That guarantees customers of greater functionality when it comes to transforming raw materials into pellets.
3.Other Important Things You Need To Know About The 2-3 ton per hour China factory offer biomass wood pellet making plant
Our 2-3tph reasonable layout new technology wood pellet line adopts a 2-3t/h wood pellet press with electric motor that powers the entire unit. Each part of the equipment utilizes different amount of decibels when it's operating. For instance, the high quality wood pellet machine has approximately 90 decibels, 80 decibels for fan & elevator and about 100 decibels for the hammer mill.
Operating the system is easy and you don't need to come to our factory. We supply customers with videos on how to operate and we also provide assistance via phone or email on a 24hx7 basis. Customers are welcome to purchase either the entire unit or some parts of the system.