[Industry News]Pakistan processes locusts into chicken feed
2020-06-12 Back to List
If you are looking for related products or have any other questions, please feel free to contact us.
Contact Us
What do you know about the raw materials of chicken feed pellets? Common chicken feed materials mainly include corn, wheat, barley, broken rice, bran, soybean meal, corn gluten meal, rapeseed meal, cotton meal, peanut meal, fish meal, blood meal, stone meal, shell meal, bone meal, table salt, dicalcium phosphate , Zeolite, etc. In recent days, the Pakistani government has made a move to deal with the worst locust disaster in 25 years, and paid to encourage farmers to catch locusts, and "turn the damage into treasure" to process locusts into chicken feed.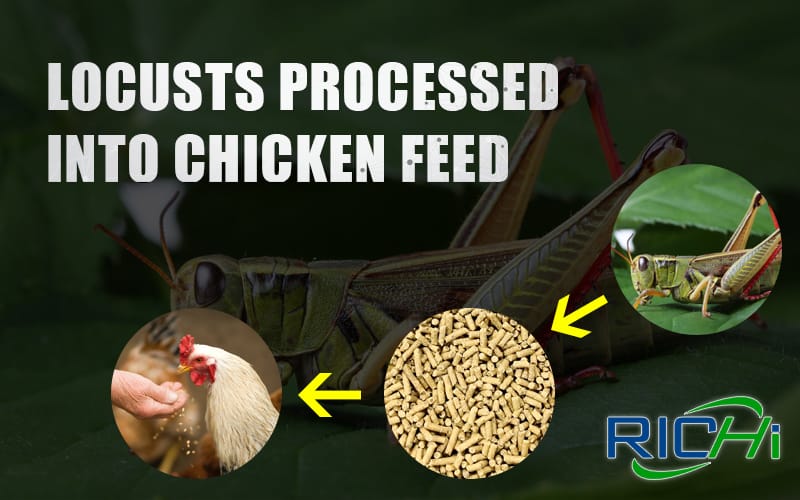 The Pakistani agricultural heartland suffered a severe failure due to the locust disaster this year. Technical experts from Pakistan's Ministry of Food Security and Research set up a pilot project in Punjab, a major grain-producing province, earlier this year to encourage local farmers to catch locusts to make money. The obtained locusts were dried and shredded and added to poultry feed. The pilot project was selected in the Ocala region of Punjab because the crops there were not pesticide-applied and the locusts caught were suitable for fodder.
Recently, the Ministry of National Food Security and Research of Pakistan announced the results of the pilot project and plans to expand the project to other regions. The locusts obtained from the pilot project have been accepted by Pakistan's largest poultry feed manufacturer. Government technicians tried to replace about 10% of the soybean component in the feed with locusts to feed 500 broilers, and found that the feed was okay. Locusts "have potential writers' poultry feed."
Background:
Pakistan suffered a severe locust disaster this year, forcing the government to declare a national emergency and seek help from the international community. Many people worry that as the monsoon rains come this month, the number of locusts will skyrocket. The locust plague also raised concerns about food shortages. Pakistan's important sources of income, wheat and cotton, as well as bananas, mangoes, vegetables and other crops are vulnerable to locust attacks. According to data from the Food and Agriculture Organization of the United Nations, if 25% of Pakistan's crops are destroyed, it may lose about US$5 billion. In addition, a poor food harvest will push up prices, which in turn leads to a risk of worsening food security.
Extended content:
How to make organic chicken feed pellets?
Complete poultry chicken feed pellet manufacturing plant process:
(1)Material Receive System
Easy to operate,every inlet has one impulse dust collector,keep environment clean,protect workers healthy.
(2)Crushing System
Pre-cleaner clean raw material ,then after magnet separator,storage bin and feeder,material goes into crusher to become powder.
(3)Batching & Mixing System
After crushing,original powder and some premix will be weighed in batching scale according to proportional,then go down to mixer to reach uniformity.
(4)Pelleting&Cooling System
After using high temperature steam to make raw material curing, the materials will be made to pellet through pellet press machine. Then the pellet will be cooled down by cooler.
(5)Packing System
The finish product contain pellet of normal size,smaller size and bigger size.By use grading sieve,we can get normal size pellet.
(6)Plant Control system
PLC is designed as per the requirement of the customer. It can also control automation level.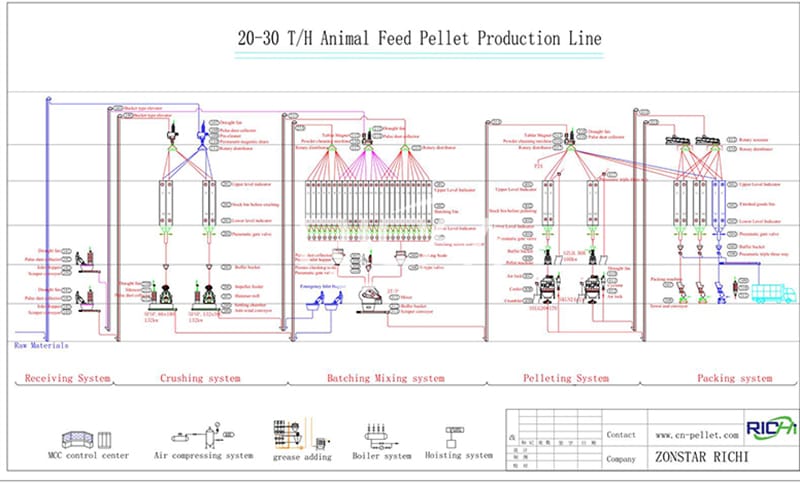 If you are looking for chicken feed pellet line,chicken feed pellet machine,welcome to contact Richi Machinery--China professional chicken poultry feed production line supplier.
24h star service, get an immediate quote.
Email: enquiry@cn-pellet.com
Whatsapp/Cel: +86 185 7410 3366