China factory directly offered 2-3 ton per hour wood pellet machine for sale
2020-08-27 Back to List
If you are looking for related products or have any other questions, please feel free to contact us.
Contact Us
China factory directly offered 2-3 ton per hour wood pellet machine for bio fuel pellets is used to produce pellets for heating, cooking, burning, cat litter or animal bedding and so on. It can process raw materials like wood, sawdust, bamboo, pine, alfalfa, straw, wheat bran, cotton stalk, rice husk, cotton stalk, and many other biomass materials. The production pellets can be called biofuel. Currently the most commonly used is 2-3 ton per hour good quality ring die pellet machine,it is a professional design biomass wood pellet machine from China.
As for good performance 2-3 ton per hour pellet mill, it is a kind of ring die type wood fuel pellet mill equipment. Also, it can process other raw materials like palm fiber, sugarcane bagasse, peanut shell, corn stalk, wheat straw and many other agro-wastes.
Ring die automatic wood pellet machine is a large pellet equipment. So it is mostly used in industrial pellet production. Gears adopt anti-fatigue and wear-resistant materials for heavy machine. And its bearings of transmission are high-precision silent bearings, oil seals are heat and wear resistant fluorine rubber oil seals. High precision and smoothly running guarantee the performance of speed gear box once and for all.
What's more, with point-device compression ratio developed with years of experience, dies are precisely process by deep hole gun drill and carburizing of quenching furnace. Inner holes have the features of high smoothness, small resistance, equal distribution and high accuracy. Three rollers as a group can increase the stressed area and reduce the pressure with die, thus prolong the working life of die and ensure the high yield and efficiency.
2-3 tons per hour wood pellet machine for biomass fuel pellets have so much advertisement. First of all the experiment proved that bio fuel pellets burn more efficiently and less soot compare to traditional fuel. Plus the raw material is available everywhere. More over, though this way we can turn"waste" into wealth. With this new green renewable resource equipment, you can no longer worry about how to deal with your agricultural waste, and also you get free fuel for burning.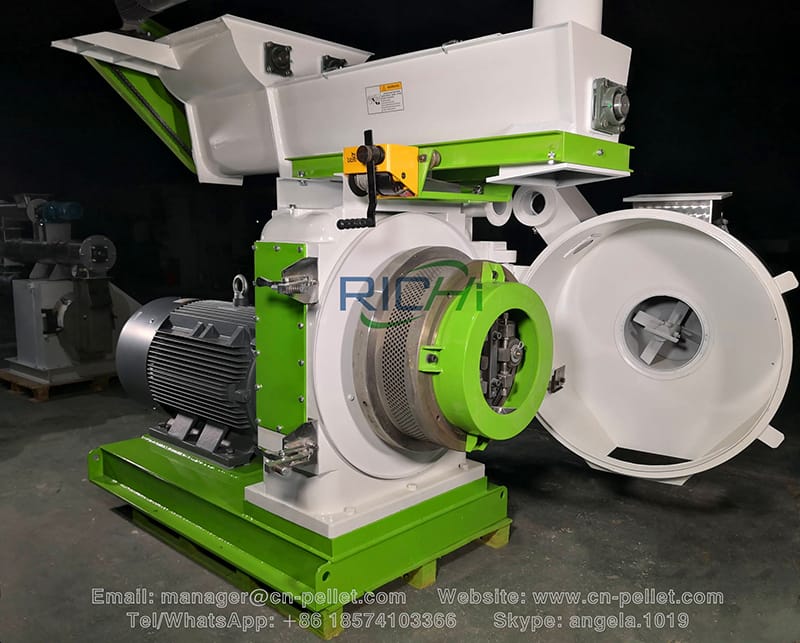 High quality 2-3 ton per hour biomass wood pellet making machine:
Model: MZLH-768 Biomass Wood Pellet Milling Machine
The capacity of wood sawdust pellet:2500-4000 KG/H
The capacity of grass alfalfa hemp pellet: 5000-7000 KG/H
The capacity of organic fertilizer pellet: 9-10 T/H
The Size of Pellet Machine: 3300*1500*2000MM
The Anti-caking Feeder Power:3KW
The Forced Feed Power :1 KW
The Pellet Machine Power: 250KW
The Final Pellet :6-12mm
The Weight : 5000KG
Application:Customized biomass wood pellet line
Richi Macihnry is a ring die wood pellet mill manufacturer,provide all kinds of high quality ring die wood sawdust pellet machine with china factory price.If you are interested in any type of our easy operate ce wood pellet machines, please contact us any moment you want.