What are the chicken feed equipment for chicken plant
2020-06-11 Back to List
If you are looking for related products or have any other questions, please feel free to contact us.
Contact Us
The chickens we eat in our daily life are generally artificial broilers raised on feed on family farms. Because of the different breeds of chicken, of course, the type of feed selected is also different. Generally, the types of feeds fed by artificial broilers are nothing more than: energy feed, protein feed, mineral feed and feed additives. Combined with feed processing equipment, high-quality chicken feed can be produced according to the premix ratio.
1. What are the equipments for making chicken feed?
(1)Common chicken equipment in chicken plant
a.Chicken feed bucket: According to the design of the chicken shed, the age of the chickens and the feed intake of the chickens are different, and the configured chicken feed buckets are also different. Chicken feed buckets are divided into small, medium and large sizes, which can adjust the feed export volume and achieve uniform feeding. This kind of chicken feed bucket can avoid the waste caused by manually sprinkling each layer of chicken shed.
b.Drinking fountain: The traditional water supply equipment in the chicken shed is a long water pipe placed on each floor, and the tap water is turned on even if it is a chicken water supply equipment. This actually causes a lot of waste of water resources. Now the technically improved nipple drinker can effectively save water and prevent bacterial contamination between chickens and chickens, and there will be no water leakage problems with this spout, as long as the chicken If you want to drink water, you can just touch it to "water to puff", which is sanitary and water-saving.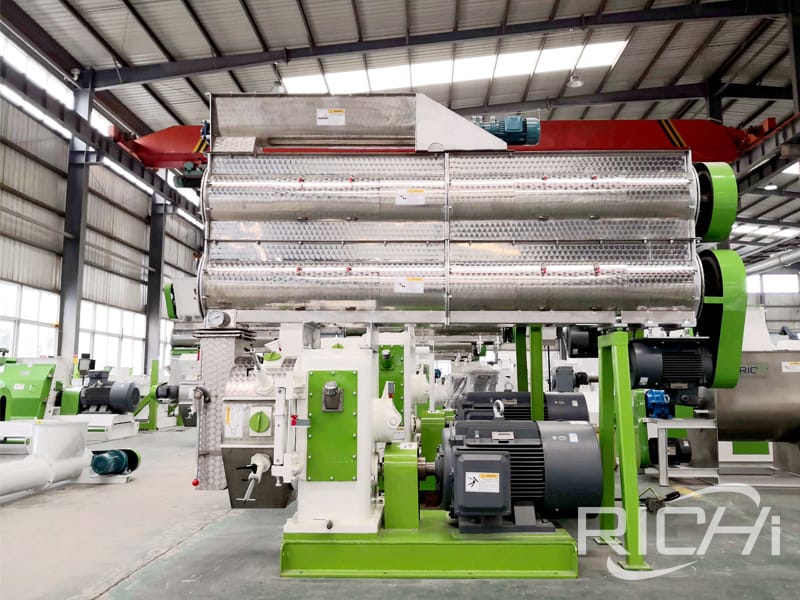 (2)Chicken poultry feed mill used in chicken feed making plant
To solve the problem of chicken feed cost, of course, chicken feed pellet processing equipment is indispensable. Generally, the finished pellets eaten by chickens are relatively slender, and it is necessary to process chicken feed to ensure both nutrition and digestion. Chicken feed pellet making machine can solve this problem. The machine is composed of power machine, gear box, traditional shaft, die plate, pressure roller, feed hopper and discharge hopper. This series of chicken feed pellet mill can pelletize 2.0-8.0mm pellets according to the finished chicken feed, and according to different models, it can produce 1-18 tons pellets in one hour, which can be processed and fed by one person.
In general, you must choose the chicken poultry feed mill you need according to the breed of chickens you breed. In order to obtain higher breeding benefits.
2. Special tips from Richi for you chicken farm
(1) There are as many types of feed as possible in the diet formula to ensure a comprehensive nutritional composition and improve the digestibility of the feed. Yikangyuan can be added to increase the feed conversion rate, which can effectively improve the feed absorption capacity of poultry.
(2) The compound feed should be adapted to local conditions and select local high-quality, cheap feed to reduce feed cost. Cheap feed can save feed cost, but also need to add micro-ecological preparations for drinking water to improve the composition of its feed so that it can make full use of absorption.
(3) Pay attention to the quality and palatability of the feed, and must not use mildew or raw materials containing harmful substances as feed; the content of feed fiber should be below 5% to prevent excessive volume. Mildew is easy to cause the cost of medication in the later stage of gastritis. Yikangyuan can improve the intestinal environment and make it absorb better. More fully.
(4)The combination of diets should maintain relative stability, and the change of feed will produce the phenomenon of acidity, that is, indigestion and decreased egg production. When it is necessary to change feed, there should be at least a transition period of more than 1 week. During the transition period, the replacement feed and the original feed can be mixed in half. This is more balanced, or use antimicrobial peptide ingredients such as Lecongide to increase the absorption capacity during dressing changes. Gastrointestinal adjustment palatability.
If you are looking for machine for chicken feed,you can try to know us--Richi Machinery,a Chinese professional chicken feed production line manufacturer.
24h star service, get an immediate quote.
Email: enquiry@cn-pellet.com
Whatsapp/Cel: +86 185 7410 3366