China professional factory offer good quality wood pellet machine for sale
2020-04-10 Back to List
If you are looking for related products or have any other questions, please feel free to contact us.
Contact Us
What is the impression of "made in China"? Many people have the impression that "made in China" is "cheap". But we don't want everyone to make a misunderstanding "cheap price = poor quality", as China's professional wood pellet machinery factory, we will of course deny it. Because we can guarantee that the thousands of pellet making equipment and hundreds of wood pellet processing lines sold by Richi Machinery have proved that our products are very valuable. We return to our customers who have been cooperating for 20 years. At that time, we can see that our equipment is still running steadily, maybe the appearance is old, but its service life and low failure rate can fully prove that our technology, product materials, and product quality are all very passable. Of course, we also admit that there are some irresponsible machinery manufacturers in China, but is a practical problem that exists all over the world.
Everyone habitually focuses on China's wood pelleting machinery manufacturers because China is a well-deserved "world factory". Therefore, although machinery manufacturing is spread all over the world, the proportion of China's wood pellet manufacturers is absolutely very large, and the base is large. Will be more. But this is an era of competition and an era of equal transactions. If you are a wood pellets processing manufacturer, then we hope that you will pay attention to how to choose a good Chinese wood pellets manufacturer and how to buy high-quality, reasonable-priced wood pellets machine. As a China supplier of wood machine, Richi hopes to provide you with the most suitable products.Then,why wood pellet manufacturers choose chinese wood pellet machine supplier?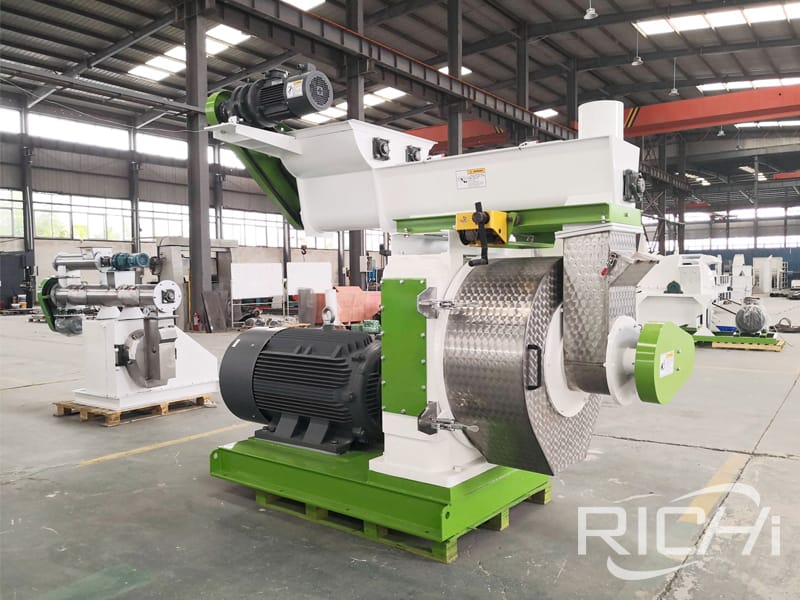 The Chinese wood pellet mills for sale in the global market are well known to the wood pellet manufacturers around the world. Chinese pellet makers has exported to Southeast Asia, the Middle East, South America, Africa, Asia, Europe, North America and Australia, etc, more than nearly two hundred countries. The competitive Chinese wood pellet mills are welcomed and favored by more and more wood pellet manufactures.
1.Advantages of Chinese pellet makers:
(1)Multiple types supply options:
Flat die pellet makers have 4 different power options.
Ring die pellet makers can be custom made.
(2)Wide range pellet production capacity with different pelletizing diameters.
Flat die pellet makers production capacity can range from 80 to 1000 kg/h;
Ring die pellet makers production capacity can range from 0.8 to 2 t/h.
(3)Wide range of raw materials processing abilities for feed and fuels.
Both flat die pellet makers and ring die pellet maker can be used for feed and for fuel. Both pellet makers can be used to produce saw dust, barks, logging leftovers, switch grass, wheat straw, barley straw, and corn Stover, etc. into pellets for fuel.
(4)Durable quality and spare parts:
Chinese pellet makers have good quality and high quality spare parts are supplied to make sure the pellet makers can run a long working hours.
High quality pellet makers and spare parts can ensure smooth pellet production. And high quality spare parts can ensure long serving life of pellet makers and lower production costs. According to feedback from our pellet plant customers, the cost of spare parts( which mainly are for wood chipper, hammer mill and pellet makers) takes up just approximate 8% of the maintenance cost of the whole wood pellet production line.
(5)Competitive wood pellet machine price
Price is always an edge for Chinese products. Even with the shipment included in the purchasing cost, Chinese pellet makers are still very competitive on price and the reasons behind are complicated, which will be analyzed in the following paragraphs.
2.Why the Chinese wood pellet mills for sale in the market are so cost-effective?
(1)Domestic demand promote technology development on Chinese pellet maker.
China's wood pellet consumption relies on domestic production which is much lower in production cost than that of abroad, which makes pellet maker technology developed fast in China and the low production cost pellet makers also benefits the overseas pellet producers.
(2)Beneficial policy support makes Chinese pelletmakers more competitive.
The Chinese governmental energy goal and polices are the main drive and support to the Chinese pellet maker manufacturers.
(3)Fierce competition makes the price of Chinese pellet makers more inviting.
As the development of the Chinese pellet mill market, more and more pellet mill factory have being set up and the Chinese pellet mill manufacturers are competing to provide more competitive services and products. The competition among pellet mill manufacturers benefits the customers who can buy the high quality pellet mills at the competitive price. That's may explain why the wood pellet mill for sale from china are so competitive and are favored by more and more wood pellet manufacturers.
(4)Direct sale makes Chinese pellet makers more cost-effective.
To buy pellet makers from the manufacturing directly can cut off the mark-ups added by the resellers and largely lower the purchasing cost. It is good for the end customers. That's one of the reasons why the pellet mills from Chinese pellet mill manufactures are more cost-effective.
3.How to choose a good Chinese pellet maker supplier?
As the development of Chinese pellet marker production technology, more and more pellet makers factories are constructed some of which are good and some of which are not. How to choose a good and trustworthy Chinese pellet maker supplier?
(1) Expertise & Branding
Normally, suppliers with high reputation on expertise and branding is trustworthy. If you want to buy a pellet maker from , search the internet and find the famous brand suppliers. Then ask them questions and evaluate through its answers and attitude. Richi has a good reputation as a pellet maker supplier and manufacturer, and it has been ranked on among the top 2 pellet makers exporter in 2010-2019 in Henan Province,China, who has taken 41% market share.
(2)Quality &CE marker
Quality always comes first. Pellet makers are the core of whole pellet production line and the quality of pellet makers directly influence the pellet quality and eventually affects your profits. When you're choosing a pellet maker, the CE marked pellet maker will be a good choice for the quality has been granted.
(3)Price & direct sale from manufactures
Cost is one of the decisive factor . Ideal situation would be buying proper pellet maker from the manufacturers or suppliers with the lowest price. However, the proper pellet maker does not mean the best and most expensive one. Other words, you should choose a pellet maker after considering your budget, the capacity for large, medium and small scale pellet production, pellets application ( for business or self use, for feed or fuel, for boiler or stoves, etc,), power condition and serving life, etc.
(4)After sale service &spare parts supply 
After sale service and spare part supply are also important for choosing a pellet mill manufacture and suppler. It's better to choose pellet mills from a manufacturer or supplier who could provide satisfactory after sale service and consistent spare part supply, any of your problem can be solved at a phone call or an email.
China professional factory offer good quality wood pellet machine for sale,welcome to contact Richi Machienry!