CE verified animal feed pellet machine for sale
2020-04-08 Back to List
If you are looking for related products or have any other questions, please feel free to contact us.
Contact Us
CE approved feed compress pellet making machine,CE certificate pet food animal feed pellet mills,CE ISO approved alfalfa pellet machine for sale,CE verified animal feed pellet machine,These are frequently consulted by European customers.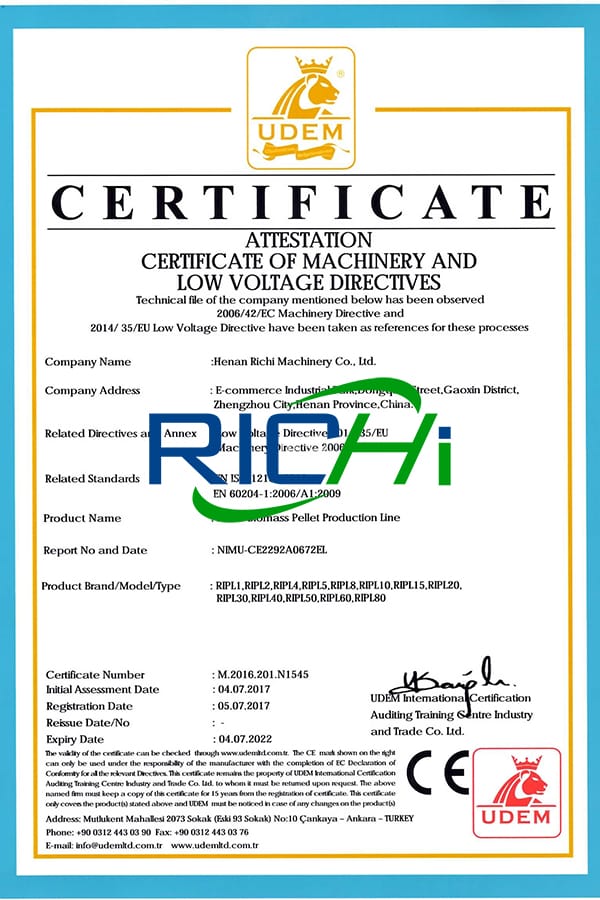 The "CE" mark is a mandatory certification mark in the EU market. Whether it is a product produced by an enterprise within the EU or a product produced in another country, if it is to be circulated freely in the EU market, the "CE" mark must be affixed to indicate the product Comply with the basic requirements of the EU "Technical Coordination and Standardization New Method" directive. This is a mandatory requirement imposed on products by EU law.
How to buy a qualified pellet machine to produce quality animal food pellet making machine? What's your criterion on the quality of brolier pig chicken cattle livestock poultry animal feed pellet making machines? Will you trust and choose a CE certified feed pellet mill machine?
What's CE marking? The CE mark is a mandatory European marking for machinery to indicate conformity with the essential health and safety requirements set out in European Directives. The CE mark (officially CE marking) is a mandatory safety mark on many products placed on the single market in the European Economic Area (EEA).
What does the CE mark mean for a machine? By affixing the CE marking, the manufacturer, or its representative, or the importer assures that the machinery meets all the essential requirements of all applicable EU directives. The CE mark on a machine indicates that the machine meets the relevant requirements must be documented.
How to achieve the CE mark by the machinery manufacturer? For most machinery manufactures, ally gained by a company-internal self-certification process. The machinery manufacturer has to issue a EC-Declaration of Conformity (EC-DoC) indicating his identity (location, etc.), the list of European Directives the manufacturer declares compliance with, a list of standards the product complies with, and a legally binding signature on behalf of the organization. The EC-DoC underlines the sole responsibility of the manufacturer.
Confronted with the various pellet mills for sales in the market, will you trust and choose a CE certified feed pellet making machine? The animal feed pellet making machines are applied to produce pellet by households and industry. With a CE mark, the feed pellet machines are certified and can be trusted.
The high quality feed pellet mills of Richi Machinery meet the western standards and have been awarded with the CE certificates. What's more, the quality of each single product is warranted by the responsible manufacturer, who highlights the inspection of the orders processed strengthening customers purchasing confidence. Now, you are welcome to check the details of our animal food pellet making machine.