How to apply chicken feed production line machine to make chicken feed
2020-03-17 Back to List
If you are looking for related products or have any other questions, please feel free to contact us.
Contact Us
How to make chicken feed?Many customers have this question.Chicken feed is generally processed from dozens of raw materials such as soybeans, soybean meal, corn, fish meal, amino acids, miscellaneous meals, whey powder, fat, meat and bone meal, cereals, and feed additives. Many customers do not know much about complete chicken feed processing line,main chicken feed line system,chicken feed pellet making machine, and some customers from the breeding industry have just started their business and do not know much about chicken feed. Today Richi Machinery will tell you in detail , I hope to help you.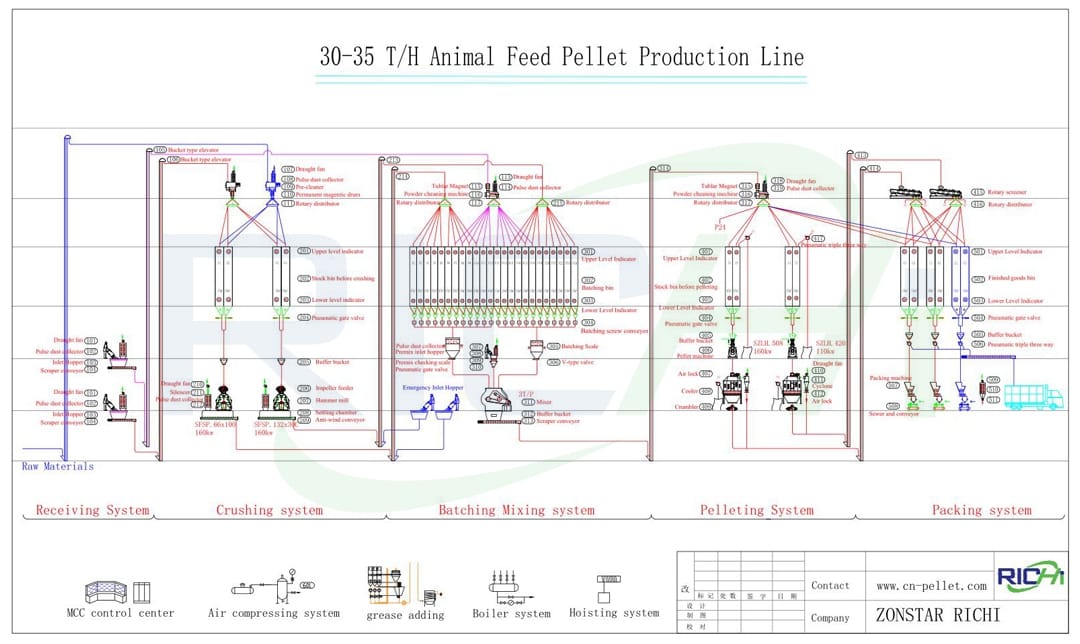 1、 Processing flow of complete high capacity chicken poultry feed line for pellet
(1)Material Receive System
Easy to operate,every inlet has one impulse dust collector,keep environment clean,protect workers healthy.
(2)Crushing System
Pre-cleaner clean raw material ,then after magnet separator,storage bin and feeder,material goes into crusher to become powder.
(3)Batching & Mixing System
After crushing,original powder and some premix will be weighed in batching scale according to proportional,then go down to mixer to reach uniformity.
(4)Pelleting&Cooling System
After using high temperature steam to make raw material curing, the materials will be made to pellet through pellet press machine. Then the pellet will be cooled down by cooler.
(5)Packing System
The finish product contain pellet of normal size,smaller size and bigger size.By use grading sieve,we can get normal size pellet.
(6)Plant Control system
PLC are designed as per the requirement of the customer. It can also control automation level.
2、Processing equipment for chicken feed production line
(1)Cleaning Machine
To ensure the feed processing plant cleaning is an important aspect. Different type of cleaner used for this purpose.
(2)Conveying machine
All transportations like bucket elevator, screw & chain conveyor etc. for conveying raw material and finished pellets.
Raw materials need to be grinded as pellet size for different type of chicken feed.
Different raw material are mixed here with additives(oil/fat), medicines, etc. Good mixer machine ensure good feed quality.
(5)Chicken feed pellet making machine
Produce final pellet feed. A good pellet means "A complete feed" and a good mill can ensure that.
Extruded feeds are about 70-90° C. Cooler bring down it at normal temperature (+4° max).
(7)Screening machine
To ensure supply of quality and perfect size feed, screener plays a vital role. Uneven sizes screaned-out.
(8)Bagging machine
Ready feed need to be packed. It can be manual or automatic bagging depends on requirement.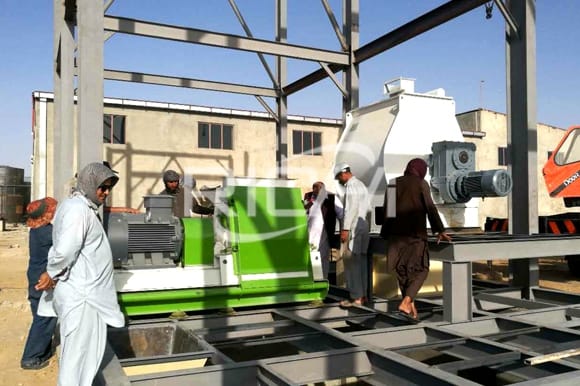 3、Chickens at different growing stages should be fed different diets
Different chickens should be fed different feeds, among which pellet feed is currently the most widely used. Pellet feed, as a product of modern chicken industry, is made by adding full-price feed with additives. The particle size is adjustable to suit the needs of different chickens. At present, pellet feed is commonly used in the broiler breeding industry in various countries. Its biggest advantage is to ensure that all nutrients are eaten in a balanced manner when the broiler is fed the feed, and the real full price feed is used. Pellet feed can also improve palatability, make the broiler eat a large amount, more easily reach the nutritional requirements required for production performance, and reduce feed waste.
Overall, from a feeding science perspective, pellet feed is better. But from an economic point of view, if you do it yourself, feeding powder may be more effective than feeding pellets. For small-scale breeding, feeding wet mixes can overcome the disadvantages of incomplete nutrients. Because pellet feed is the future trend, the following content is mainly focused on chicken feed pellets.
(1)Pellet size requirements:
Small baby chick(chicks in 10 days)——1.0-1.5mm
Middle chicken(chicken in 10-30 days)——2.0-2.5mm
Big chicken(chicken in 30-45 days)——3.0-3.5mm
Layers(also can feed small baby chicks)——powder feeds
(2)What kind of feed nutritionshould chickens eat at different times?
a、0~6 weeks
This stage is nutritionally demanding, requiring high energy, high protein, low fiber content of high-quality feed, and to supplement high levels of minerals and vitamins.The formulation design can use corn, fish meal, soybean meal and other high quality raw materials.
b、7-18 weeks
In this stage, the demand for nutrients such as energy and protein is relatively low, and the restriction on cellulose level can be relaxed in an appropriate amount. Some raw materials with higher crude fiber, such as bran bran and grass powder, can be used to reduce the feed cost.
c、19-40 weeks
The amount of crude protein required in this stage increases with the increase of egg yield.In addition, the formation of eggshells requires a large amount of calcium, so the demand for calcium increases.Methionine, vitamins, trace elements and other nutritional indicators should also be increased.
e、40~60 weeks
At this stage, the egg production rate starts to decline, and the nutrition needs are slightly lower than the peak.However, due to the increase of egg weight, the crude protein level in the diet cannot fall too fast.
f、>60 weeks
At this stage, the amount of mineral feed should be appropriately increased to improve the level of calcium.While reducing the crude protein level, the energy level should not be increased, so as not to make the chicken fat and affect the production performance.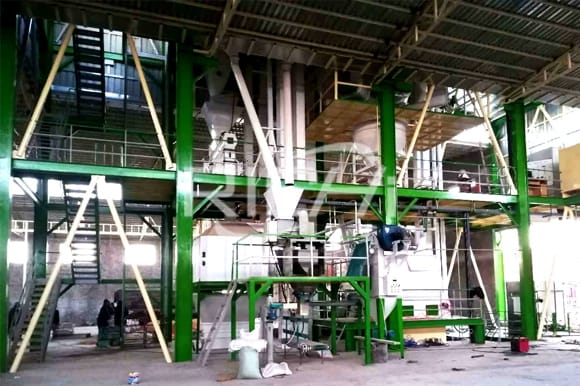 4、Chicken feed formula(Common)
(1) feed formula for broilers
A. Corn 55.3%, soybean meal 38%, calcium phosphate 1.4%, stone powder 1%, salt 0.3%, oil 3%, additive 1%.
B. Corn 54.2%, soybean meal 34%, vegetable meal 5%, calcium hydrogen phosphate 1.5%, stone powder 1%, salt 0.3%, oil 3%, additive 1%.
C. 55.2% corn, 32% soybean meal, 2% fish meal, 4% vegetable meal, 1.5% calcium phosphate, 1% stone meal, 0.3% salt, 3% oil, 1% additive.
(2) feed formula for chicken in meat
A. Corn 58.2%, soybean meal 35%, calcium phosphate 1.4%, stone powder 1.1%, salt 0.3%, oil 3%, additive 1%.
B. Corn 57.2%, soybean meal 31.5%, vegetable meal 5%, calcium hydrogen phosphate 1.3%, stone powder 1.2%, salt 0.3%, oil 2.5%, additive 1%.
C. Corn 57.7%, soybean meal 27%, fish meal 2%, vegetable meal 4%, cotton meal 3%, calcium phosphate 1.3%, stone meal 1.2%, salt 0.3%, oil 2.5%, additive 1%.
(3) the feed formula of meat chicken
A. Corn 60.2%, wheat bran 3%, soybean meal 30%, calcium phosphate 1.3%, stone powder 1.2%, salt 0.3%, oil 3%, additive 1%.
B. Corn 59.2%, wheat bran 2%, soybean meal 22.5%, vegetable meal 9.5%, calcium hydrogen phosphate 1.3%, stone powder 1.2%, salt 0.3%, oil 3%, additive 1%.
C. corn 60.7%, soybean meal 21%, fish meal 2%, vegetable meal 4.5%, cotton meal 5%, calcium phosphate 1.3%, stone powder 1.2%, salt 0.3%, oil 3%, additive 1%.
The poultry chicken complete feed pellet line seems simple, but there are many precautions in the actual processing technology, equipment application, and raw material ratio. In other words, in order to obtain high-quality emergency feed pellets, each link is very important. Richi Machinery, a supplier of animal feed pellet processing equipment, can provide a variety of full chicken food making machine production line solutions, with complete pre-sale, sale, and after-sales service, and customer cases in 93 countries (as of March 17, 2020, the data can be verified). Whether you are from the poultry industry or the feed industry, you are welcome to visit and consult!