Widely used simple feed pellet production line for sale
2020-03-12 Back to List
If you are looking for related products or have any other questions, please feel free to contact us.
Contact Us
The simple animal feed pellet production line integrates the functions of crushing and stirring, and the formulated feed has a uniform content of ingredients, high production efficiency, small footprint, and labor saving. It has always been favored by small and medium-sized farmers and feed processors. Many customers buy such animal poultry cattle chicken shrimp feed pellet production line in our company every year.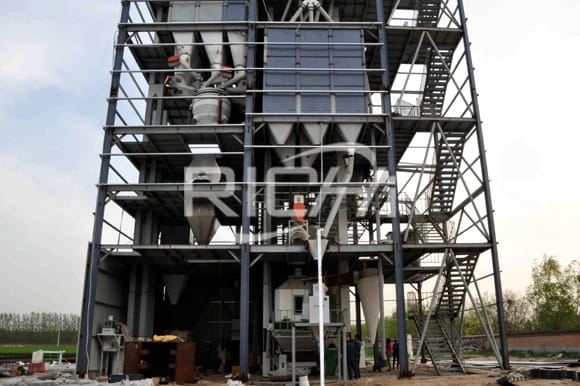 1. Crushing machine: There are two types of automatic suction and forced feeding (optionally suitable for the crusher according to the model). After the material is sucked in or sent to the crushing chamber, it will be quickly broken under the continuous impact and collision of the hammer. It becomes powder or granule, which is then subjected to centrifugal force or air flow and discharged into the grain storage bin through the sieve holes.
2. Mixing machine: The mixer has an advanced rotor stirring structure, and the gap between the inner wall of the mixing box and the ribbon is adjustable. Therefore, it achieves high mixing uniformity, less material residue, and basically eliminates the sinking of large specific gravity materials during the mixing process. The problem of mixing; when the material propeller rotates, the material is forcibly sent from the storage bin to the feeding pipeline, and then lifted to the top of the mixer by the feeder, and the material is sent to the mixer for uniform mixing for 3-5 minutes.
The mixer of the widely used simple ring die pellet production line is a new type of horizontal double spiral belt mixer, which overcomes the problems of low mixing uniformity that is common in other mixers and a large amount of material residue in the mixer after discharging. Its structure is novel, practical, and excellent in performance. In general, its mixing coefficient is 5% or less, and the residual amount after discharge is very small.
Richi Machinery is a direct feed machinery equipment for manufacturers, no foreign trade companies to earn the price difference, welcome to contact us!